Local leadership appointment of Tapankumar Joshi as VP Technology and India Head
HYDERABAD, NOTTINGHAMSHIRE, INDIA, September 18, 2023/EINPresswire.com/: Consult Red, a leading technology consultancy for clients wanting to design and deploy connected devices and systems, is excited to announce the opening of its new innovation centre in India. The expansion marks a significant milestone in the company's ongoing commitment to enhancing its global presence and serving its global customer base.

Located in Hyderabad, the office will enable Consult Red to accelerate product development for its clients while also establishing a Centre for Excellence in AI. The company aims to grow its capabilities, expand together with its customers, and attract new clients. Consult Red intends to extend its services beyond design and development by providing advisory support to customers, guiding them on their future development directions, and maintaining ongoing collaboration as projects integrate into their regular operations. The company has achieved notable success in the video market and now sets its sights on applying its expertise to emerging domains like connectivity and the smart edge.

This is not the first time Consult Red has expanded into new territory. In 2015, the company ventured into Poland, achieving remarkable success. Currently, approximately 60% of Consult Red's engineering services are delivered from Poland. The expansion proved successful as the company remained committed to a simple philosophy: prioritising the best local talent. As Consult Red approaches India, it intends to adopt the same philosophy. The company firmly believes that India boasts the world's most abundant and talented workforce, and tapping into this talent pool can greatly accelerate its growth.

Local leadership will be provided by Tapankumar Joshi, recently appointed as VP Technology and India Head. Tapan joins Consult Red with extensive career experience, including over ten years in professional services, including expertise in embedded AI, media, and telecoms.

"Our decision to open a new office in India reflects our commitment to expanding our global talent and further enhancing our ability to service the diverse needs of our clients and partners," said Raghu Venkatesam, CEO at Consult Red. "India presents immense growth potential, and we are excited to be part of its dynamic business landscape. In addition, I'm pleased to welcome Tapan to the team and look forward to working together as we establish our new centre of excellence for AI."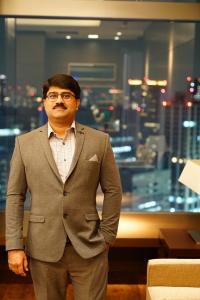 Tapankumar Joshi, Consult Red VP Technology and India Head, added: "I'm delighted to be joining Consult Red at this exciting time in the company's history, as we begin our expansion into India. I look forward to leveraging my technical experience, knowledge of the global customer landscape, and local know-how to nurture a team of world-class talent in support of our global client base."

Consult Red intends to recruit top-notch local engineering talent and management to establish its team in India. The company envisions close collaboration between this newly formed team and its existing global teams, fostering seamless coordination and operational alignment. By doing so, Consult Red aims to bolster its capacity to deliver cutting-edge solutions while upholding the renowned high-quality engineering standards for which the company is recognised.
Also read: How does a unified mechanism in the banking operations help in customizing customer interest through various services?
Do Follow: CIO News LinkedIn Account | CIO News Facebook | CIO News Youtube | CIO News Twitter
About us:
CIO News, a proprietary of Mercadeo, produces award-winning content and resources for IT leaders across any industry through print articles and recorded video interviews on topics in the technology sector such as Digital Transformation, Artificial Intelligence (AI), Machine Learning (ML), Cloud, Robotics, Cyber-security, Data, Analytics, SOC, SASE, among other technology topics.