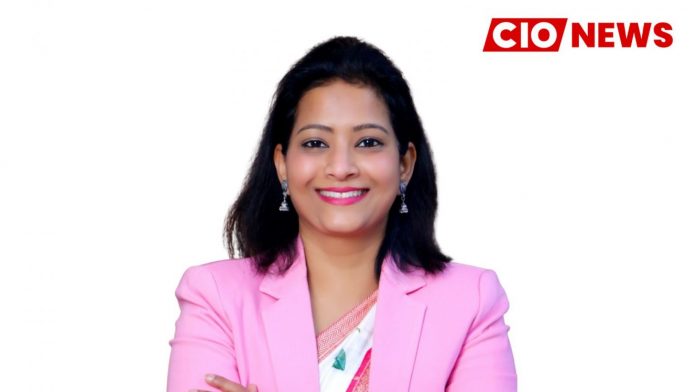 Digital literacy helps one to become conversant with these platforms while being aware of the positive as well as negative facets of data and information available publicly on the internet
When asked what digital literacy is and why does it matter, Shweta Srivastava, Chief Technology Officer (CTO) at Paul Merchants Finance Pvt. Ltd., in an exclusive interview with CIO News, said, "Digital literacy stands for the know-how of how well the digital medium can be leveraged in day-to-day life." Access to the digital world can be through various devices like smartphones, computers, smart TVs, Kindles, etc. Different platforms through which one can consume digital content are social media platforms, knowledge forums, e-commerce platforms, service-oriented platforms, etc.
Digital literacy should not be confused with the ability to operate a device or digital platform. It is much more than simply consuming services over a digital medium. It needs a deeper understanding and command while accessing content and information online. One needs to be aware of the dos and don'ts of surfing the web.
Digital literacy helps one to become conversant with these platforms while being aware of the positive as well as negative facets of data and information available publicly on the internet. Some of the major advantages of digital platforms are diversification, global reach, collaboration, convenience, efficiency, elimination of geographical constraints etc.
Digital literacy is important for everyday routine jobs and to enhance one's performance. Many digital literacy skills that were once considered an add-on are now considered necessary or standard skills.
One needs to be proactive in learning digital technologies in order to be abreast of the world around us. There are numerous benefits to achieving digital literacy, including the ability to connect with people in remote locations, save time and money, receive real-time updates on anything and everything, obtain educational and academic content, obtain entertainment content, create your own brand, and participate in continuous learning opportunities.
While there are a host of advantages, it is imperative to understand and be cognizant of Internet safety issues such as managing strong passwords, understanding and controlling privacy settings, and being cautious of what to share or not on social media and other open platforms. It is equally important to be attentive to cyberbullying and should stop current bullies and prevent others from cyberbullying.
When asked about her views on digitally up-skilling the youth in the post-COVID era, she said, "Covid has created a situation where people of all age-groups are glued to one or the other digital platform." Even young kids got access to mobile devices and computers in the name of online classes. It seems now that someone who is not conversant with operating such tools is left out. It is extremely important for everyone to know how to leverage digital media and platforms to enhance their knowledge and skills. The basic understanding of day-to-day essential tools like MS Word, Excel, PowerPoint, emailing, internet surfing, etc. is a must. All schools have realised the importance of this and have incorporated it into the academic curriculum.
When asked how the youth can be digitally empowered and what kind of exposure and engagement opportunities in the educational curriculum can educational institutes implement to raise the interest of youths to up-scale their digital skills, she said, "The youth of today are already quite aware and digitally abled." Schools are also cognizant of these requirements and, from a very early stage, they introduce computers as a mandatory subject in the course curriculum. These days, specialisation in different streams of information technology is possible at college level by opting for any specific topic like AI/ML, Analytics, Cloud Computing, Cyber Security etc.
When asked if it should become a must for schools, colleges, and other educational institutes to conduct workshops or crash-course programmes to drive the importance of technology for businesses, she said, "No doubt about it." Educating kids on computers and digital is a must. Initially, basis-level understanding should be given as a mandatory specialisation and later they should be given the option to choose the field of their choice. Education should not only focus on how to use digital platforms, but also on the benefits and drawbacks of the web, how to do safe browsing, and how to be cautious when sharing personal information on publicly accessible platforms.
When asked about advice she would give to youth considering their career in the technology industry, what they should know about the industry before starting their career, what challenges they could face and how they could overcome the challenges, she said, "Technology is a super dynamic and progressive field." A lot has been revolutionised by technology-driven innovations, and a lot more is yet to be explored.
The biggest challenge in opting for this as a career path is the agility in this field. One needs to constantly acquire new skills and keep upgrading oneself. Secondly, the expected turnaround time to deliver is much shorter. Competition is increasing, and so are vulnerabilities. If one is ready to face these challenges, there are ample opportunities waiting to be explored and exploited.
She highlighted, "I believe digital literacy should not just be mandated to newer generations; it is extremely important to educate our older generation as well on digital, with a special emphasis on the Dos and Don'ts of being digitally active." Digital payment fraud has seen an exponential surge in the past few years and is still rising with every passing minute. Fraudsters especially target those who are less aware and can easily be tricked. It is our social responsibility to educate the younger and older population, rural as well as urban, on the risks and help them become aware so as to be safe from online fraud.
Also read: It is no longer enough to be "tech savvy" to manage digital change
Do Follow: CIO News LinkedIn Account | CIO News Facebook | CIO News Youtube | CIO News Twitter
About us:
CIO News, a proprietary of Mercadeo, produces award-winning content and resources for IT leaders across any industry through print articles and recorded video interviews on topics in the technology sector such as Digital Transformation, Artificial Intelligence (AI), Machine Learning (ML), Cloud, Robotics, Cyber-security, Data, Analytics, SOC, SASE, among other technology topics