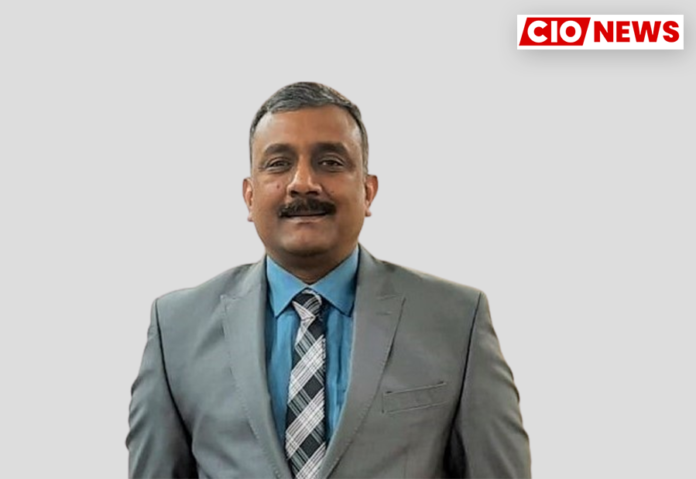 We have yet to reach the full potential of digitalization across the global economy
This is an exclusive interview conducted by the Editor Team of CIO News with Sharad Kumar Agarwal, CDIO of JK Tyre & Industries Ltd on Youth Digital Empowerment
What is digital literacy and why does it matter?
Digital literacy can be defined as "the ability to use information and communication technologies to find, evaluate, create, and communicate information, requiring both cognitive and technical skills." Digital literacy means having the skills that we need to live, learn, and work in a society where communication and access to information are increasingly through digital technologies like internet platforms, social media, and mobile devices. It does not replace traditional forms of literacy, but instead builds upon them and expands the skills that form the foundation of traditional forms of literacy.
Digital literacy encompasses the skills required to use technology safely, effectively, and responsibly. As technology continues to become more and more ingrained in daily life, the importance of learning digital literacy skills is becoming increasingly apparent. Children's schooling, social welfare and future job opportunities may depend on how well they understand the digital world around them.
As an IT leader, what are your views on digitally up-skilling the youth in the post-COVID era?
The need to upskill and reskill the workforce has never been more urgent than in the post-COVID era. Everyone should be able to live, learn, work, and participate in the digital world. To emerge stronger from the COVID-19 crisis, we, as IT leaders, should start upskilling our youth now. To meet this challenge, we should craft a talent strategy that develops youth's critical digital and cognitive capabilities, their social and emotional skills, and their adaptability and resilience. We should adopt fully digitised approaches to re-create the best of in-person learning through live video and social sharing. Such a transformation can make it possible to scale learning efforts in a more cost-effective way and permit greater personalization for learners—and in turn greater effectiveness.
How can the youth be digitally empowered? What kind of exposure and engagement opportunities in the educational curriculum can educational institutes implement to raise the interest of youth in up-scaling their digital skills?
While youth are often considered to be "Digital Natives", the majority of them may not actually possess sufficient job-relevant digital skills. For youth to engage meaningfully in society, they must be equipped with the skills and opportunities to advance their vision of a connected future. It is only by preparing youth with digital education and opportunities that meaningful work for all and economic growth can be achieved.
Expanding National elementary and secondary school curricula can be implemented to include digital empowerment skills (such as creating and sharing content in various media forms and advocating for social issues online), digital engagement skills (such as participating in conversations about artificial intelligence), digital participation skills (such as how to protect digital devices from hackers or phishing scams), and digital wellbeing skills (such as how to explore identity online). We can engage them through youth employment opportunities or open youth forums where they can find mentors and support networks or develop new digital skills.
Should it become a must for schools, colleges, and other educational institutes to conduct workshops or crash-course programmes to drive home the importance of technology for businesses?
Quoting John King, U.S. Secretary of Education, "One of the most important aspects of technology in education is its ability to level the field of opportunity for students." It aptly sets the role of technology for students as a powerful tool for transforming learning. There should be no second thought to having workshops and programmes mandated as a part of the curriculum to drive home the importance of technology not just for business but for society as well. Our schools, colleges, and educational institutes should be incubators of exploration and invention, powered by a vision for learning enabled through technology. Technology has the potential to accelerate, amplify, and broaden the impact of powerful business principles.
As an IT leader, what advice would you give to the youth considering a career in the technology industry? What should they know about the industry before starting their career? What challenges could they face, and how do they overcome them?
The first and most important piece of advice for the youth is to believe that it is never too late to learn a new skill and enter the technology industry. Young people have an interest in technology careers, but a lack of training and the industry's poor reputation for diversity sometimes act as a deterrent. Such self-limiting beliefs should have no place in their minds.
The surge of technology in our lives has led to all kinds of new career paths that didn't exist even just a few years ago. Not only do tech jobs typically pay better than average, they also provide the youth with added flexibility in their schedules and access to generous benefit packages. What many people don't realise is that acquiring the skills to land a job in tech has never been easier. And they probably don't realise that many coders don't even have a college degree, let alone one in computer science.
Simultaneously, there is a need for the youth to be aware of the negative effects of digitalisation and of the broader social context of the strategies and interests for defending digital justice and upholding the digital rights of young people. They shall not be overly reliant on technology alone but shall use their own wisdom along with empathy and compassion towards others.
Any other points you would like to highlight?
Digital transformation is the new normal. It has led to technology no longer providing a sustained competitive advantage. It now plays a supporting role for people with the right skills. Expertise is needed now more than ever to manage and implement all of the new technologies. We have yet to reach the full potential of digitalization across the global economy. Making sure that digital gains are accessible to all could provide significant value.
Also read: Technology projects are all about people
Do Follow: CIO News LinkedIn Account | CIO News Facebook | CIO News Youtube | CIO News Twitter
About us:
CIO News, a proprietary of Mercadeo, produces award-winning content and resources for IT leaders across any industry through print articles and recorded video interviews on topics in the technology sector such as Digital Transformation, Artificial Intelligence (AI), Machine Learning (ML), Cloud, Robotics, Cyber-security, Data, Analytics, SOC, SASE, among other technology topics