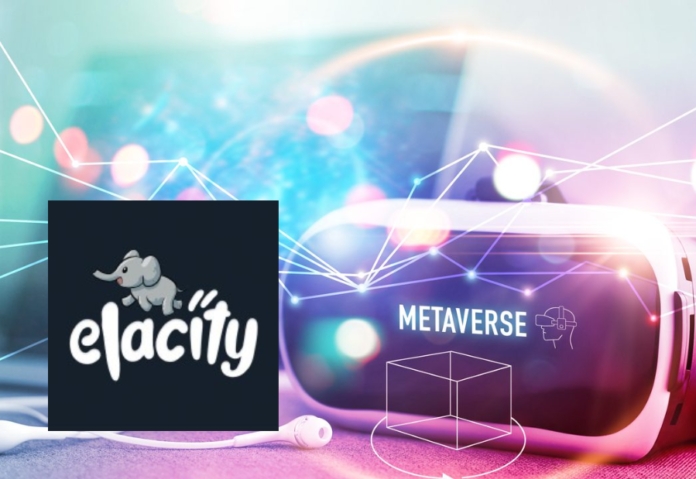 Artists will now be able to receive royalties from audiences directly and on their terms, removing their dependence on third-party platforms to monetize their work.
LONDON, UNITED KINGDOM, September 22, 2023 /EINPresswire.com/: Elacity, the global marketplace foruser-generatedd content on the Elastos Smart Chain (ESC), has partnered with the Metaverse Bank to provide a new model for seamless payment of user-owned content fees and royalties, allowing them to be moved freely between crypto and fiat currencies.
Elacity's unique marketplace and digital rights management system allow users to take ownership of their content and monetize their fans access to it without having to rely on YouTube or other third-party platforms as intermediaries.
This empowerment of content offers a new inclusive economic model for content creators, allowing them to define, receive, and share royalties automatically with key partners, co-creators, and other stakeholders in the form and format of their choice.
Through the partnership, Metaverse Bank is making its Enigma stable coin payment engine available to content developers, enabling them to seamlessly transfer crypto earnings into any fiat currency around the world.
Sash Mitchell, CEO of Elacity, describes the partnership as a'milestone' for 99% of the creator community, which has traditionally remained subordinate to multiple other interests when attempting to protect the integrity and value of their work.
"Our aim is to free creativity, as for too long, the real potential of Web3 to enable creators to manage their own affairs directly has remained tantalisingly out of reach due to multiple barriers, from regulatory ambiguity (and inconsistency between jurisdictions) to the complexity of actually managing decentralised payment flows on a daily basis. Binance's decision this week to withdraw crypto exchange services to and from UK Sterling, citing'regulatory concerns', is a timely case in point. Such uncertainty serves only to undermine the potential for Web3 and an access economy to empower communities such as creators and artists."
"This partnership creates a bridge for artists to not only claim the benefits of their creativity but to do so on their terms and in the currency of their choice, liberating their creativity and the right to be remunerated for the same," he adds.
Rob Atkin, co-founder of the Metaverse Bank, said:
"The real potential of Web3 and decentralised payments to enable content creators to assume full control of access and rights to their work has remained unexploited due to the complexity and uncertainty of the transaction process. In particular, when converting between traditional FIAT currencies and crypto alternatives, Our Enigma payment engine transforms all payment flows into a form of 'universal' encrypted digital asset (EDA), incorporating all information about the transaction, from its value and provenance to any other terms or conditions relating to the same (such as usage rights or jurisdictions). The precise denomination of the exchange—and even whether it's FIAT or crypto-based—is determined entirely by the user as or when they decide to access the funds."
Rob explains that, in addition to liberating creators from dependence on a particular third-party platform to validate, store, and reconcile payments, the partnership will enable them to choose exactly how their payments are received.
"In practice, this could mean that, on some occasions, creators chose to access their royalties via traditional FIAT currencies (to pay their rent or groceries, for instance), while on others they prefer to receive them in tokens (to create value for a particular community and/or in exchange for studio time or other resources). In each case, the value and integrity of these exchanges are assured through our platform."
Elacity uses the Elastos decentralised Web3 technology stack to deliver these new Web3 services and is looking to further innovate with DRM and runtime technologies to deliver the promise of a trusted decentralised environment.
Commenting on the potential, Jon Hargreaves, Global Head of Business Development for Elastos, added, "The great innovation here is combining world-leading open banking solutions with Web3 solutions, which means it is not only easy to use but very low cost in comparison to other solutions."
Also read: Trends of the latest technologies
Do Follow: CIO News LinkedIn Account | CIO News Facebook | CIO News Youtube | CIO News Twitter
About us:
CIO News, a proprietary of Mercadeo, produces award-winning content and resources for IT leaders across any industry through print articles and recorded video interviews on topics in the technology sector such as Digital Transformation, Artificial Intelligence (AI), Machine Learning (ML), Cloud, Robotics, Cyber-security, Data, Analytics, SOC, SASE, among other technology topics.