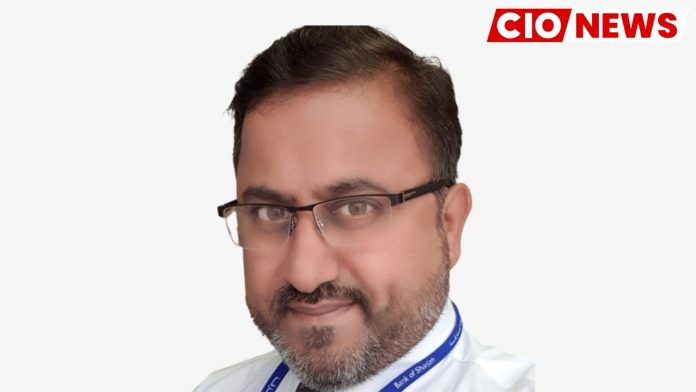 A business that needs to transform may use new technologies and knowledge of their customers to devise new products, but real digital transformation means innovating new value-driving solutions with the help of drastic culture change
When asked how he planned his career path to be a successful technology leader, Vimal Mani, Head of Information Security, Privacy & IT GRC Programs (CISO & DPO) at Bank of Sharjah, in an exclusive interview with CIO news, said, "As a technology leader, my career was not planned in advance, which has been steered in an agile manner in line with new technologies that have emerged in the last two decades in a dynamic manner." I always keep agility in my career progression and maintained my learning curve very sharp with continuous and voracious learning, which has helped me sustain my career for 24 years while lots of technology changes happened in the industry. I feel the agility I adopted and it has helped me so far in my career very successfully.
When asked about challenges he faced in his career path and how he overcame them, he said:
Limitations/restrictions to experiment new technologies, work practices
Organizational Culture in adopting new technologies and change management
Management Buy-In for new ideas
When asked about a cyber-attack or any security incident faced by his current organisation and how he tackled it, he said, "Touchwood, so far we have not faced any cyber-attack or any security incident in my current organisation after I joined in 2015.
When asked how his organisation geared up in-terms of technology in the COVID times, he said, "Our leadership is well matured and always foresees the technology changes ahead of the market." Hence, to ensure the continuity of services, our management strategized arrangements for remote working and established the capabilities required for the same and ensured the safety and security of the same by specialist third party agencies. With this proactive move, the COVID pandemic didn't have any negative impact on the continuity of our on-going operations and services to our customers.
When asked about technology solutions and innovations he plans to implement in the post COVID era, he said, "We have established remote working capabilities with secured VPNs and we have had remote audits conducted for our Information Security Management System (ISMS) to ensure the sustenance of our existing ISO 27001:2013 Certification.
When asked about the challenges faced by technology leaders today in a similar industry while implementing digital technologies, he said:
Organization culture
Lack of vision and strategy for digital transformation
Lack of management support for digital transformation
Generation change and lack of change management
Unproven new complex technologies
Lack of skills & experience in new technologies
Lack of coordination among departments for digital transformation
Continuous Evolution of Customer Needs
Security concerns related to digital transformation
Budget Constraints for Digital Transformation
When asked how technology leaders can overcome the challenges faced, he said, "A culture shift is very critical for having an effective digital transformation." A business that needs to transform may use new technologies and knowledge of their customers to devise new products, but real digital transformation means innovating new value-driving solutions with the help of drastic culture change. Digital leaders need to bring top-tier talent on-board to run their digital operations so they can keep up with what's happening in this rapidly changing world. Digital leaders must consider and innovate on having a workforce comprised of both humans and machines to help them execute their digital transformation strategy. AI, ML, and other new disruptive technologies can be effectively used for this.
When asked about best practices, industry trends, or advice he would like to suggest to fellow technology leaders for their successful professional journeys, he said, "I recommend technology leaders to experiment with technology best practises and technologies such as DevOps, SecDevOps, Block-chain, Artificial Intelligence, Machine Learning, Analytics, Data Science, Fin-tech, etc. as relevant and as required."
He highlighted, "Keep learning new technologies, new management practices, and best practises and accept innovative ideas from everyone." Never stop your learning, which will not help you to sustain and grow your career as a digital leader.
Vimal Mani-A Cyber Security & Digital Crime Researcher, Blogger, and Author
Vimal Mani is a Cyber Security and Digital Crime Researcher, Blogger, and Author who works and lives in Sharjah. Vimal has progressive experience of 24 years in the banking and financial services, energy, retail, healthcare, and ICT sectors. Vimal has worked with clients in India, the USA, the UK, the Far East and Middle East countries. Vimal has served Big 4 firms such as Deloitte and globally reputed business organisations such as Microsoft, Philips, Accenture, and Standard Chartered Bank.
Vimal is presently working as Head of Information Security & Privacy Operations with the Bank of Sharjah. As the Chief Information Security Officer (CISO) of the Bank, Vimal is responsible for the end-to-end information security programme along with the coordination of information security efforts within the banking operations spread across the Middle East region. He is also responsible for coordinating the process to build a bank wide information security strategy, procedures, and standards; leading the periodic information security risk assessment efforts; incident investigation and resolution; and the bank's information security awareness and training programs. The Bank of Sharjah is primarily a corporate bank catering to UAE-based businesses, SMEs, the government and government-related entities. It has its operations spread across four of the emirates (Abu Dhabi, Al Ain, Dubai, and Sharjah) in the United Arab Emirates and Lebanon. The bank offers general banking services, project finance, trade facilities, syndicated loans, and short-to-midterm loans.
Vimal has completed his Bachelor's Degree in Computer Engineering from the University of Madras and an MBA degree from Alagappa University. Vimal has also earned prestigious qualifications such as CISA (Certified Information Systems Auditor), CISM (Certified Information Security Manager), and Six Sigma Master Black Belt.
After graduating, Vimal worked for a brief period of two years in India. In 1999, Vimal Mani moved to the USA as an IT Consultant and worked in the USA for close to 4 years with various clients. Then, in 2002, Vimal moved to the UK for a year to work as a consultant for an IT services firm based out of Birmingham, UK. In 2003, Vimal Mani moved to India and worked in the Indian IT Service Sector for 7 years, after which Vimal moved to the Middle East for better opportunities and career growth.
Significant achievements and honours received thus far in my career:
Has been chosen as one of the Top 100 CIOs from the GCC Region at the GITEX Technology Week 2017.
Has won number of awards and recognition from his employers, such as Philips Electronics (Delivery Excellence Award), Microsoft Corporation (Outstanding Employee of the Year Award), Accenture (Super Trooper Award), and Verizon Telecom (Most Valuable Team Player Award).
Vimal advises a number of technology start-ups, investors, entrepreneurs, and government organisations globally on Cyber Security, IT & Digital Transformation, and Business Transformation by being part of their advisory teams and board
Vimal is a well-known author and blogger who writes very frequently on cyber security and various technology topics
Vimal is a regular speaker at colleges, schools, conferences, seminars, forums, and panel discussions about IT GRC, Cyber Security, Business & Digital Transformation, and Digitized Business Models powered by disruptive new age technologies.
Also read: CIO News interviews Shri Wangki Lowang, Minister (IT) of Arunachal Pradesh
Do Follow: CIO News LinkedIn Account | CIO News Facebook | CIO News Youtube | CIO News Twitter
About us:
CIO News, a proprietary of Mercadeo, produces award-winning content and resources for IT leaders across any industry through print articles and recorded video interviews on topics in the technology sector such as Digital Transformation, Artificial Intelligence (AI), Machine Learning (ML), Cloud, Robotics, Cyber-security, Data, Analytics, SOC, SASE, among other technology topics