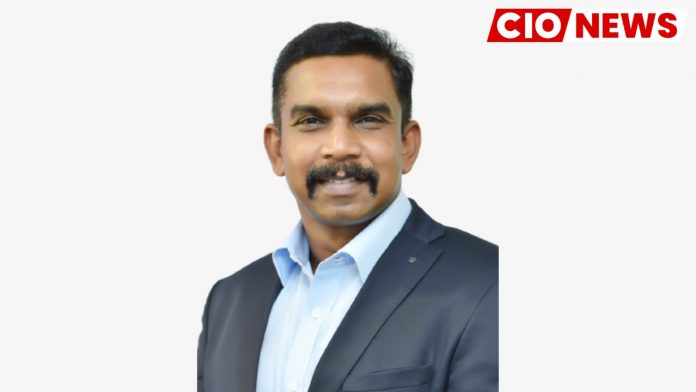 It has taken me 22 years to get to this point, and I have always kept myself up to date on the technology
When asked how he planned his career path to be a successful VP & CTO, Dominic Vijay Kumar, Vice President & Chief Technology Officer (CTO) at ART Housing Finance (India) Ltd, in an exclusive interview with CIO News, said, "My father, an ex-Army Officer, introduced me to computers by enrolling me for a two-year Diploma in Software Technology at NIIT when I was in my first year of graduation." I had no background in the subject or any career planning. I started to study and it really increased my interest in computers and programming, and I was successful in completing my Diploma with flying colours, but that was not sufficient as I was exposed to hardware and networking, which were really interesting and exploratory subjects, and I took up another Diploma in Hardware and Networking, which was booming in the early 90's. Information technology was at a booming stage, which really helped me to shape my career. Having knowledge of programming and hardware and networking skills, I started my career as a support engineer to gain hands-on experience in the field and sharpen my skills, which I had acquired from the course I had completed. I spent a good two years in the field as a support engineer and learnt the subject in hard ways. My first corporate break was as a Systems Administrator at The Oberoi, Bangalore, where I learned the technology used in the hotel industry with exposure to the Hotel Management Systems and Networks, and we were the first hotel in India to provide Wi-Fi to the guests way back in 2000. I then got a break with Commercial Airlines, which was started and founded by Capt. G.R. Gopinath, the man who created a revolution in the sky. I worked in aviation for six years and never looked back. It has taken me 22 years to get to this point, and I have always kept myself up to date on the technology. I have learned and studied in order to keep up with technological changes and industry requirements. With multiple domain and industry experience, I was able to sail through the most difficult times of technological evolution and rise to this position as I write this. It is still a long way to go, and technology doesn't end here. It's the ocean and we need to run the race to be on top.
When asked about challenges he faced in his career path and how he overcame them, he said, "Every step in the professional career was a challenge and the path taken was very difficult till I got established and stabilized." The major setback was when the WTC was attacked, and this had a major impact on the IT industry across the globe. Those two years were a real survival challenge, with the industry undergoing a complete revamp and job cuts, dotcom companies simply closing down, and the software industry on the verge of closing, with projects on hold and many companies pulling their shutters. The hope was that the knowledge we had acquired through the course would make us sail through till the industry was back on track. Patience and a never-give-up attitude kept me sailing, and obviously, my family motivation. Knowledge is very important, especially when we are going through a rough patch in our professional career.
When asked about challenges faced by technology leaders today while implementing digital technologies, he said:
Adoption of technology
Acceptance of change and mindset to use it
Budget & Trainings
Technology partners
The right technology for the right business
Ready to face the failure and roll back mechanism
Projects and timelines, along with milestones set
When asked how technology leaders can overcome the challenges they face, he said:
Understand the business and its requirements
Exact Business Mapping Using People, Process, and Technology
The Right Technology Partner
Milestones and project management skills
Good team, including the business owners
Taking all the business owners into confidence
When asked about best practices, industry trends, or advice you would like to suggest to fellow technology leaders for their successful professional journeys, he said:
Confidence in what we implement and how we execute
Follow the industry trends and keep yourself updated
Always use products that are tested and reliable
Always work on long-term and short-term planning
Be ready to accept the worst to achieve the best.
Keep the management and the team in the loop and update them on every activity carried
Stick to the timeline and budget in mind
He highlighted:
Technology first approach
Clear mind on digitization and roadmap
Always work on a cost-effective solution
Never compromise on information security
Work within the framework defined
Also read: CIO News interviews Shri Wangki Lowang, Minister (IT) of Arunachal Pradesh
Do Follow: CIO News LinkedIn Account | CIO News Facebook | CIO News Youtube | CIO News Twitter
About us:
CIO News, a proprietary of Mercadeo, produces award-winning content and resources for IT leaders across any industry through print articles and recorded video interviews on topics in the technology sector such as Digital Transformation, Artificial Intelligence (AI), Machine Learning (ML), Cloud, Robotics, Cyber-security, Data, Analytics, SOC, SASE, among other technology topics