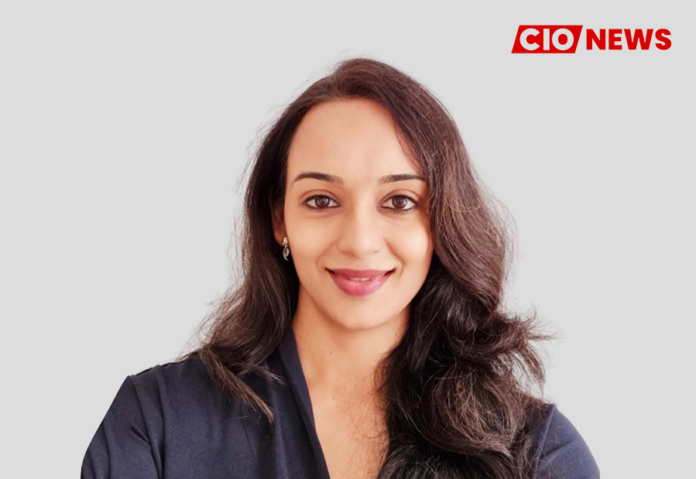 Working in cybersecurity can be rewarding and fun if you have a passion for it
This is an exclusive interview conducted by the Editor Team of CIO News with Pooja Shimpi, Vice President, Information Security Officer at Banking & Financial Services Industry
Can you share a little bit about what it is that you do and what a typical day for you is like?
In simple terms, I am protecting information about the organization. My role is to ensure the confidentiality, integrity, and availability of the banking and financial services systems and information. Every day is different due to different security situations, e.g., I roll out information security policy in the APAC region, prepare and present security dashboards in business risk meetings, liaise with business and users for infosec trainings, address queries, handle security incidents, manage regulatory requirements, audits, etc., and at the end of the day it gives me many reasons to look forward to tomorrow. No two days are alike in my line of work.
Did you always know that working in technology was what you wanted to do?
Absolutely not! On the contrary, as a teenager, I wanted to join the Air Force as a fighter jet pilot. Alternatively, I wanted to pursue a career in sports. However, being from a small town in India, your education and career are dependent on various factors that do not necessarily lead to what you want to be.
However, I did my bachelor's and subsequently my master's degrees in computer science knowing that I wanted to work, be independent, and travel extensively.
Information technology seemed like the best option, and I am glad I chose this field. Gradually, I paved my way into cybersecurity.
Have you ever been in a situation where gender has affected the way you have been perceived or treated in the technology industry? How did you handle the situation?
I've been treated differently because of my gender on several occasions. Though it was more often during the start of my career, there was one situation that actually happened when I was already quite tenured in my field of expertise. Being the only woman in a team of seven men, I realised that I was not given the opportunity to work on high-visibility and complex projects. This was due to the fact that the assignments were already decided at an after-hours drink session, to which I was not even invited. The next day, I was given some menial and low-visibility projects with no say. I decided that I couldn't let this happen and raised questions for justification in the meeting itself. After a few rounds of debate and justifying my skills that were suited to more complex projects, I then got what I deserved.
Gender biases can happen anywhere or anytime, be it in the beginning or much later in anyone's career. It is important to stand up and ask for what you deserve. That's what I learned from this situation.
What do you think is the best part of being a woman in the tech industry?
The best part for a woman is being in the tech industry right now!
There is so much happening globally in the field of technology that the sky is literally the limit for women. The tech industry requires tremendous amounts of multitasking. As a technology professional, to grow faster and more progressively, one needs to wear multiple hats. To a woman, multitasking comes naturally. Women are also known to handle pressure really well in any situation. Hence, the technology field is suited for women to grow and break the ceiling. Moreover, in the last few years, there has been an exponential growth of social media platforms and forums for supporting women's empowerment.
Do you notice a lack of women in technology? If so, why do you think that's the case?
I don't think there is a lack of women in technology, as in certain areas there is almost 50% representation of women. However, in newer areas of expertise such as cybersecurity, women make up around 25% of the global workforce. I believe this is because there is a lack of education, guidance, support, or sponsorship. Also, negative perceptions and misconceptions towards the cybersecurity area in general are responsible for the lower number of women in this field.
What advice would you give to a woman considering a career in the cybersecurity industry?
Be yourself; be bold! I invite all of you ladies to come and explore the field of cybersecurity, as there is a place for all of us. I found that working in cybersecurity can be rewarding and fun if you have a passion for it. Please note that you don't need to be technical or a coder to join the industry. (I don't do any coding in my day-to-day job!). Also, there are amazing mentorship programmes available that should not be missed. (Stay tuned for Global Mentoring for Women in Cybersecurity for 2023.)
What do you wish you had known before starting your career in the cybersecurity industry?
I stood up for myself, and when needed, I gave a fight to the external world. However, I wish I knew early that I should have given myself a fight internally to overcome the self-doubt and imposter syndrome that were holding me back from many good opportunities.
Also read: Play with technology yourself to be successful
Do Follow: CIO News LinkedIn Account | CIO News Facebook | CIO News Youtube | CIO News Twitter
About us:
CIO News, a proprietary of Mercadeo, produces award-winning content and resources for IT leaders across any industry through print articles and recorded video interviews on topics in the technology sector such as Digital Transformation, Artificial Intelligence (AI), Machine Learning (ML), Cloud, Robotics, Cyber-security, Data, Analytics, SOC, SASE, among other technology topics