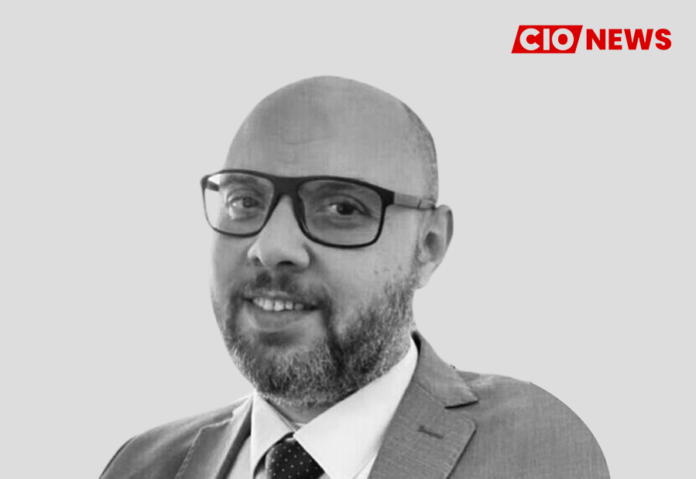 Fulfilling your tech-talent needs is increasingly a multifaceted endeavour
This is an exclusive interview conducted by the Editor Team of CIO News with Ahmed Hassan, Head of Presales IOT & Digital Smart Solutions at e& enterprise
How did you plan your career path to be a successful technology leader?
Key points:
Think like a business owner, not an employee.
Learn how and why other historical leaders were successful in influencing others.
Enhance your career through comprehensive programmes that explore personal leadership and business foundations.
Gain insights and knowledge for future-proofing your business.
Experience a truly transformational journey.
Develop a growth mindset.
Make a real impact on your organization.
Re-examine and apply my past experience to the IT industry.
Earn industry certifications.
Be open to starting at the bottom.
Utilizing the Power of Networking.
Learn relevant tech skills and gain experience.
Develop new ways to negotiate and build influence in the workplace.
Understand the nature of human decision-making and what it takes to make effective team decisions.
Learn to coach, inspire, and motivate others to achieve higher levels of performance and commitment to strategic goals.
Lead effectively in challenging circumstances arising from change.
Key Actions:
Collaborative: Being collaborative is a common quality of leaders in the tech industry because they often work with other leaders or staff. Collaborating with others to meet your technology goals is beneficial because it allows different professional strengths and disciplines to work together.
Decisive: Decisiveness is another important quality for tech leaders because they may need to make business decisions when developing their own technological advancements. Specifically, these leaders can use their decisive qualities when determining how to create new applications or identify ways to improve existing strategies. The ability to make quick decisions is crucial in the tech industry because advancements are continuously being explored.
Motivational qualities are usually common among tech leaders because they may want to share their innovations and knowledge with others. This might mean inspiring other tech leaders to continue working toward the technological advancements they want to create. Typically, leaders in the tech industry speak at professional engagements to share their discoveries and are sometimes mascots for their own technologies.
Efficiency is another quality most tech industry leaders have because they are often working on multiple tasks at one time.
Networking with tech leaders can help you gain insight into what it's like to be a leader in the technology industry. You can engage with these professionals via social media, conferences, or professional learning opportunities.
Working with your community is another way to increase support for your organisation and technological advancements.
Understanding your long-term goals for your organisation and the technological advancements you want to create is useful for prioritising your current tasks.
Mentor your team: Taking the time to mentor your employees can also help you become a tech leader because it's a learning process for both you and them.
Encouraging innovation and experimental thinking is an important step toward becoming a tech leader because effective leaders can inspire others to reach their own goals. You might provide this encouragement through training programs, speaking at professional events, or starting your own technology podcast. This might help others find the confidence they need to make their technological ideas a reality.
What challenges you faced in your career path and how did you overcome them?
Top challenges:
Lack of qualifications: Lacking the required qualifications for a role, such as educational requirements or skills, is a common challenge that many professionals may face in their careers. If you lack the necessary qualifications for the job you want, there are ways you can work to meet the requirements. Research the criteria for the position to understand the education and skills required for it. Search for classes you can take or certifications you can earn related to the position. Highlight this training on your resume to show employers your commitment to expanding your skill set.
Poor experience: many jobs require candidates to have relevant experience for the position. If you have little or no experience, it can be challenging to show employers you have the right qualifications for the job. When applying for jobs with less experience than is required, tailor your resume to feature your transferrable skills, such as communication. Show employers how the experience you've gained in another job or industry relates to the new position. If you want to gain experience before applying, complete some side projects on your own.
Self-doubt: If you lack faith in your abilities, it can keep you from progressing in your career. For example, some professionals may focus on the skills they lack to reach their goals rather than the skills they already have. If you experience self-doubt about your career, take some time to identify your strengths and consider how you can use them to achieve your goals. Develop a mantra you can repeat to yourself when you're lacking confidence, such as "I have many valuable skills." Focusing on your unique skills can help you feel empowered to continue working toward your goals.
Changes in industry: When there are changes in your industry or position, it may affect your professional goals. For example, if your industry becomes more reliant on technology, you may find it difficult to advance in your career if you have limited technical skills. Throughout your career, it's helpful to remain flexible and continue learning to adapt to changes that may occur. Read books and articles about your industry to stay up to date on new trends, Volunteer for new challenges at work to develop or improve your skills. Consider changes as opportunities to continue your professional development.
Uncertainty about goals: Professionals may face challenges in their career because they're uncertain of the goals they want to set for themselves. They may be unsure about the types of jobs that align with their passions or the career options they may have based on their skills and experience. If you're uncertain about your own career goals, do some research to help you learn about different jobs and industries that appeal to you. For example, if you have bookkeeping skills and a desire to work from home, you may research some companies that hire accountants to work some of their time remotely.
Burnout: It occurs when professionals feel stress related to their work. It may cause them to feel frustrated about their career path or unmotivated to reach their professional goals. If you experience burnout, evaluate the factors that may be causing it. For example, if you're experiencing burnout because you started a new shift at work, realise that it may take time for you to develop a new routine. If you believe there are deeper factors contributing to your burnout, such as dissatisfaction with your industry, begin to think about the relevant skills and experience you can bring to another burnout job.
Actions to overcome the challenges:
Have a career plan: Creating a career plan can help you determine the professional goals you want to achieve and develop a plan to reach them. While developing your career plan, it's helpful to identify any potential challenges that may affect your goals. Being aware of potential challenges in your career can help you determine ways to minimise those obstacles. For example, if your goal is to advance to a higher position within your company but you have limited leadership experience, you may decide to take an online course to help you develop these skills.
Gather information: Researching your career goals can help you understand the path you can take to reach them. Attend job or career fairs to help you learn about different jobs that may interest you. Read books or articles to become familiar with the industry you want to work in or the job you want to have. Join a group or professional association to grow your network and speak with other professionals about their own career paths. Gathering this information can help you feel confident about your career goals and manage potential challenges. 
Adapt to change: Being flexible with changes can help you continue working toward your professional goals. Throughout your career, your priorities may change, and you may want to set new professional goals. Other times, the changes may be outside of your control, such as when a company limits advancement opportunities. Adapting to these changes can help you evaluate your goals and find new ways to reach them. For example, if your industry's employment growth slows, you might look into other industries where you can apply your transferrable skill.
What are the challenges faced by technology leaders today while implementing digital technologies?
Lack of Change Management Strategy
Complex Software & Technology
Driving Adoption of New Tools and Processes
Continuous Evolution of Customer Needs
Lack of a Digital Transformation Strategy
Lack of Proper IT Skills
Security Concerns
Budget Constraints
Culture Mindset
Siloed decision-making
Legacy systems
Risk-averse organisational culture
Insufficient budget for technological change
Looming digital skill gap
Shortage of technological resources
Increased security risks
How can technology leaders overcome the challenges they face?
Align business objectives with digital transformation strategy.
Make organisational change a core element of digital transformation.
Maintain transparent communication at all levels.
Craft a solid implementation plan
Strategize technology procurement plans.
Bridge the skills gap
Extend the sourcing criteria
Enhance your cybersecurity strategy.
Have a comprehensive financial strategy.
Implement low-code or no-code solutions.
Form a Change Leadership Team.
Any best practices/industry trends/advice you'd like to share with fellow Technology Leaders to help them succeed professionally?
Find a mentor.
Attend industry conferences and tech events.
Devote time daily to tech news.
Use social media to connect.
Prioritize learning.
Share and exchange ideas with your peers.
Developing your team.
Focus on customer-centric leadership.
Any other points that you would like to highlight?
Yes, I'd like to add the following points as well.
You can't be good at just one aspect of talent management and expect to succeed. Fulfilling your tech-talent needs is increasingly a multifaceted endeavour. Finding great talent doesn't help if the talent doesn't want to work for you, and hiring great talent doesn't matter if the talent leaves quickly. Companies have to invest simultaneously across the entire "hire to retire" life cycle.
Focus on attracting talented people to your organisation because they are the main core ingredient to success in your field, and be aware that top talent is interviewing you, not the other way around.
That starts with developing a digital talent engine—a focused team dedicated to managing the entire employee experience, from hiring and onboarding to creating new career paths and continuously building skills.
Close your talent gap; it's wider than you think. The most effective talent strategies are grounded in a clear view of what capabilities the business needs to generate value compared with those it already has, especially in the area of cloud talent.
Also read: Technology leaders must continuously attempt to learn with deep hands-on understanding
Do Follow: CIO News LinkedIn Account | CIO News Facebook | CIO News Youtube | CIO News Twitter
About us:
CIO News, a proprietary of Mercadeo, produces award-winning content and resources for IT leaders across any industry through print articles and recorded video interviews on topics in the technology sector such as Digital Transformation, Artificial Intelligence (AI), Machine Learning (ML), Cloud, Robotics, Cyber-security, Data, Analytics, SOC, SASE, among other technology topics