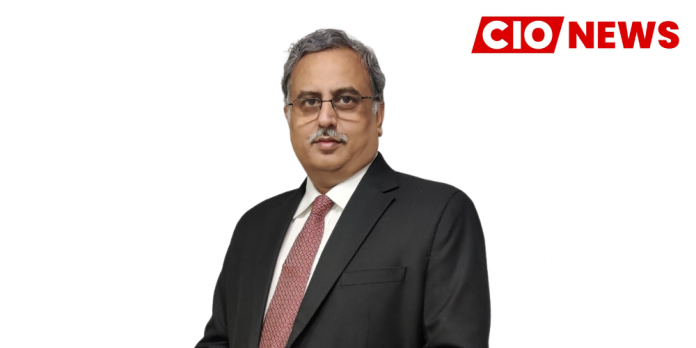 CIOs need to be resolute leaders who build coalitions and credibility through understanding of business and people (and of course technology)
When asked how he planned his career path to be a successful CIO, Vinod Sivarama Krishnan, Chief Information Officer (CIO) at Indus Towers Limited, in an exclusive interview with CIO News, said, "I had what was (at that time!), an unusual career path into IT Management. As a fresh MBA without work experience, I initially found it quite difficult to reconcile the (to me obvious!) importance and potential of IT as a transformational tool with the rather low regard with which the practitioners of this art were regarded at least at a senior management level, with the predominant view being that they were technical subject matter experts rather than business leaders. I did not have the then mandatory years in writing code or implementing solutions at an IT company to prove my understanding of technology or business. But what I did have was a good understanding of how businesses work and that was informed by my understanding of technology solutions to give me an integrated view of my role in the business.
Thankfully, the raw power of technology to transform business was obvious even in 1993 and over a while I understood that (even if it meant that I may not have a direct path to the corner office!) information technology was too important to leave only to the technologists! I was fascinated by the complexity of issues involved in project success such as change management, grooming and developing IT managers and IT leaders and picking the right IT strategies. I was also able to move beyond the lure of technology for technology's sake and harness the huge underlying demand for automation and digitization and deliver outcomes that convinced my management at every stage that the path was appropriate.
Over time I have learned to identify the right keys to success in my profession. Working across industries and geographies has helped me to generalize the rules of success and find the factors that work in transformation, which has helped me to be a successful CIO.
Lastly, using the credibility that comes from the bird's eye view and deep understanding of the cross-functional interactions and challenges in the business, I can put across a point of view on the IT strategy and how to reap the benefits of technology to overcome competition and exceed customer expectations.
Even today, I find that demystifying technology and determining the right course of investment of capital and effort in project management for a successful project is something I enjoy very much and is deeply satisfying. Every day me (and my team, and indeed all CIOs globally) work to make life easier for millions of front line people by automating some (if not all) of the repetitive and laborious work they do, and in many cases make activities possible which may not have looked possible even a few years back. The recent pandemic is a case in point – enabling work in a model that would have been frankly unthinkable."
When asked about challenges he faced in his career path and how he overcame them, he said, "One key challenge in my career path was always to find the right balance between being technically sound and an excellent execution/project manager versus being a strategist and understanding the true underlying needs of the business from technology and delivering those rather than the expressed wants. Often I would be asked to do something which I considered being a want rather than a need, and the expectation would be to execute it within timelines and budget and it was difficult to refuse without seeming uncooperative or not a team player. When I did voice my strategic view, often I would receive push back in terms of not understanding the real situation on the ground and be asked to leave strategy to the strategists!
Over time I understood how to better express or articulate my views and how to plan a win-win strategy, usually by having a Plan B in place and executing what I knew to be necessary and waiting for the leadership understanding to catch up with my position. I am passionate about my (and my team's) ability to solve problems and find new and better ways of doing things, and I learned how to share that passion in a leadership forum and drive acceptance. I learned how to gracefully take feedback and responsibility for failure but also to own our successes and talk about how what we do helps the organization and elevate the perception of IT among our entire stakeholder community."
When asked about challenges faced by CIOs today while implementing digital technologies, he said, the two major challenges faced by CIOs in implementing digital technologies are:
Deriving value from the technology by creating a solution which solves the problem we are directing the technology at. Often there could be a mismatch between the maturity and basic capability of the solution and the underlying problem it is trying to solve, which dilutes both the commitment of the problem owners to use the new technology as well as the commitment of the technology teams to implement the new technology!
Leading or participating in the change management that leads to successful adoption of the technology and delivery of business benefits. It is a source of enormous frustration to Technology teams and leaders that after the hard yards of solution identification, design and implementation, driving user acceptance and delivering the solution, the success of the initiative still depends on the end users moving from what they used to do to doing it the new way!
When asked how CIOs can overcome the challenges faced, he said, to solve the above challenges:
CIOs (or their teams) need to have sufficient understanding of the domain and the technology to be able to connect the dots at a very detailed level and to get convinced about the ability of the solution to solve the problem. For instance, a technology might be very attractive and promising but if a CIO is not able to visualize for himself or herself how exactly the application of that technology will overcome the current challenges with the use case, then he or she will never be able to build the consensus with senior stakeholders or be able to stake their credibility on the solution to secure the necessary approvals to execute it. Proofs of concept should be less to prove capability to user functions or business stakeholders and more to convince CIOs and their teams of the power of the technology and how to harness it to address their specific problems.
Any CIO who believes that his or her work ends after implementation needs to understand that many initiatives fail post implementation due to poor change management. Often the difference between eventual business value delivery and failure is the CIO's involvement and ownership of the change. If the CIO is convinced about the appropriateness of the technology (a, above) then he or she can put their authority (both formal and soft) behind the change and create conditions for success. Setting up post go-live war rooms to educate and to solve teething issues removes excuses and enhances positive perceptions which are instrumental to success. These war rooms also generate detailed success stories that can be further amplified in all company forums to drive acceptance. Once these stories go out, people tend to believe in the technology and look for reasons to make the initiative a success rather than vice versa!
When asked about best practices/industry trends/advice he would like to suggest to fellow CIOs for their successful professional journeys, he said, "CIOs need to be resolute leaders who build coalitions and credibility through understanding of business and people (and of course technology).
Building coalitions is a function of time spent with other leaders understanding their issues and perspectives and finding the right value drivers which will motivate them to support you. This requires purposeful networking and time spent in business reviews at all levels to understand where the pain is and what IT can do to help make it go away!
Credible understanding of business (and people!) does not come from sitting in your office but from travelling, meeting people and investing time, money and effort in understanding how your business works, how it makes money and where it spends it. The best ideas for solutions come closest to where the problem is, so going to the Gemba (a TQM term for visiting the field or shop floor) is essential.
Credible understanding of technology comes from investment of time and money in POCs, keeping oneself abreast of trends and the potential impact of the technology to solve current and future problems. Understanding what others have done and are planning to do with the technology is a great source of ideation as well as reassurance that one is on the right track."
He highlighted that Management of Information Technology has moved from being a technologist's domain to a business leader's domain, with many of the current CEOs being extremely tech savvy both professionally and personally. With that increased understanding from CEOs and boards come increased demands for IT Leaders to step up and take ownership of disruptive change that technology can bring and to harness it to enhance revenues, cut costs and optimize business performance. The future of companies depends strongly on their ability to continuously transform and that cannot happen without a strong and flexible digital backbone which can evolve to meet current and future challenges.
Also read: CIO News interviews Shri Wangki Lowang, Minister (IT) of Arunachal Pradesh
Do Follow: CIO News LinkedIn Account | CIO News Facebook | CIO News Youtube | CIO News Twitter
About us:
CIO News, a proprietary of Mercadeo, produces award-winning content and resources for IT leaders across any industry through print articles and recorded video interviews on topics in the technology sector such as Digital Transformation, Artificial Intelligence (AI), Machine Learning (ML), Cloud, Robotics, Cyber-security, Data, Analytics, SOC, SASE, among other technology topics