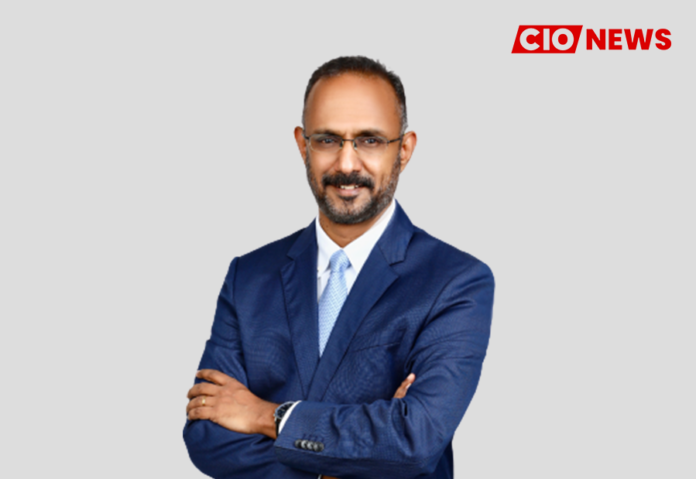 Marketing Technology is becoming increasingly important for organisations to meet and exceed customer expectations
This is an exclusive interview conducted by the Editor Team of CIO News with Unnikrishnan KP, Vice President, Marketing (Asia Pacific & Japan) at Palo Alto Networks
How did you prepare for a career as a Marketing Technology (Martech) leader?
Interestingly, the starting point of my career was not related to marketing at all.
I finished my mechanical engineering degree, and my first job out of college was as a sales representative for one of India's largest technology companies. I began learning by doing. I acquired the necessary skills to effectively sell IT. Yes, a mechanical engineer with zero exposure to IT had to start making a mark in computer sales, and it wasn't easy!
After securing my MBA, I had quite an extensive career, moving from sales to marketing, running alliance sales, and building telemarketing and web business initiatives. During the course of my career, I've had the opportunity to work for some of the most respected tech companies in the world. My learning and my experience in high-growth environments, across both multibillion-dollar organisations and early-stage companies, have brought me to where I am currently. I have had extensive opportunities to be involved in organisational growth and building high-performance, diverse teams.
So you may wonder how I went from being a 20-something year old  working on selling computers all the way to leading Asia Pacific and Japan's (APJ) marketing at the largest cybersecurity company in the world. Through this interview, I hope to give you a few insights into what has helped me on my journey.
I have always had a thirst for sales. So while trying to sell technology as a mechanical engineer was not an easy task, it was possible because I had the passion to focus on what I found exciting. This, coupled with grit and determination to be the best at whatever I pursued, provided me with my formative experience, which has laid the foundation for what I believe are the skills required to be a successful business professional.
When I made the shift to marketing midway through my career, my initial experience helped me better understand the fundamentals of sales and marketing and how important it was for the two to work in tandem. I worked on projects that involved collaboration between sales and marketing for a while and dabbled with expanding into other areas like alliance sales, partnerships, online sales, developer evangelism, sales, and finally back into marketing. While all these roles were sometimes new or required build-up, for the most part, they were all associated with either established businesses globally or within the regions.
A little over nine years ago,  I ended up taking a fairly bold risk as I left my stable, well-established job to join a start-up in its truest sense, with zero brand recognition, a minuscule business, a tiny marketing team, and minimal presence in the APJ region. I honestly believe that these were the very factors that drew me to take on this role—the idea of starting from scratch. When I became Marketing Director of Asia Pacific at Palo Alto Networks in 2013, I had the opportunity to become deeply involved in all aspects of the business. I often joke that other than deciding what goes into the refrigerator, I was pretty much involved in everything! From building teams, identifying offices, securing channel partnerships, launching government initiatives, hiring people, and drawing up office plans and designs, it was anything but easy. As I recall, everything was tough—hiring, selling, building partnerships—and I knew at this point that we would have to rely on our grit, determination, focus, and most importantly, passion, to build an exciting and promising business. We created a completely new culture, a fresh and exciting model in which there was no "it's not my job" attitude. At Palo Alto Networks, especially during those initial years, no job was too small, and everyone did everything as long as it was for the customer. Slowly but surely, we started building a brand and a successful business. Today, we have established ourselves as a company that works directly with the world's largest enterprises, helping them solve some of their most challenging problems in cybersecurity.
What challenges did you face in your career path, and how did you overcome them?
If there are no challenges, there can be no growth. After all, it is only when faced with obstacles that one can try out new things. I would say everyone goes through their own ups and downs in their respective careers, and this holds true for me as well. How challenging these barriers are varies from case to case and also depends on the industry one is in.
For any ambitious professional, an ideal way forward would be to chart a career plan and successfully navigate one's professional life to follow the same. Following a blueprint helps with goal setting by marking important milestones, the positions you want to hold, details on the salaries you would want to earn, the market you want to operate in, industries you want to be in, and more. Working according to a plan also helps you align your expertise with market requirements and opportunities. However, there's always the chance that things don't go according to plan! Therefore, it is essential that you also prepare yourself for the obstacles and challenges you may face along the way.
For me, my first challenge was a lack of knowledge. I was thrown into a role as a sales representative in a tech firm when I was a qualified mechanical engineer. This meant I had no specific background on the product I was expected to sell. The solution was simple. I upskilled my qualifications by taking additional courses, programs, and certifications, and even qualified myself with the necessary degrees. I studied hard. I learned about new products, market dynamics, and customer requirements in a high-tech industry. This, along with practical work experience and learning on the job, helped me get a grip on things.
Often, employees feel a sense of uncertainty after they gain a promotion, take on a new role, or step into a new job. This is a common occurrence. I too have felt this sense of unsureness. I tapped into mentors and coaches who have either worked in the same position or whose experiences I could draw on for possible next steps. I found that it's very important to set both short- and long-term professional goals so that you have an idea of what happens to your career after your promotion.
Another massive barrier to career development stems from external factors such as shifts in industry trends or markets. So, while having a blueprint is a great idea, having one that is open to change is even better! As I've mentioned, my career growth was not a bed of roses. If I had resisted opportunities that came my way and refused to tackle the challenges I faced head-on, I would not have ended up where I am today. I do believe that what pushed me through was sheer grit, determination, and passion for what I wanted to achieve and the drive to be successful at every step. The key is having the right growth mindset, along with perseverance and a willingness to learn and adapt. With these qualities, one can tackle just about any challenge that comes up.
How do you plan to promote your company's technology or technology products?
At Palo Alto Networks, our mission is to be the cybersecurity partner of choice and protect our digital way of life. We do this through a multi-pronged approach, as described below:
Aligning marketing strategies with various target audiences: We take time to understand the business challenges of our target audiences, who could be DevOps and SecOps, professionals, or senior executives. They have different priorities—running a remote workforce securely, accelerating the shift to the cloud, or reducing costs—and our marketing strategy is woven around these priorities.
Improving cybersecurity education: Few people outside of the tech world understand more than what they see in the headlines. Hence, cybersecurity education must precede any marketing initiative. Here again, we tailor our education according to different target audiences—for CEOs, the board, technocrats, users, academia, and governments.
Allow our customers to touch and feel our technology before making a purchase: We run programmes that allow our prospects to understand our technology, get comfortable with it, and see first-hand how it works before they purchase our solutions. Our tools give them visibility into existing breaches in their environment, so they can assess threat exposure first-hand.
Accentuating the sense of urgency: Companies have started to take cybersecurity seriously. However, many have still not prioritised it. We work with them tirelessly to help them understand the need to act quickly and decisively.
No ambulance chasing: We steer clear of scare tactics. It is easy to feed into the growing fear, but our approach has always been one of consultation and strategic planning so that a business can continue to focus on its core activities without worrying about security.
In summary, our marketing strategy is to help industry, academia, and government organisations be more cyber-savvy and improve their cyber prowess to have a breach prevention-based infrastructure.
How do martech leaders intend to use technology in marketing, and what are the benefits to their organizations?
One of the CEOs of a company I worked for in the past used to say, "Technology has the shelf life of a banana!" Indeed, there is truth in this statement. Technology is truly moving faster than ever before, and alongside it, customer expectations are skyrocketing as well. MarTech is becoming increasingly important for organisations to meet and exceed customer expectations. It helps organisations fill the digital gap created by the rapid technological advancement in their businesses and evolving consumer behavior. The advancement in machine learning, artificial intelligence, data analytics, and automation helps marketers align with market trends and speed up an organization's changes.
The following steps are critical when you're thinking about implementing new marketing technologies in your organisation.
Timing: Develop a realistic time frame for launch and plan this after getting your stakeholders on board.
Minimal disruption: Ensure your plan is phased to ensure minimal disruption to your work or business.
Review: Review your existing infrastructure and technologies and determine what will be affected and the repercussions, if any.
Team: Create a tiger team or implementation team. This should not be just your or your marketing team's "project." It needs the larger team's ownership.
Back up: Ensure you have a support team, a backup plan, and a process in place. Prepare for hiccups and challenges that have a solution in place.
Market it: Call out and market the advantages to all stakeholders as you start seeing its benefit and success.
And what do you get by having these investments? You get benefits such as personalised communications, cross-platform integration, stronger customer-provider relationships, and so on.
Hyperpersonalization: Personalized content is the new normal. Users and audiences expect brands to know them as individuals, not just as data points. Martech can help communicate brand messages with far greater impact. Therefore, marketers today are increasingly looking to personalise their campaigns to cater to audiences that have a much higher likelihood of resonating with said campaigns.
Meets the growing need for integrated solutions: MarTech tools were previously siloed and disparate. Often, marketers would need separate dashboards for hyper-specific functions. Today, with more sophisticated and powerful solutions, MarTech tools are increasingly offering more with less. This helps marketers decrease operational costs and increase efficiency through streamlining.
Helps build better relationships: Martech strengthens customer and buyer relationships because marketers have a clear idea of past conversations, interactions, subscription information, and more. This helps maximise the value delivered to customers.
Facilitates data-driven marketing: The digital transformation has transformed customer behaviours and led to the availability of reams of marketing data, which has necessitated the use of MarTech tools. This data is a goldmine for marketers as it provides essential insights on product positioning, promotion, and delivery.
What are the challenges faced by martech leaders today while implementing technologies in marketing?
It can start with the problem of having too many. Legacy technology produces point products that are incompatible with one another. In other words, for a marketer, the sheer volume of martech solutions is overwhelming.
Another major challenge is showing ROI and attribution to the investment. This is a typical and prevalent problem faced by marketing leaders.
The lack of training and resources is another major concern. Budgets continue to go towards more tech features and functionality, but marketers can't or don't know how to use them. Often, marketing teams have ended up with new products with new features but no resources or skill sets to use them.
How can Martech leaders overcome the challenges faced?
To make better use of their martech investments and resources, marketing leaders should consider these actions:
Assess the team's utilisation of the martech stack by conducting regular audits of deployment and usage. Review where it's effective and where it isn't.
We position ourselves as the cybersecurity partner of choice for our customers; similarly, you need a partner or consultant and not a vendor. Even the largest martech vendors may compete for your business on a best-of-breed basis, but at the end of the day, determine what they can provide beyond just the tools. They should support your required capabilities and make sure they generate business value.
Overcome talent and training challenges by relying on readily available internal resources, such as IT, and recruiting the help of external agency partners or martech integrators to implement new technologies.
Drive to deliver value more quickly and minimise waste in the face of fast-changing business demands by adopting agile methodologies.
Any best practices, industry trends, or advice you'd give to other Martech leaders to help them succeed professionally?
Here are a few key learnings that will help you move forward in your career:
Constantly transform yourself: The industry (and marketing strategies) is constantly evolving, and it's important to stay on top of new technologies, trends, and best practices.
Be strategic: Marketing is about more than just running events, designing t-shirts, and securing golf sponsorships. It's important to take a strategic approach, aligning your marketing efforts with your overall business goals and objectives.
Measure outcomes and analyse impact: Marketing is a data-driven field, and it's important to measure and analyse the effectiveness of your campaigns and efforts—in other words, your impact.
Focus on the customer: At the end of the day, marketing is all about understanding and meeting the needs of your customers. Make sure to prioritise customer needs and feedback in your marketing efforts.
Collaborate and align: Marketing is often a collaborative field, and it's important to be able to work effectively with others, including sales, colleagues, partners, and clients.
Be adaptable: The marketing industry is constantly changing, and it's important to be able to adapt and pivot as needed. Stay open to new ideas and approaches, and be willing to try new things.
Anything else that you would like to highlight?
It is important to feel motivated and connected with what you do in order to be inspired in your career. For this, your work should be your passion, and you must have fun doing what you do. Only then can you achieve personal and professional success, and you should keep learning while you go through this journey.
Also read: Indian-Origin IT Leader Creates a Lasting Impact in US Healthcare
Do Follow: CIO News LinkedIn Account | CIO News Facebook | CIO News Youtube | CIO News Twitter
About us:
CIO News, a proprietary of Mercadeo, produces award-winning content and resources for IT leaders across any industry through print articles and recorded video interviews on topics in the technology sector such as Digital Transformation, Artificial Intelligence (AI), Machine Learning (ML), Cloud, Robotics, Cyber-security, Data, Analytics, SOC, SASE, among other technology topics