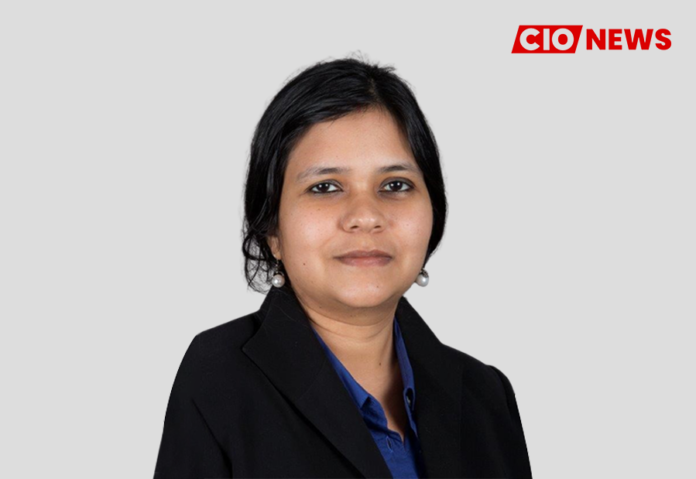 However, to translate them to jobs, Women in Tech must choose wisely and independently
This is an exclusive interview conducted by the Editor Team of CIO News with Pooja Agrawalla, Head – Identity & Access Management (Cyber Security) at NXP Semiconductors
About Pooja Agrawalla:
Pooja has led and strategized large enterprise solutions in cybersecurity and identity and access management (IAM). She has close to 20 years of experience in identity and cybersecurity, and she now leads IAM products and solutions at NXP.
Pooja is a noted speaker in multiple technology and cybersecurity forums. She is currently associated with the CSA (Cloud Security Alliance) Bangalore Chapter. Pooja also contributed as a writer in developing content for the IAM module in the GCISO Leadership Foundation certification. Pooja has been recognised as one of the Top 20 Indian Women Influencers in Security for 2020 by SecurityToday, InfosecGirls, and WISECRA. She was recently featured in "The Rise of the Cyber Women: Volume Two."
Her cybersecurity experience is backed by certifications like CISSP (Certified Information Systems Security Professional) and CCSP (Certified Cloud Security Professional). She has completed the Design Thinking programme from Emeritus in collaboration with MIT, Columbia, Tuck, and MTech from BITS, Pilani. Additionally, she is pursuing a PhD from PES, Bangalore.
LinkedIn: https://www.linkedin.com/in/pooja-agrawalla/
Can you share a little bit about what it is that you do and what a typical day for you is like?
Indra Nooyi says, "Women cannot have it all." I do not agree. If a woman makes her wise choices, I believe "she can have it all." I am a cybersecurity enthusiast, a mother, a wife, and a daughter, the one, who won't settle for anything less than "ALL."
I am responsible for Identity and Access Management (IAM) products, engineering and  operations in my company. I start the day off being organized and prepared for the all the rush later.  I work with my teams on IAM delivery, strategies, roadmap, budgets, product/portfolio management, people management, business growth, and operations management.  Interestingly, as I reflect on, my days aren't the same. My scenarios, learning, problems are new every day. Like all, I do have bad days and good days. What helps me, is after work, I make sure to unwind by spending some quiet time by reading or painting.
Did you always know that working in technology was what you wanted to do?
From childhood, I had the privilege of being allowed to decide and deal with outcomes on my own. I knew from school that I wanted to do engineering, to build things.
When it comes to computers and its technology – I want to go back to a regular day in my engineering days, when I saw a computer for the first time. I remember it being a Windows 95 machine with MS-DOS, where we were writing DOS commands. I was in love with computers at first sight. More than a decade later, I am still interested in computing and am pursuing a PhD in cybersecurity. But it all started from that moment—my first day with computers!
Have you ever been in a situation where gender has affected the way you have been perceived or treated in the technology industry? How did you handle the situation?
Our technology industry is male-dominated and the under-representation of  women in leadership roles is a fact. With multiple factors like, cultural barriers, gender based bias and "male-demonstrated leadership" perceptions, makes it harder and longer for a women to reach to higher levels.
As I embarked into management and leadership roles, I could clearly see my capability and skills was judged by perceptions and bias. There were times when I was the only women in a room, with men very senior to me.  It did make things  tough for me as I felt not included and trusted.
My mantra is to look inwards, lean inwards, prepare and change yourself to come out to say "I exist", "I know", "I can". With perseverance, good determination and courageous ownership, I was able (and still trying to) to tackle these challenges.
What do you think is the best part of being a woman in the tech industry?
Today, women should capitalize and flaunt their difference and uniqueness. By just being different in a room full of men, is a great way to attract visibility, which could be used to tap into opportunities.
I also think women have a big advantage in leadership, they can demonstrate greater use of emotional intelligence, self-control, empathy and transformational leadership when in charge.
Do you notice a lack of women in technology? If so, why do you think that's the case?
For India, when I look at the data, on women in STEM, the numbers are very impressive. However, these numbers don't translate to jobs and the numbers are reduced further, as we move up the hierarchy.
There are multiple factors, i.e. society and cultural barriers and gender based bias. In most Indian houses, job of women revolves around child rearing, cooking, cleaning and caring for others. A child of this household is highly likely to grow up some serious gender bias. This bias, impacts in acceptance of women who are working, taking decisions, and expressing opinions.
I believe a lot of these bias, can only be broken by women themselves. While at work, women should demonstrate that leadership, technology, coding, cyber security are not gender based roles. At home, women can demonstrate to her child and family that identity, ambition, dreams and emotions are not gender "tagged" words.
What advice would you give to a woman considering a career in the tech industry?
Be confident, relevant, and competent. Remember, others could be worse than you
Come on to your comfort zone. Say I exist, I know and I can
Make your own Choices. Be the leader of your own life first
Ask for help. Remember, you are not a superwoman!
Use your uniqueness and differences. Remember to flaunt them many times
Take out time for yourself. Have hobbies and focus on your health.
What do you wish you had known before starting your career in the technology industry?
I wish I would have met my mentor early on in my career. His mentorship has impacted my professional and personal journeys positively.
Value of networking
Also read: Marketing is all about understanding and meeting the needs of your customers
Do Follow: CIO News LinkedIn Account | CIO News Facebook | CIO News Youtube | CIO News Twitter
About us:
CIO News, a proprietary of Mercadeo, produces award-winning content and resources for IT leaders across any industry through print articles and recorded video interviews on topics in the technology sector such as Digital Transformation, Artificial Intelligence (AI), Machine Learning (ML), Cloud, Robotics, Cyber-security, Data, Analytics, SOC, SASE, among other technology topics