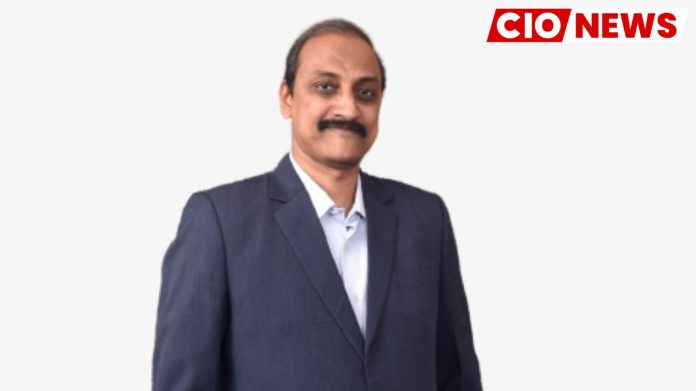 To anyone looking to begin their careers in information technology or any of its sister streams, my only insight on this front is: opportunities and more opportunities! The industry is growing at an exponential pace, and the opportunity for career growth is optimal
When asked what digital literacy is and why does it matter, and as an technology leader, what are your views on digitally up-skilling the youth in the post-COVID era, Manoj Madhavan, Chief Information Officer (CIO) at Blue Dart, in an exclusive interview with CIO News, said, "Digital literacy is the ability to learn, understand, and adapt to technology-inclined changes in a constantly evolving digital world." The pandemic has re-emphasized the importance of being equipped with the right skill set to efficiently use technology to sustain and even preserve the "normalcy" of our day-to-day lives. The idea is to have in place a system so resilient that, despite severe disruptions, life can carry on without having to come to a screeching halt. Today, digital literacy is just as important as any other subject that children and young adults are taught at educational establishments and could even be leveraged as a teaching platform in itself.
The future has enormous potential to be transformed into a digital world; in fact, we are already witnessing a technological revolution. From ordering medicines to delivering shipments using drones, the future is set to be one where digital solutions are going to be able to cater to a myriad of requirements. The youth of today should be educated and well-versed in tech-enabled solutions as it is going to be their future. Industries across verticals have already begun adopting automated solutions that reflect a strong impact on numerous facets of their business, both internal and external. Tech will continue to govern numerous facets of our lives, from becoming a medium of teaching in itself to adopting digital solutions that provide better career and life prospects. Going forward, digital literacy is going to be an imperative aspect of our education system.
Taking Blue Dart itself as an example, we have consistently been investing in and adapting to new technology, which includes redesigning our ERP to a microservices-based design and launching future-ready solutions such as the Blue Dart Med-Express Consortium, etc. The intent is to make sure that decisions are based on data and not just instinct. Deploying ML also enables us to drive operational efficiencies through optimised routing, address correction, and also aids in operations by predicting volumes and manpower requirements. We keep exploring new avenues and areas where we could make use of AI and ML to impact operations and drive efficiency and optimization.
When asked how the youth can be digitally empowered, what kind of exposure and engagement opportunities in the educational curriculum can educational institutes implement to raise the interest of youths to up-scale their digital skills, and should it become a must for schools, colleges, and other educational institutes to conduct workshops or crash-courses programmes to drive the importance of technology for businesses, he said, "Teaching and learning is a two-way street." The future necessitates individuals who can remain resilient by adapting to the needs of the hour efficiently. Therefore, schools and colleges must start building a technologically inclined foundation for students to help them adapt better to the world of tomorrow. The in-school curriculum must be tailored to include programmes that induct individuals into adopting tech solutions; this in turn will help them leverage their strengths to do more rewarding tasks. Currently, some institutes have an IT component as a pre-requisite course. However, the level of depth with which the subject is being taught needs to penetrate much further to truly make an impact. Courses to familiarise children with such subjects can also be introduced at an earlier stage with a much simpler explanation provided. We all begin school by learning the alphabet in order to speak fluently in any language; technology and automation should also be considered a language, allowing children to learn the basics, setting up a strong foundation for them and then banking on it to further increase their knowledge and agility in the long-run.
Having said that, schools and educational institutes can only do so much. Growth can only be witnessed if the individual is also willing to learn and invest well in themselves by looking online, finding the right courses, and actively working towards the pursuit of knowledge.
When asked what advice as an IT leader would he give to the youth considering their career in the technology industry, what should they know about the industry before starting their career, and what challenges they could face and how do they overcome the challenges, he said, to anyone looking to begin their careers in information technology or any of its sister streams, my only insight on this front is: opportunities and more opportunities! The industry is growing at an exponential pace, and the opportunity for career growth is optimal. Especially in a post-pandemic world, the significance of the industry has been propelled to much greater heights and shows immense promise. My only advice would be to grasp every opportunity coming your way and consistently invest in updating your industry knowledge.
Children of the present and in the future too, have and will grow up alongside technological leaps. Having said that, networking across industries and age groups will also be incredibly important. While technology and digitalization are the future of tomorrow, it is crucial to not entirely eliminate the element of human touch while interacting with a customer. Challenges on this front could arise. However, leveraging the insight of your seniors and curating solutions that are a combination of artificial and augmented intelligence is the best way forward to negate those challenges.
Getting introduced to learning more about industries and businesses early on is also a very important aspect of bridging the learning curve. This will assist students in connecting theory to real life and comprehending the impact of technology on actual business. Mentors also play an important role in guiding youth to take the right steps to achieve their goals; their experience and wisdom enrich one's learning.
Understanding design concepts is another important step in this journey, and the earlier one begins, the better. Mathematics and physics are also important subjects to master, particularly for engineering, AI/ML, and analytics.Understanding the concepts in detail can help develop better solutions for businesses and customers in the future.
Also read: CIO News interviews Shri Wangki Lowang, Minister (IT) of Arunachal Pradesh
Do Follow: CIO News LinkedIn Account | CIO News Facebook | CIO News Youtube | CIO News Twitter
About us:
CIO News, a proprietary of Mercadeo, produces award-winning content and resources for IT leaders across any industry through print articles and recorded video interviews on topics in the technology sector such as Digital Transformation, Artificial Intelligence (AI), Machine Learning (ML), Cloud, Robotics, Cyber-security, Data, Analytics, SOC, SASE, among other technology topics