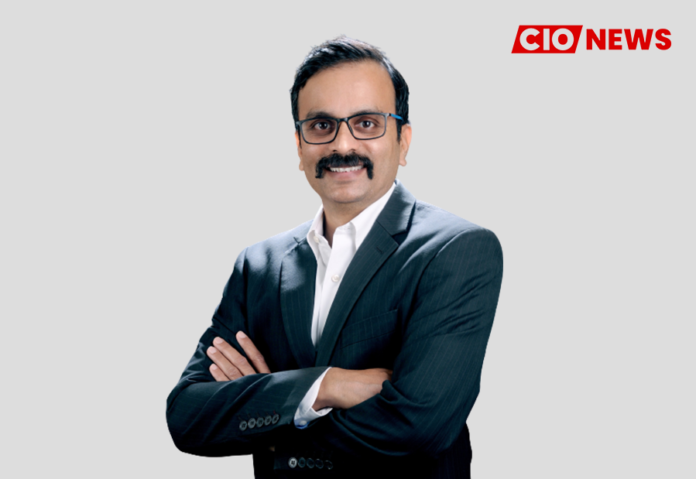 The adoption of technology has accelerated in the last couple of years across all sectors, and more and more customers are consuming information through a wide range of technological platforms
This is an exclusive interview conducted by the Editor Team of CIO News with Hari Prasad N, Head – Marketing & Branding | Education Unit at Tata Consultancy Services
How did you prepare for a career as a Marketing Technology (Martech) leader?
Marketing has been my focus area for close to two decades now, and in this journey, I have had the opportunity to experience it in different formats and through different mediums. Specifically, I have had the privilege of a ringside view of how technology is shaping marketing. This excited me and encouraged me to build a career path in this field. On-the-job practical experiences coupled with research and experimentation have led me to where I am today in the field of Martech.
What challenges you faced in your career path and how did you overcome them?
A couple of challenges come to mind. When I started my career in marketing everything was almost "traditional marketing". In just a few years, this new age of "technology-led marketing" dawned and the pace with which "marketing technology" began to evolve increased. It took me some time to understand and embrace this transition appropriately. The second challenge is that there are many Martech options to choose from, each with its own pros and cons. I realised that the best way to overcome these challenges is to first understand the core business objectives we are attempting to achieve through the various technology solutions, contextualise them to the options available to us, conduct small-scale experiments, learn from industry best practices, and then decide on the most appropriate solutions.
How do you plan to promote your company's technology or technology products?
The opportunity to position and promote the business-technology solutions of one of the largest IT services and consulting companies in the world using Martech tools is exciting. It is a great place to be. The mantra simply is to use smart technologies to achieve superior outcomes. The adoption of technology has accelerated in the last couple of years across all sectors, and more and more customers are consuming information through a wide range of technological platforms. The nature of decision-makers too has changed, as has the basis on which they evaluate partners. Based on the audience we would like to reach with our messages, we research and identify the most relevant tools and platforms that are likely to have the maximum impact. These could be our website, social media and networking platforms, content syndication platforms, GDPR-sensitive email marketing campaigns, etc. As I mentioned earlier, it is a research and experiment method, and we continue working with platforms that deliver the best results. And I must also add that one size does not fit-all, meaning that different markets need different Martech tools and solutions.
How do Martech leaders intend to use technology in marketing, and what are the benefits to their organizations?
Martech provides tools that help in understanding audiences and consumption patterns that are critical inputs to marketing campaigns. It is always an "outside-in" approach that I would recommend. We must clearly understand who our customers are, the challenges they face, the sources of information and advice they seek, the best formats for their needs, and so on. Contextualize this to your overall business and marketing strategy, and identify the Martech tools at your disposal, as well as those available with partners, to deliver your message and generate traction. Some of the best tools available provide optimised efficacy in campaigns, speed to market, in-depth analytics, valuable insights, and a better ROI.
What are the challenges faced by Martech leaders today while implementing technologies in marketing?
Ultimately, all marketers face the challenge of crafting effective messages and ensuring that they reach the relevant audiences through preferred channels. In today's digital world, the mix of marketing channels too is becoming phygital.
In this context, my peers and I using martech need to work constantly on addressing certain challenges. For instance:
Selecting the best tools from amongst many similar ones.
Whether the tools are self-contained or dependent on the existing IT architecture, and, if necessary, whether they can be easily integrated with the existing marketing and IT ecosystems to achieve the desired results.
Do the tools have the right analytics aligned to the KPIs of marketing?
Onboarding and retaining the right talent that can use the analytical insights these tools produce and apply them to improve future marketing campaigns.
How can Martech leaders overcome the challenges faced?
Timely and relevant information exchange is the key. There are already a few Martech discussion groups and websites that provide valuable exchanges of information. It will certainly help if more such platforms are made available to Martech users to interact and share experiences with a larger group. Other solutions include incremental (and sometimes radical) experimentation and enabling Martech professionals to embark on a continuous learning journey.
Any best practices, industry trends, or advice you'd give to other Martech leaders to help them succeed professionally?
I would recommend:
Listen to your customers' challenges and understand where they go to seek information.
Create rich and long-lasting customer experiences.
Research available platforms to see how closely they match your requirements; create a KPI-driven marketing stack.
Look at relevant, long-term solutions and partnerships with Martech solution providers.
Engage with your peers more frequently.
Keep experimenting
Anything else that you would like to highlight?
Martech is a boon if used wisely. Keep looking to create the marketing stack that perfectly fits your business requirements, and do not hesitate to make changes for the better because there is always enough scope for improvements,  the key is to be aware of them and be open to them for adoption.
Also read: Play with technology yourself to be successful
Do Follow: CIO News LinkedIn Account | CIO News Facebook | CIO News Youtube | CIO News Twitter
About us:
CIO News, a proprietary of Mercadeo, produces award-winning content and resources for IT leaders across any industry through print articles and recorded video interviews on topics in the technology sector such as Digital Transformation, Artificial Intelligence (AI), Machine Learning (ML), Cloud, Robotics, Cyber-security, Data, Analytics, SOC, SASE, among other technology topics