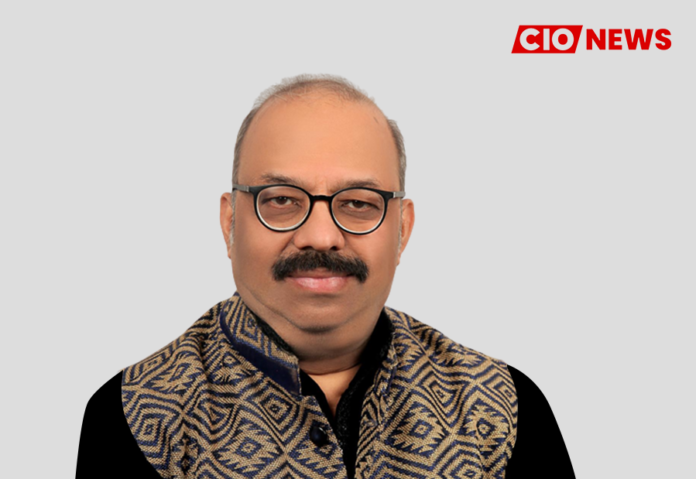 Technology leaders should collaborate closely with their business counterparts to comprehend their needs and create technology solutions that generate business value
This is an exclusive interview conducted by the Editor Team of CIO News with Manoj Srivastava, Chief Information Officer at EaseMyTrip.com
How did you plan your career path to be a successful technology leader?
I initiated my professional journey in the early 90s, inadvertently venturing into the technical field, which later became a fervent passion of mine. I was fortunate to be hired as a "Software Executive" by a leading corporate in Lucknow. During that time, the industry began to adopt computer technology as a means of supporting business operations. In 1994, the company of which I was a part started a new venture in the airline industry, and I was chosen as the technical head despite having limited knowledge in the aviation sector. Nevertheless, I quickly adapted and honed my skills, becoming a seasoned travel technology expert. Throughout my career, I have held key positions at Air Sahara, GMR Airport, Paramount Airways, RAK Airways, IBM, MindTree (LTI Mindtree), and Airlines Technology. Currently, I am honoured to be associated with EaseMyTrip, the second-largest and fastest-growing OTA, as their Chief Information Officer. Over the past 25 years, I have witnessed phenomenal technological advancements, from the computer era to AI-based technology such as ChatGPT. "I am proud to have had a fulfilling career path and am excited for what lies ahead in my journey."
What challenges you faced in your career path and how did you overcome them?
In the professional sphere, challenges are an inevitable part of one's journey. However, it is important to be proactive in addressing these challenges in order to minimise their impact on the business. As a technology leader, I have encountered various challenges in my professional career and have always approached them with a positive outlook. When dealing with technical challenges, a cost-benefit analysis should be conducted to determine the best course of action. If the estimated loss of business is greater than the cost of implementing a technology change, it may be necessary to make that change. Operational challenges can be addressed by re-evaluating processes or temporarily implementing a pre-defined plan B to maintain smooth operations. As a CIO, it is crucial to also address customer-related challenges, both internal and external. This may involve providing suitable technical or non-technical solutions to manage customer expectations and may differ depending on whether the customer is internal or external. A professional approach should be taken when handling these challenges, with a focus on the company and customer loyalty rather than pleasing individuals or seniors. Challenge handling is an art and requires a smart and calculated approach. A successful challenger handler is one who avoids argumentation and focuses on finding logical solutions.
What are the challenges faced by technology leaders today while implementing digital technologies?
One of the major challenges faced by technology leaders when implementing digital technologies is the need to integrate these technologies with legacy systems. Legacy systems are often based on outdated technologies and may have been in use for many years; replacing them can be difficult and disruptive to the organization. In today's competitive business environment, transitioning from analogue to digital processes is a crucial step in driving business success and staying ahead of the competition. By embracing technology upgrades, businesses can reap the benefits of increased efficiency, improved processes, and increased competitiveness while changing or even considering transforming in digital format. In general, we encountered difficulties in the following contexts:
Integration Complexity: Integrating digital technologies with legacy systems can be complex and time-consuming, requiring a deep understanding of both systems and the data they contain.
Data compatibility: Ensuring that data can flow seamlessly between legacy systems and digital technologies can be challenging, particularly if the data formats and structures used by the two systems are different.
Lack of Documentation: Legacy systems often lack comprehensive documentation, making it difficult to understand how they work and how they can be integrated with digital technologies.
Technical Debt: Legacy systems may have been built using outdated technologies and practices, and this can create technical debt that must be addressed as part of any modernization effort.
Resistance to Change: Users of legacy systems may be resistant to change, and this can make it difficult to convince them to adopt new digital technologies.
Cost and Time: Replacing legacy systems with digital technologies can be expensive and time-consuming, and technology leaders must carefully weigh the costs and benefits of doing so.
How can technology leaders overcome the challenges faced?
As a technology leader, it is essential to assess the long-term viability and cost-effectiveness of potential solutions for the organization, as well as the feasibility of their prompt adoption and implementation for optimised business outcomes. Adopting a strategic and proactive approach can facilitate overcoming prevalent challenges and accomplishing objectives; the following tactics may prove beneficial in addressing common obstacles during digital transformation:
Change Management: Change Management is a major hindrance to digital transformation, as many organisations face resistance to incorporating new technologies in various departments due to their reluctance to change their operations. To overcome this, a top-down approach should be taken to educate employees on the business benefits of change, promoting adaptability and flexibility throughout the organisation to stay ahead in competitiveness, speed up go-to-market strategy, and enhance adaptiveness.
Skilled IT Resources: The absence of highly skilled IT resources represents a significant challenge in the digital transformation landscape. This skills gap impedes businesses from reaching their transformation goals because the absence of these critical technical skills hinders the evolution of an organization's IT ecosystem and obstructs the achievement of optimal business models where technology can effectively solve problems and improve efficiency. To overcome this barrier, organisations can turn to technology partners for support. By relying on these partners, organisations can ease the burden of deployment and management of critical technologies such as communications and collaboration platforms. This approach provides organisations with the necessary technical expertise and enables them to focus on other important areas of their business.
Cybersecurity and Data Privacy and Compliance: Protecting sensitive data from potential breaches is a critical aspect of maintaining the financial stability and competitive edge of a business. With the ongoing advancement of malicious cyber threats, the importance of having expert cybersecurity resources in place cannot be overstated. Cybercriminals are constantly developing new strategies to exploit vulnerabilities, making it imperative for organisations to stay ahead of the game. The complexity of cybersecurity is further exacerbated by the varying information security requirements among different companies, making it a challenging issue to address. "Without proper measures in place, data security will remain a significant concern for businesses."
Adoption of Technology, Tools, and Processes: Facilitating the Adoption of Innovative Tools and Processes: The implementation of new technologies and processes can sometimes be met with resistance from employees who are familiar with existing practises and are unwilling to change. To overcome this challenge, organisations must provide comprehensive onboarding and training programmes to help employees quickly become proficient with new tools and understand the value they bring to their work. Continuous employee performance support is also essential to ensure smooth and effective integration of these new solutions and foster a positive attitude towards their adoption.
Digital Priorities: Enhancing Resilience through Digital Transformation: Organizations that embrace digital technologies and cultivate a culture of innovation are better equipped to quickly adapt to changing market conditions, even during major disruptions like the COVID-19 pandemic. By leveraging digital solutions, such as cloud computing, organisations can increase their resilience and better withstand normal fluctuations in the business environment, as well as large-scale disruptions. The widespread adoption of digital technologies has made it possible for organisations to achieve built-in redundancies and flexibility, further supporting their resilience. The importance of resiliency has become increasingly apparent in the wake of recent events, with many executives placing a higher value on digital transformation as a means of building a more resilient enterprise. According to The Hackett Group's Pastore, resiliency has become a top priority for many organizations, shifting from a secondary consideration to a key driver of digital transformation initiatives.
Any best practices, industry trends, or advice you'd give to fellow technology leaders to help them succeed professionally?
The fast-paced nature of technological advancements demands a flexible and adaptive approach from industry professionals and leaders. In order to stay competitive, it is essential to integrate new technologies, embrace cutting-edge solutions, and adopt scalable solutions that keep pace with evolving business trends and processes. By embracing innovation and continually enhancing their technical expertise, industry leaders can secure the successful progression of their professional paths.
Stay ahead of technology trends: Utilize AI and ML technology to create practical applications and integrate them into regular business models to streamline processes and increase efficiency.
Establish strong business connections: A strong relationship between technology and business leaders is vital for a successful digital transformation. Technology leaders should collaborate closely with their business counterparts to comprehend their needs and create technology solutions that generate business value.
Edge Computing: In today's world, vast quantities of data points are collected from various sources, such as social media, websites, emails, and web searches. With the exponential growth of data collection, traditional technologies such as cloud computing are becoming increasingly inadequate in various scenarios. A decade ago, cloud computing was a rapidly growing technology, but it has now become prevalent, with major players such as Amazon Web Services (AWS), Microsoft Azure, and Google Cloud Platform dominating the market. As organisations increasingly adopt cloud computing, they have encountered several limitations with the technology. Edge computing serves to mitigate the latency issues associated with cloud computing and facilitates the transfer of data to a data centre for processing. It operates at the edge, closer to where data processing is ultimately performed, and is utilised for processing time-sensitive data in remote locations with limited or no connectivity.\
Any other points that you would like to highlight?
The future of ChatGPT looks promising as the demand for advanced conversational AI continues to rise. With advancements in natural language processing and machine learning, ChatGPT is expected to become even more sophisticated, providing more accurate and human-like responses. In addition, the integration of ChatGPT into various industries, such as customer service, healthcare, education, and finance, is likely to increase, improving efficiency and the overall customer experience. As AI technology continues to evolve, the potential applications and uses for ChatGPT will continue to grow, shaping the future of conversational AI. There are many use cases, including: One potential use case for the future of ChatGPT is in customer service. Companies can integrate ChatGPT into their websites or mobile applications to provide instant, 24/7 assistance to their customers. The chatbot can handle simple inquiries such as product information or order status, freeing up human customer service representatives to handle more complex issues. ChatGPT can also use its advanced natural language processing capabilities to understand customer sentiment and provide personalized, empathetic responses, improving the overall customer experience.
Also read: Collaboration technology has quickly become a necessity for businesses in all industries
Do Follow: CIO News LinkedIn Account | CIO News Facebook | CIO News Youtube | CIO News Twitter
About us:
CIO News, a proprietary of Mercadeo, produces award-winning content and resources for IT leaders across any industry through print articles and recorded video interviews on topics in the technology sector such as Digital Transformation, Artificial Intelligence (AI), Machine Learning (ML), Cloud, Robotics, Cyber-security, Data, Analytics, SOC, SASE, among other technology topics