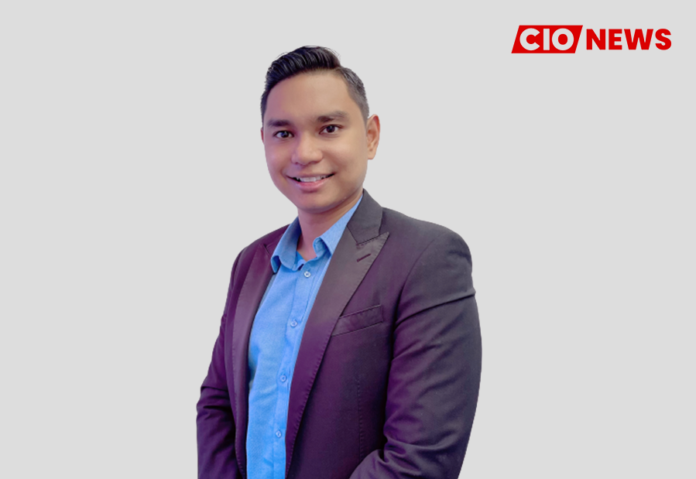 Collaboration technology allows teams to work together in real-time, regardless of location, to solve problems and complete important tasks
This is an exclusive interview conducted by the Editor Team of CIO News with Dinesh Barathy Dason, Regional Head of Information Technology at Collectius
How did you plan your career path to be a successful technology leader?
I have crafted my professional journey and career in technology since my early days in secondary and higher education. My journey has always been part of technology, since the beginning of the dot-com bubble in the late 1990s. Since then, I've looked up to business and technology leaders for inspiration and aspiration to follow in their footsteps on the road to success.
Over the years, I have established a vast array of technical skills working alongside experienced and successful industry leaders in various sectors across the globe in industries such as technology platforms, oil and gas, and high-tech construction. As part of my journey, I managed a portfolio of mid- to large-scale technology projects to meet cost, scope, and schedule constraints. I am currently leading the Group ICT Operations in a FinTech organization's technology portfolio for institutionalisation and innovation.
What challenges you faced in your career path and how did you overcome them?
We are currently facing a major obstacle with regards to locating IT talent. Over the last few years, the increasing relevance of technology, along with the desire for digital solutions and the requirement for remote work, has generated a domino effect.
Enormous corporations with big resources are driving up compensation for talented IT experts now that remote work is more common. As previously stated, the hiring pool is now international. While this is beneficial to your business, it also raises the level of competition for talented staff.
You're no longer competing with local businesses.
Adapting to the changing nature of security threats, there's one item that consistently makes our list year after year: cybersecurity. The worrying issue is that the security risk isn't the same every year. IT leaders should be on top of the cybersecurity threats that are constantly increasing.
What are the challenges faced by technology leaders today while implementing digital technologies?
As part of a challenge for technology leaders, data security is a fundamental subject to dive deep into because, because of digital technology, vast amounts of data can be collected and stored. This could be private information about individuals or organizations. It can be difficult to keep this data secure. A single breach can result in vast amounts of private information falling into the hands of criminals, terrorists, business rivals, foreign adversaries, or other malicious entities.
Personal privacy has become much more difficult to maintain in the digital age, on top of the risks of your data being stolen or sold. For example, everyone has the ability to take photos and video footage with their mobile phone and then upload it to the internet. Employers can conduct online searches for candidates and discover unflattering photographs of them, as well as their expression of controversial opinions on social media or blogs.
How can technology leaders overcome the challenges faced?
My leadership style and method of doing my job are guided by my commitment to three principals: communication, innovation, and collaboration. Business communication is essential.
We need a vision, specific goals, and follow-up to accomplish progress. These objectives won't be accomplished if there is poor communication. Creating understanding inside the organisation is another goal of communication.
Communication
Effective communication in the workplace is about building connections with others in your organisation and creating an environment where everyone feels included and heard.
Communicate in a way that helps your team reach its goals and progress.
Innovation
Innovation can be a new business model, product, service, or any other form of a new idea. However, this does not necessarily mean creating something completely new. Improvements to existing products, services, or ideas are also considered innovations. Innovation disrupts the status quo. In fact, it creates change but does not automatically translate into a new business or new entrepreneurship.
Collaboration
Collaboration technology has quickly become a necessity for businesses in all industries. The ability to streamline communication and collaboration efforts between internal and remote teams gives businesses many benefits that equate to greater success. Collaboration technology allows teams to work together in real-time, regardless of location, to solve problems and complete important tasks.
Any best practices, industry trends, or advice you'd give to fellow technology leaders to help them succeed professionally?
The principle of "getting it right the first time"
I have always emphasised to my team and peers that for us to achieve the right outcome, we have to set a goal of "getting things right the first time." This principle is to minimise the number of problems, incidents, and errors that go beyond the project and lead to rework, rejection, and change orders, leading to the dissatisfaction of the customer or client.
This principle includes methods that allow companies to perform more careful due diligence and validate their planning decisions. This includes digital and physical projects in faster iterative cycles.
Any other points that you would like to highlight?
Technology is changing at breakneck speed. There are several things in technology that you will need to be prepared to adapt to throughout your career path. Obviously, pay attention to technology trends and learn new skills with the latest updates. But more than that, opportunities arise due to advances in technology. With every update, there is a chance. To succeed in technology, you need to anticipate trends, take the time to learn about new improvements in technology, and be ready to walk through the door of opportunity.
Also read: Six digital transformation pillars to drive better outcomes
Do Follow: CIO News LinkedIn Account | CIO News Facebook | CIO News Youtube | CIO News Twitter
About us:
CIO News, a proprietary of Mercadeo, produces award-winning content and resources for IT leaders across any industry through print articles and recorded video interviews on topics in the technology sector such as Digital Transformation, Artificial Intelligence (AI), Machine Learning (ML), Cloud, Robotics, Cyber-security, Data, Analytics, SOC, SASE, among other technology topics