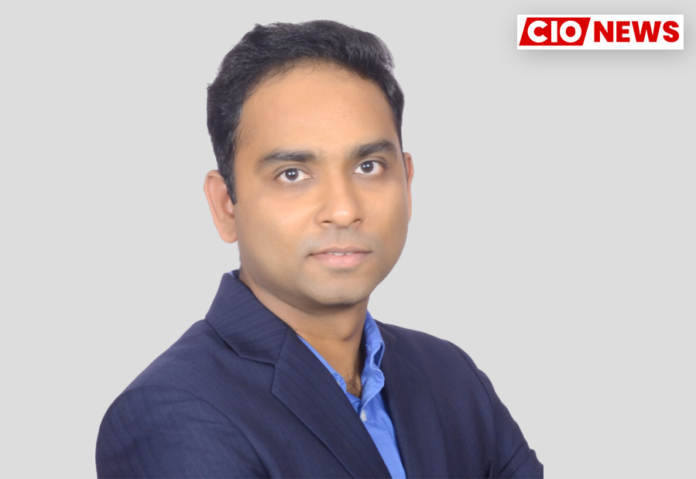 As a technology leader you need to play the roles of leadership, developer, and architect. It is important to always keep business goals in mind and bridge the gap between business strategy and technology strategy
This is an exclusive interview conducted by the Editor Team of CIO News with Ravishankar Ramakrishnan, Vice President | Head of APAC DWS Production Assurance at Deutsche Bank.
How did you plan your career path to be a successful technology leader?
The golden triangle framework, commonly called the PPT framework (People, Process, and Technology), has been my key recipe in my career path to be an effective technology leader. The ability and passion one practises to achieve the right balance of these three sides of the triangle will result in an effective transformational journey from a team player to a technology leader.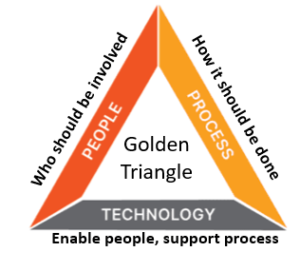 Earlier, I had a mindset of a stepwise approach to mastering each side of this golden triangle. But with time and experience, I was able to realise that giving equal time and priority to each one is of utmost importance.
My leadership journey is about planning and practising the three levels—self discovery, peer influence, and creating impact. The first level is about self-potential and being motivated by the leadership lessons. The second level is about influencing your peers with your insights. The third level is about creating a leadership impact and motivating other leaders in their transformational journey. I like to call this a (Discover-Influence-Impact) DII algorithm.
In any given scenario, I am enthusiastic about playing the role of a CIO (Continuous Improvement Officer) and effectively implementing impactful disruption to the PPT framework with the DII algorithm.
What challenges did you face in your career path and how did you overcome them?
Challenges are part and parcel of any journey, but mastering the art of turning them into opportunities is the key. Evolving the career path from a team player to a technology leader needs a lot of focus and determination. Lessons learned and principles applied in overcoming challenges are what build your strength and potential for continuously improving your leadership style.
It makes sense to describe the challenges I faced using the popular VUCA acronym, which stands for "Volatile", "Uncertain", "Complex" and "Ambiguous".
Volatile risk refers to changing customer needs, a fluctuating market environment, and regulatory policies, which always challenge me to handle the risks, instability, and flux that come along.
Uncertain risk refers to unpredictability, surprises, and unknown outcomes, which at times are difficult to overcome due to lack of knowledge or an inability to predict future events.
The complexity due to multiple task correlations and interdependencies of multiple components in large systems is difficult to understand and manage.
Lastly, ambiguity is the misinterpretation of ideal vs. actual information that can be interpreted in different ways and often leads to wrong decisions.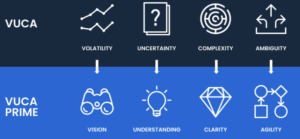 Fortunately, the framework proposed by Bob Johansen* in 2007, called VUCA-Prime, had responses to the VUCA risks, and this helped me overcome the risks in the journey.
Vision rises above Volatility: By embracing change and sharing a clear vision of the future with the team, it is prepared with flexible goals and reacts quickly to the changes.
Understanding reduces Uncertainty: By focusing on the competitive intelligence and continuous improvement attitude in the team, it helps me to keep the team updated and reduce the magnitude of risk by uncertainty threat.
Clarity counters Complexity: Keeping well documented and available information reduces unnecessary confusion and handles complexity. The team is also encouraged to simplify wherever possible and focus on building a high-performing team.
Agility overcomes Ambiguity: Building a collaborative environment and embracing an ideation culture opens an out-of-the-box thinking approach. The team is also encouraged to be flexible and cross-trained to handle reliability from a wider perspective.
What are the challenges faced by technology leaders today while implementing digital technologies?
Digital technologies are essential for organizations to build sustainable resilience and agility in this fast-changing world.
Technology adoption always faces challenges due to fear of failure, resistance to change, and lack of technology exposure. The main pain points are the stakeholder's approval and the difficulty in measuring user adoption. With limited knowledge workers in the new digital technologies, their implementation and training costs tend to rise. The digital adoption solution is mostly about moving data to the cloud and a central location, so data security is of the utmost concern. The technical objectives of the new digital change should be made clear and be aligned to the business objectives that will gain encouragement from the sponsors of the new adoption. Digital change management needs the involvement of many business leaders, who have different priorities and perspectives, which also triggers challenges in digital adoption strategy planning.
How can technology leaders overcome the challenges they face?
The adoption journey needs to be planned systematically to overcome these obstacles in the path. It is critical to assume the role of digital change leader and clearly define digital transformation by focusing on each level of the pyramid: digitization, digitalization, and digital transformation.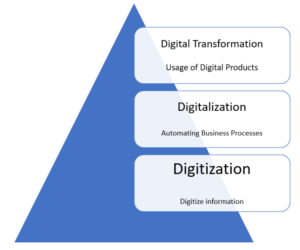 Digitization is about the adoption of incremental digital initiatives in business segments.
Digitalization is bringing in business process optimization with digital technologies and digital data.
Digital transformation is implementing the digital core and business transformation enabled by digitalization.
The adoption challenges can be addressed by a tailored use case approach and focus given on training the employees on their relevance. It is critical to concentrate on the technical solution and explain how it benefits the business. Take users' surveys by rolling out the trial version and capturing the survey feedback before the implementation phase. Follow a phased transition approach to spend time validating changing customer expectations and meeting business objectives. It is important to develop a long-term digital strategy with a proper understanding of the Capex-Opex costs that will be incurred. The strategy needs to be aligned with business priorities with an agile and holistic approach.
Any best practices, industry trends, or advice you'd give to fellow technology leaders to help them succeed professionally?
As a technology leader, you need to play the roles of leader, developer, and architect. It is important to always keep business goals in mind and bridge the gap between business strategy and technology strategy. It is necessary to focus on a community-oriented culture and help them tackle problems that influence business. We have a diverse and inclusive working environment where everyone feels involved in the success of business in all sectors.
Build the talent working group and choose the right technology partners to drive business success. It is important to identify the business drivers and contextualise the technology with these drivers. To lead with technology and make a competitive difference, technology leaders should have a deep understanding of the business and advocate the business objectives.
Every leader is unique and takes a different approach to leading based on their background and perspective. And so, it will be difficult to spot the most influential leaders and follow them.
It is, however, easy to frame the leadership activities in four competency clusters (referred to in the Leadership Success Model from the TLD website).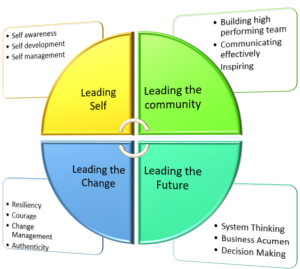 Leading Self: Understanding, managing, and developing self as leader and in relation to others.
Leading the community: Building, developing, and enhancing team effectiveness.
Leading the Change: Building the capacity for resilience and strategies for change management.
Leading the Future: Applying business fundamentals, strategic planning, and value-based decision-making for enhanced outcomes
The Strategic Lens, Political Lens, and Cultural Lens are three lens frameworks mentioned at MIT Solan for the Management Success Course. Each refers to the unique perspective used to assess the organization. While managing the leadership activities in each of the competency clusters, it is important for the leaders to look through each lens before making any business decision.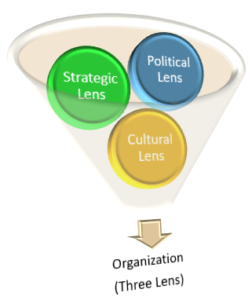 The strategic lens refers to the processes and procedures, or how you get things done.
The political lens looks at how authority and power are distributed. This knowledge can help in guiding the decisions that need to be made.
The cultural lens looks at the underlying attitudes and beliefs and is effective for creating an inclusive and productive working environment.
Any other points which you would like to highlight?
Technology leadership is about technical responsibilities and leadership activity aligned to the business goals. It is important for the leader to set a clear indication of priorities that should keep trending up and trending down to sustain or maintain an effective work environment.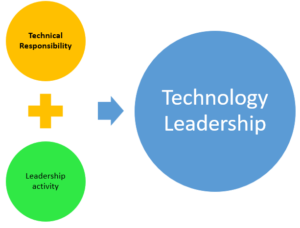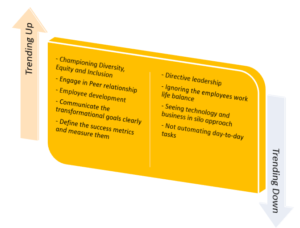 However, I acknowledge that it's very challenging for a tech leader to manage all the responsibilities effectively in a given diverse ecosystem. The leader needs to continuously work on their capabilities and have a deep understanding of technology and design to keep performing consistently.
Also read: Digital literacy is a key skill for youth to be successful
Do Follow: CIO News LinkedIn Account | CIO News Facebook | CIO News Youtube | CIO News Twitter
About us:
CIO News, a proprietary of Mercadeo, produces award-winning content and resources for IT leaders across any industry through print articles and recorded video interviews on topics in the technology sector such as Digital Transformation, Artificial Intelligence (AI), Machine Learning (ML), Cloud, Robotics, Cyber-security, Data, Analytics, SOC, SASE, among other technology topics