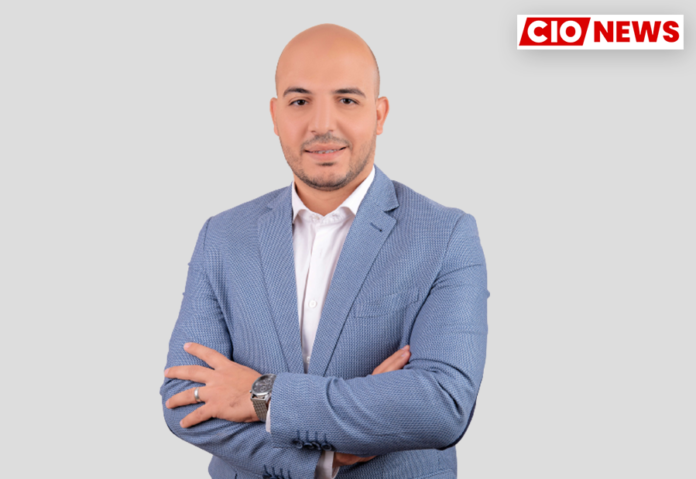 I am always looking for new technology and tools to help me achieve my goals
This is an exclusive interview conducted by the Editor Team of CIO News with Mohamed Elfwakhry, IT Director at SILO FOODS For Food Industries
How did you plan your career path to be a successful technology leader?
My journey began 17 years ago, when I studied programming, networking, database programming, artificial intelligence, and algorithms at university, which helped me decide on a career path based on:
Potential Career Options
Market growing for selected career paths
Set Smart Goal to achieve my Career Path levels
Set an Action Plan for Building My Career
So I set my strategy and I learned to focus on system engineering and infrastructure career and management with professional certificates and keep linking my academic learning with professional work.
I always increase company profit by using IT technology and saving users' time when doing their jobs by keeping the infrastructure always available and secure. This is accomplished by putting together a highly organised topology based on highly available infrastructure, which includes network, systems, SAP ERP, digital services for HR, Sales, and Manufacturing Production, and automation services.
I was Successful in Last 13 years to Implement Digital Transformation Technologies for three Biggest Companies in three different Industrial Fields and lead Transformation Journey to be Success with Challenging in Human Culture, Lack of IT Recourse, Limited Time to get Digital Service up and Running to Increase Company revenue.
Another accomplishment for me was managing global support for more than 15 countries with a fantastic global team, where we established procedures that assisted the company in reducing time and effort and keeping systems up and running while conserving company assets.
What challenges did you face in your career path and how did you overcome them?
FMCG industries are very fast operations, from manufacturing stages to selling and distributing products, and these industries have large market leaders working 24 hours a day. As a result, when I begin developing my digital transformation plan, I am very concerned about the following:
Construct a high-availability network infrastructure
Build a high-availability data centre with DR
Provide high-availability IT communication connections
Selecting the right ERP System for Managing Manufacturing Operations, including Sales Operations
Selecting the best sales distribution system will lead the sales team to increase company revenue and market share
I Have Overcome These Challenges by the Following Actions:
Build very good relationships with the company's business owners and TOP Management
Understand business needs and deep understanding of each industry and department's business process
Divided transformation technology into many objectives and prioritised them based on business needs
Choose a talented and creative IT team to complete tasks on time
I am always looking for new technology and tools to help me achieve my goals
What are the challenges faced by technology leaders today while implementing digital technologies?
The biggest challenges that are facing IT leaders are the following:
Lack of IT-business resources in technology domains such as platform services, security, digital workplace and IT automation.
Culture Mindset: Implementing Digital Technology Needs to Change Employee Culture to be Familiar with Digital Transformation Operations. Supply chain disruptions
Supply chain disruptions are most concerning today's IT leaders, with supply chain issues delaying key technology components, which affect implementing transformation technology.
Security concerns and the increased threat of cyber-attacks steal customer data and company secrets: Online attacks can target system vulnerabilities, poor setups, and unsuspecting users.
How can technology leaders overcome the challenges they face?
If We Talked About Previous Challenges, IT Leaders Can Overcome These Challenges by the Following Actions:
Find a talented team and keep them trained with the new technologies needed for the transformation journey.
Set up a programme to train employee leaders for the new transformation technology and use employee leader power to change employee culture by training users and being patient with employees who will be on the line.
Early planning for transformation projects with enough time to get technology tools needs a long lead time.
IT leaders should invest in the security domain and develop a cyber-security strategy, such as performing daily backups and keeping disaster recovery plans up to date and activated.
Any best practices, industry trends, or advice you'd give to fellow technology leaders to help them succeed professionally?
To help FMCG industries get planned revenue and grow in a short time, you need to focus on the following points:
Digitalizing factories and building automated warehouses unlock capacity and make operations agile. All of this is powered by intelligent data and analytics, ensuring smooth and optimised operations.
Technologies like big data, predictive analysis, and social media too are contributing to the change, of course. Customer behaviour can now be predicted almost accurately by just cherry picking buyer behaviour.
FMCG companies need to start implementing cutting-edge technologies such as blockchain, artificial intelligence, digital assistants, and robotics, aiming to enhance operations and improve customer experience and satisfaction.
Implementing and utilising ERP Systems such as S4hana with best practises is not enough to achieve rapid growth; you will also need to work to automate many business processes in your organisation and integrate SAP 4 Hana with production machines, Scada Systems, and other automation systems.
Integration should occur not only with production machines and Scada Systems to improve production line productivity, but also with suppliers, inventory management, distributor management, and Sales Force Automation.
For huge FMCG warehouse operations on a daily basis, normal shipping is not enough and you will need to automate your warehouse management system with AI Technologies and also RFID Solutions.
Invest in IoT to enhance the efficiency of back-end operations. Cameras and sensors track inventory and, in the case of low inventory levels in a warehouse, smart sensors inform the operator which products need to be ordered.
Invest to Implement FMCG E-Commerce System while sales coming from e-commerce are increasing. The outbreak of the COVID-19 pandemic has further shifted consumers' shopping habits towards online channels.
Also read: Cloud security is a shared responsibility
Do Follow: CIO News LinkedIn Account | CIO News Facebook | CIO News Youtube | CIO News Twitter
About us:
CIO News, a proprietary of Mercadeo, produces award-winning content and resources for IT leaders across any industry through print articles and recorded video interviews on topics in the technology sector such as Digital Transformation, Artificial Intelligence (AI), Machine Learning (ML), Cloud, Robotics, Cyber-security, Data, Analytics, SOC, SASE, among other technology topics