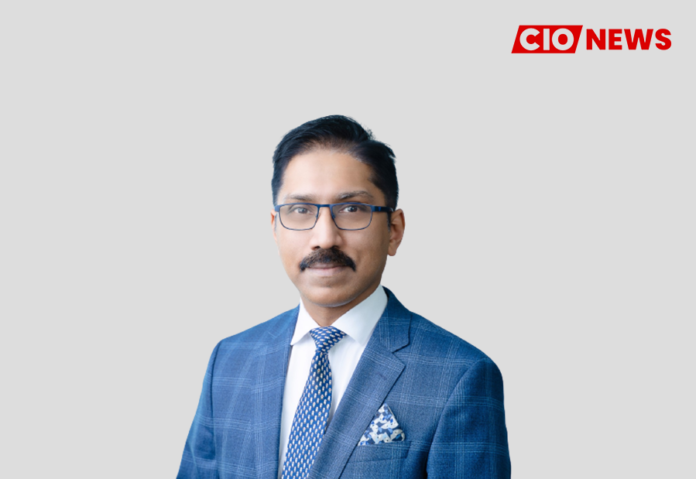 Technology leaders today need to understand how they can relate and translate their product value to business-impact key performance indicators
This is an exclusive interview conducted by the Editor Team of CIO News with Anindo Banerjee, Group CIO at Eltizam Asset Management Group
How did you plan your career path to be a successful technology leader?
I was always fascinated by the tech world and had early exposure to McKinsey and Andersen Consulting-led transformation initiatives in the inception years of my career. I was very fortunate to start my professional journey at Siemens Business Services, where I had the opportunity to travel around the world for various technology consulting roles for 18 glorious years, selling and delivering a varied portfolio of technology solutions to industry-leading customers. Serving as a foundation for my career, Siemens has given me unprecedented exposure to live and work in diverse geographies like Japan, China, Taiwan, Singapore, Thailand, Germany, the UAE, and Saudi Arabia, where I managed a variety of core consulting business functions, conducted complex customer engagements, built high-performance technology teams, and created tangible value for our customers. In 2016, having spent nearly two decades in the business of giving advice, I was eager to do something different, which led me to move to the client side, changing both my industry as well as my domain. Since then, I have worked in CIO roles with reputed organisations in the UAE and leveraged my consulting experience and strategic orientation to infuse digital technology into all aspects of business operations and culture with a team of passionate technologists who endeavour each day to create positive experiences for our customers and create value for our stakeholders.
What challenges did you face in your career path, and how did you overcome them?
During my early years in consulting, I was thrown in at the deep end and tasked with managing a large ERP implementation project in Japan while I was still an associate consultant. This was a turning point in my life. I had several of my senior colleagues functionally report to me in this engagement, and it was incredibly challenging to earn their trust and respect while managing customer expectations and deliverables. I probably made several mistakes, but I believe my ability to structure, organise, report, and evangelise impact, coupled with the complete faith and backing of the leadership team, bailed me out of trouble at most times. A decade later, I was asked to lead a regional sales team without any prior background in sales; having come from delivery, I found it arduous to paint the outside walls of the house (pun intended). I did meet all my targets, and in hindsight, my delivery and consultative selling experience came to my rescue, where I naturally got involved in projects and managed to further the wallet share of key accounts. When I moved to the other side of the table, I found it challenging to balance the commodity 'business as usual' work with the excitement of delivering something new, combined with the constant pressure of reduced OPEX spends and curtailed digital investments. Over time, I have learned that this issue can only be overcome by changing the perception of how a business views its technology organisation.
What are the challenges faced by technology leaders today in digital transformation? How can technology leaders overcome the challenges faced?
Personally speaking, I consistently faced the challenge of converting a technology-support organisation into a technology-enabling one, which I believe is the biggest roadblock faced by most tech leaders today. And it starts with the 'mindset'. In addition to the growth mindset challenge in the tech teams, I also believe that technology teams taking the lead, implementing digital technologies in the periphery of the organization, and labelling them as innovations with limited business involvement is a short-lived approach to transformation. Technology adoption is far more effective if it comes from within the organization, through business accelerators with a digital mindset, agnostic to organisational structures or hierarchies, who can own and evangelise the digital products. It is about transforming the culture of an organisation and not just executing its tangible pillars and capabilities. In addition to this, technology leaders today need to understand how they can relate and translate their product value to business-impact key performance indicators (and not tech KPIs) to measure its effectiveness and relevance, which, I believe, remains a challenge in measuring successful outcomes.
In my previous organization, where I was the vertical CIO, I was very fortunate to report to a Group CTO who was an institution by himself when it came to tackling the intangible mindset and culture challenge. With him at the helm of affairs, we overcame the challenge of business enablement by growing an ecosystem of internal and external communities, solely based on an individual's or a partner's genuine passion for participating in a given technology project or product development. We called them 'Business Kernels'. In our technology team, we nurtured a mindset of 'knowing how to learn' to create lifelong learners with a focus on continuous reinvention and thought leadership. To further the visibility of the information technology department, we also conducted regular roadshows of our products and services in collaboration with Business Kernels to showcase its business impact and foster a heartfelt excitement towards technology in general within the business units. These initiatives and many more gradually shifted the culture from being perceived as a barrier to an enabler of digital transformation.
Any best practises or advice you would like to suggest to fellow technology leaders for their successful professional journeys?
I am quite sure all my technology counterparts know the top technology trends in the industry and have strategic pillars and programmes built around them (and so do we). But these programmes will only be successful and sustainable if we invest in our people. To me, mindset is the single biggest factor in achieving transformation. In addition to the strategic pillars, focus on underpinning capabilities—curiosity, passion, agility, embracing ambiguity, a growth mindset, and customer obsession—are some of the key ingredients of the mindset I look for in our technologists.
Also read: Data is the world's most valuable and vulnerable resource
Do Follow: CIO News LinkedIn Account | CIO News Facebook | CIO News Youtube | CIO News Twitter
About us:
CIO News, a proprietary of Mercadeo, produces award-winning content and resources for IT leaders across any industry through print articles and recorded video interviews on topics in the technology sector such as Digital Transformation, Artificial Intelligence (AI), Machine Learning (ML), Cloud, Robotics, Cyber-security, Data, Analytics, SOC, SASE, among other technology topics