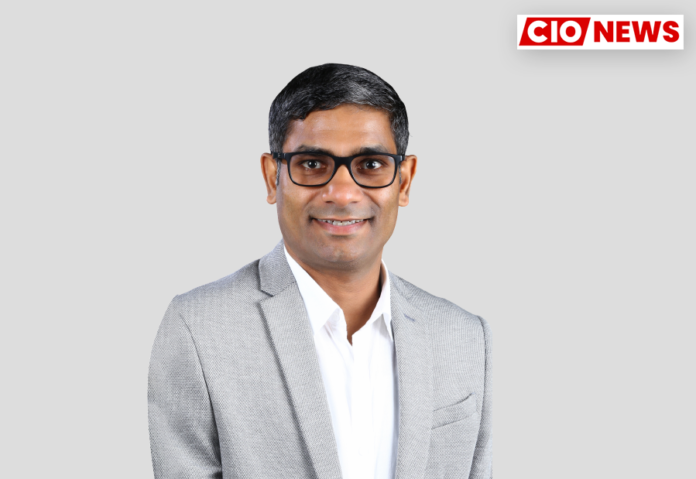 When making technology decisions, leaders must focus on delivering experience and business value outcomes
This is an exclusive interview conducted by the Editor Team of CIO News with Venkateswaran Krishnamoorthy, President, Innovation and Consulting at Motiveminds Consulting Pvt Ltd
How did you plan your career path to be a successful technology leader?
I won't say that I had a laid-out plan from the outset. But, in general, I've always wanted to work with user IT organisations and play at the intersection of business and technology. This led me to do my MBA from ISB, Hyderabad, and then join Hindustan Unilever Ltd. after a 4-year journey at Infosys. And, eventually, I spent 16 years across such organisations as Unilever, IFFCO UAE, and Diageo. Another thing that used to bother me was taking on various types of responsibilities in the technology realm, such as transformation programs, business partnering, service delivery, infrastructure and operations, strategy, compliance, and so on. To be a successful technology leader, it is perhaps very useful to have experience delivering different facets of technology and services to the business.
What challenges you faced in your career path and how did you overcome them?
Over the years, the challenges have been around keeping a continuous learning curve, growing within and across organizations, and most importantly, being able to do what you love and love what you do.
At any point, if I sensed stagnation, I would seek out new responsibilities, which would both present an exciting opportunity to deliver value back to the business as well as make a significant difference for my personal learning.
An example that I can think of was when I moved from a business partnering role to that of an I&O leader, took on a CTO role, and entered a completely new domain. Another example was when I moved from an India-based role to a global role implementing a global distributor management system on SAP across SEA markets, presenting a significant learning step up across technology, business, and dealing with different cultures.
What are the challenges faced by IT leaders today while implementing digital technologies?
I guess the most important challenge in front of technology leaders is not to be a technology leader, but a business leader. IT leaders have to focus more on taking technology decisions with business outcomes at the heart of them.
IT is no longer a cost center, but has a strategic seat at the leadership table and, hence, enjoys the privilege of shaping business strategies and outcomes through tech enablement. As a result, technology leaders must increasingly consider how they can assist businesses in meeting their top and bottom lines.
The other challenge is about the ever-changing technology landscape and shrinking payback periods. With exposure to so many consumer technologies, businesses are no longer kicked about getting clunky technologies delivered over an extended period of time. When making technology decisions, leaders must focus on delivering experience and business value outcomes.
How can IT leaders overcome the challenges they face?
As I previously stated, technology leaders must view themselves as core business partners who are equally responsible for significantly contributing to the topline and bottomline as other functions such as sales, marketing, finance, and so on. That's how their goals and targets have to be shaped.
They also have to become champions of change management and drive technology adoption in their organisations to ensure the envisaged business value of the technology investment comes through.
And last but not least, IT leaders have to give a lot of importance to how the organisation and its stakeholders—customers, consumers, employees, and partners—experience the capabilities enabled by the technology ecosystem. A fantastic experience enabled through technology will keep your customers and consumers coming back to you, while keeping employees and partners a very happy and motivated bunch!
Any best practices, industry trends, or advice you'd give to fellow IT leaders to help them succeed professionally?
There are simply too many of these, but the top few that come to mind are:
The more business-oriented you can become the better; this way, you can bring the best of both worlds to the table. Hence, invest your time in understanding in depth how your business works and how technology can impact the core business outcomes of revenue, profit, and risk.
Upskilling is the only way to stay relevant in the industry. Hence, invest time in learning new skills and domains. Success lies in getting outside your comfort zone.
Industry Trends: While cloud, AI, and RPA/Automation are becoming more mainstream, and some truly new age technologies are on the horizon, two-three trends that have caught my attention are:
Total Experience: Experience is going to be one of the big mantras going forward—customer experience, employee experience, etc. Hence, technology leaders will need to champion the adoption of relevant technologies and learn how to embed metrics that help measure this X-factor across their various technology initiatives.
Composable Architectures: The focus is moving towards what is known as "composable architectures." These are used instead of monolithic or larger multifunctional systems. Composable architectures are intended to bring modularity into design to create plug-and-play designs, thereby allowing organisations to add, remove, or modify without disrupting business operations.
Low-code/No-Code: While the USP of this trend is to reduce the development lifecycle and time-to-market, for technology leaders, this can also mean more or "shadow" IT in their organizations. Hence, a process has to be stitched together to leverage this trend in the most effective way.
Any other points that you would like to highlight?
Each technology leader will have their own unique path to their ultimately successful journey. As cliche as it may sound, it is important to enjoy the journey rather than think only about the destination. One of the leaders in my previous organisation talked of a concept called strengthening your core. Keep learning and adding new experiences to your repertoire, and the rewards will eventually come your way.
Also read: Technology leaders have to keep running once they get off the starting blocks
Do Follow: CIO News LinkedIn Account | CIO News Facebook | CIO News Youtube | CIO News Twitter
About us:
CIO News, a proprietary of Mercadeo, produces award-winning content and resources for IT leaders across any industry through print articles and recorded video interviews on topics in the technology sector such as Digital Transformation, Artificial Intelligence (AI), Machine Learning (ML), Cloud, Robotics, Cyber-security, Data, Analytics, SOC, SASE, among other technology topics