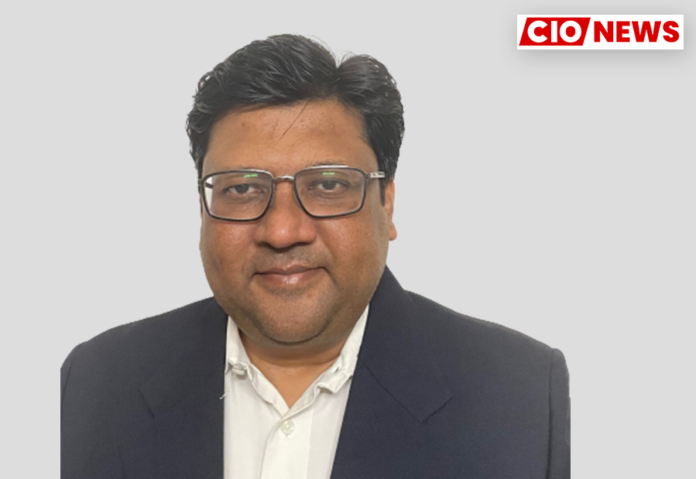 While tech is evolving fast, due to non-adoption, we do not have many used cases that can be referred to, for either terming a particular one as a success or a failure
This is an exclusive interview conducted by the Editor Team of CIO News with Swaroop Patil, Chief Information Officer (CIO) at Everest industries Limited.
How did you plan your career path to be a successful technology leader?
I strongly believe that your destiny is not decided by anything else but the choices that you make at each stage in your life. So, while in the initial years, I did not plan a specific career path for myself, I focused on making the right choices when they were offered to me. This can include taking on additional responsibilities in my first organization's SAP project, taking on challenges that others avoided, or delving into new and emerging areas of technology. While each of these had its own challenges and required a lot of hard work and perseverance, these were the decisions that helped me reach where I am today.
I started my career in the field of my education, operations. I moved to technology as a natural transition based on my inclination. I worked in various consulting organisations and focused on understanding various industries, business nuances and learning about existing as well as new evolving technologies and solutions. My approach was always to relate tech to business, as tech in isolation means nothing. Technology has value only when it adds to the business. Later, I moved from consulting to core business as a part of the in-house IT team where I worked on leveraging my experience and working even more closely with the business function leaders, identifying opportunities first-hand and delivering solutions to generate direct benefits that would reflect in the P&L.
The common guiding principles of my decision making process were always to embrace change, get out of my comfort zone, and work hard with a positive intent. These can never go wrong.
What challenges did you face in your career path and how did you overcome them?
The biggest challenges that I faced were due to my decisions. It called for getting out of the comfort zone, which for anyone is not very easy. I also took up many challenges where I got into new and evolving tech, which did not have a lot of referenced used cases to depend on, so it required a huge amount of first-hand research. These, though, were the best times of learning for me.
Making changes in the career direction also called for a lot of adjustments and adaptations to be made. Also, at times, with the amount of time and energy that your career priorities take, your family needs to make a lot of accommodations. There were decisions that were tough on me as well as my family at times, and I really thank my family for always being by my side as a strong support system. Without them behind my back, things may not have been the same.
What are the challenges faced by technology leaders today while implementing digital technologies?
Digital technologies do not have a lot of reference success stories as most of them are at a nascent stage and constantly evolving. While some industry leaders are trying to adopt these technology innovations to get an early mover advantage, many are also treading a very cautious path. While tech is evolving fast, due to non-adoption, we do not have many used cases that can be referred to, for either terming a particular one as a success or a failure.
Also, with new solutions, you may need a longer time for implementation and continuous improvement, and that patience may be needed to exploit the true potential of digital technologies.
Another challenge with digital technologies evolving so fast is to have the right talent to harness the benefits of these. The right talent is scarce in these areas, and to taste success in tech solutions, you need the right talent to implement them.
How can technology leaders overcome the challenges they face?
For the first area of challenge that is more internal, I would suggest a balanced approach. The way I approached these technologies was by taking a crawl-walk-run approach. I ran some pilots in more promising areas. With focused implementation and follow-through, you will realise initial benefits and continue the pilot for some time to see consistency of results. Once assured, do horizontal deployment to scale the solution. A key to its success is also to find the right use case for the pilot.
Furthermore, the most important aspect has to be the collaboration between the business function and technology teams. Any digital initiative can never succeed as an IT initiative, so it has to have a commitment from the business functions also, right from selection of the right problem statement, identification of the target benefits, and through the implementation and follow-through process.
On the other hand, with talent, it is very important to develop internal capabilities. While talent can be sourced from tech companies during implementation, you need internal capabilities to run these solutions through their entire life cycle. To address this need, I take a two-pronged approach: allowing promising individuals from your existing team to learn these technologies through training and on-the-job experience, and filling any gaps with new talent additions to the team. Another aspect to consider is ensuring that you have the measures in place to retain and continuously enrich good talent.
Is there any advice you would like to suggest to fellow technology leaders for their successful professional journeys?
A few things from my tried and tested approach:
Embrace change and get out of your comfort zone. The best transformations that have happened in my professional career have been when I have gotten out of my comfort zone.
Work closely with your business counterparts and partner with them in the journey to technological excellence.
And lastly, build winning teams and nurture them, since you are only as good as your team.
Any other points which you would like to highlight?
One very important thing that one should always keep in mind is that not every venture will be a success. There could be obstacles and there could be failures. The key, however, is perseverance and learning from failures in order to continue the efforts that will eventually lead to success. I have seen people wanting to drop the most promising initiatives half way because they failed initially. The key is to be prepared for the unexpected, learn from the failures, and make the necessary changes for course correction and get going again. One needs to use all their influencing skills and conviction to align all stakeholders in the process to ensure that this path is taken.
Also read: Cybersecurity needs a lot of diversity, so don't hesitate to jump in
Do Follow: CIO News LinkedIn Account | CIO News Facebook | CIO News Youtube | CIO News Twitter
About us:
CIO News, a proprietary of Mercadeo, produces award-winning content and resources for IT leaders across any industry through print articles and recorded video interviews on topics in the technology sector such as Digital Transformation, Artificial Intelligence (AI), Machine Learning (ML), Cloud, Robotics, Cyber-security, Data, Analytics, SOC, SASE, among other technology topics