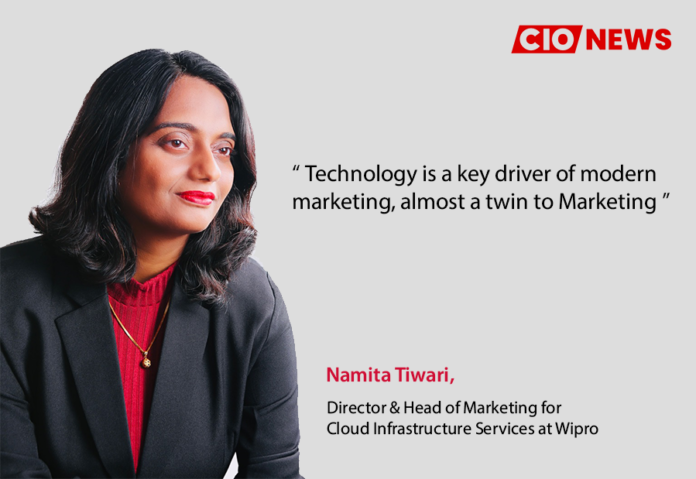 Today, marketing leaders need to know what is the right MarTech platform to use, when to change it, how to enhance the customer experience at every touch point with MarTech platforms
This is an exclusive interview conducted by the Editor Team of CIO News with Namita Tiwari, Director & Head of Marketing for Cloud Infrastructure Services at Wipro
About Namita Tiwari:
Namita Tiwari is a Senior marketing leader, TEDx Speaker, Marketing Guru and Storyteller who enjoys the convergence of digital, brand, and content and is passionate about creating next-gen marketing programmes to enhance customer engagement and fuel revenue growth.
Namita Tiwari started her career in 2002 and has contributed to the growth journeys of many well-known companies like Accenture, Infosys, HCL Tech, and Wipro as a marketing leader in the last two decades.
At the beginning of her career, she worked on the product marketing team for banking software at Nucleus Software and Infosys. She then took the reins on business marketing for consumer services at HCL Technologies. As she completed more than a decade of work experience in 2013, she moved on to a leadership role at Coforge, where she set up the digital marketing function from scratch and also drove website and brand refreshes. In 2016, she joined the bandwagon of digital, brand, and content marketing at Accenture, driving message houses and thought leadership programs.
In her current marketing leadership role at Wipro, she is the Director & Head of Marketing for Cloud Infrastructure Services, one of the key global business lines.
She enjoys an extensive industry presence and has spoken on marketing, change, and leadership at numerous industry and academic forums.
She is a distinguished alumna of Symbiosis India and has pursued the Accelerated Marketing Leadership Program with the prestigious Kellogg School of Management.
To watch her latest TEDx Talk on Magic of Marketing in the Metaverse, click here.
Don't forget to follow her on LinkedIn, YouTube, and Instagram, where she frequently shares her opinions & marketing insights.
To know more about her, connect with the Marketing Guru Namita Tiwari on her website.
Tell us about your journey as a marketing expert and when and how you turned into a seasoned marketing technology (MarTech) leader.
My entire career journey has been in marketing in the technology industry, and as a seasoned marketing professional, I can vouch for the extremely influential role of technology in marketing.
I started my career way back in 2002, and after about a decade, I got an opportunity to go big on the digital and content marketing bandwagon. I was hands-on with martech programmes when I started my leadership role with Coforge in 2013, building their digital marketing function from the ground up (perhaps even before that at HCL Tech from 2008 to 2013). From email marketing tools like Leadformix to marketing automation programmes like Pardot and Eloqua, I became intimately familiar with technology and how it drives many marketing functions from the ground up.
In my current role at Wipro, I am heading the marketing function for Cloud Infrastructure Services, one of the key global business lines.
What challenges have you faced in your MarTech journey and how did you overcome them?
The challenges could be numerous in terms of deciding where you want martech to be ingrained, selecting the right martech platform, planning how to leverage it the most for both brand and business results, and ensuring that the appropriate training is provided to all stakeholders in the ecosystem to ensure the organisation uses it to its full potential.
How do MarTech leaders intend to use technology in marketing, and what are the benefits to their organizations?
"Technology is a key driver of modern marketing, almost a twin to Marketing"~ Namita Tiwari.
We have been doing marketing with technology at its core for over a decade.
From the early days of social media to marketing automation, IVRs, and chat bots, we now have Marketing 5.0, and with it comes the immersive and unparalleled opportunities of the Metaverse and artificial intelligence.
The challenges that technology has brought are to constantly provide human-like experiences, and perhaps even super-human experiences, to consumers and buyers. Today, marketing leaders need to know what is the right MarTech platform to present it on, when to change it, how to enhance the customer experience at every touch point with MarTech platforms, perhaps ensure these technology platforms influence the customers and prospects favourably towards the brand, and make the brand omnipresent in the eyes of its target audience.
What are the key questions MarTech leaders must ask while evaluating investing in a compelling technology platform?
Marketers are frequently faced with questions while grabbing the latest tech-driven platforms; they want to be extremely careful during implementation to avoid the challenges of weird or unexpected outcomes or even potential ethical issues.
Below are the 3 key viewpoints I came across in a Gartner study that I believe we must think through before deciding whether or not to invest, especially in a period of flatlining or falling budgets:
Is the tech platform making any offers to customers based on information they have decided not to share?
Is the tech platform transparent or opaque about how it arrives at its decisions (i.e., can the algorithms be explained)?
Is the tech platform subject to human review, and can its decisions be explained and overridden by human intervention?
What are the two biggest tech-driven opportunities that you see currently for marketers and brands?
Artificial intelligence and the metaverse are the two biggest opportunities we have today and in the future.
Gartner, a leading analyst firm, has already predicted that by 2026, 25% of people will spend at least one hour a day in the metaverse for work, shopping, education, and entertainment.
To engage a quarter of the whole world in an hour is an exciting challenge for all brands and marketers. In fact, I recently gave a TEDx Talk on the Magic of Marketing in the Metaverse, which clearly calls out my point of view on the potential of the Metaverse and the 3Es—Emotion, Experience, and Engagement—as key approaches to Marketing in the Metaverse.
Click here to watch my TEDx Talk on Marketing in the Metaverse.
Talking about artificial intelligence, every brand is using it in some form or another, and the adoption is faster in the western world than the rest. However, the hype of AI MarTech and AI implementation requires careful analysis. This dilemma is crucial to navigate in today's world of awakened consumers and strong data privacy norms.
Nevertheless, In my opinion AI will continue to be a promising platform for MarTech leaders across all stages of the consumer journey and touchpoints.
Also read: Technology can impact the core business outcomes of revenue, profit, and risk
Do Follow: CIO News LinkedIn Account | CIO News Facebook | CIO News Youtube | CIO News Twitter
About us:
CIO News, a proprietary of Mercadeo, produces award-winning content and resources for IT leaders across any industry through print articles and recorded video interviews on topics in the technology sector such as Digital Transformation, Artificial Intelligence (AI), Machine Learning (ML), Cloud, Robotics, Cyber-security, Data, Analytics, SOC, SASE, among other technology topics