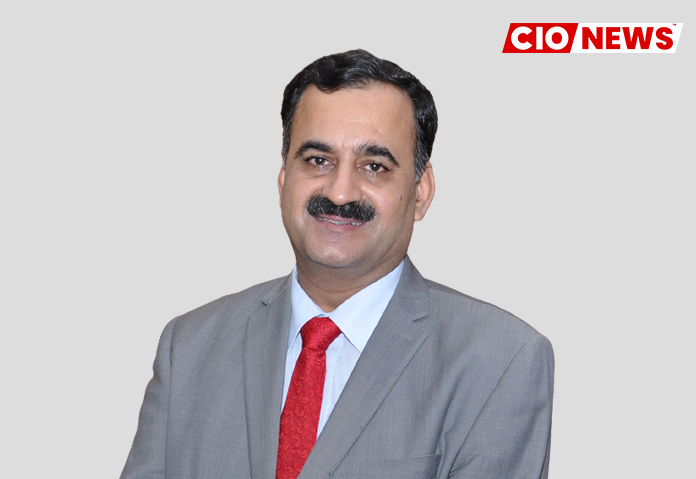 Trying to update your skillsets and trying to stay updated regarding cutting-edge developments in technology has been one of the biggest inspiring factors
This is an exclusive interview conducted by the Editor Team of CIO News with Dr. Pavan Duggal, Conference Director of International Conference on Cyberlaw, Cybercrime and Cybersecurity; Advocate, Supreme Court of India; Chairman, International Commission on Cyber Security Law; Chief Executive, Artificial Intelligence Law Hub; Founder-cum-Chancellor, Cyberlaw University; Chief Mentor, Blockchain Law Epicentre; Head, Pavan Duggal Associates; President, CYBERLAWS.NET; President, MOBILELAW.NET; Chief Evangelist, Metaverse Law Nucleus
About Dr. Pavan Duggal:
Pavan Duggal, Advocate, Supreme Court of India, is an internationally renowned expert authority on cyberlaw and cybersecurity law. He has been acknowledged as one of the top four cyberlawyers in the world. He is the Honorary Chancellor of Cyberlaw University and also the Chairman of the International Commission on Cybersecurity Law.
How did you plan your career path to be a successful technology leader?
I was always interested in trying to do something new and innovative. That is when the internet came along, and I discovered cyberspace. I decided that I wanted to focus on this area. I could foresee its huge growth in the coming years. However, while I decided the direction of Cyberlaw, I took things as they came as new opportunities and new issues arose, and I kept going with the same.
What challenges you faced in your career path and how did you overcome them?
I faced immense challenges in my career path. I belong to a family where my father was a civil and corporate lawyer. When I started focusing on this area, the biggest challenge came from my father, who felt that this was a waste of time and that technical trends come and go. However, once I promised that I would not let my civil practice be neglected, I also started continuously focusing on cyberlaw. This field has been possible as a result of tremendous hard work, perseverance, and a lot of patience.
Technology is a great master and always tells you that it is much ahead of your comprehension. Therefore, trying to update your skillsets and trying to stay updated regarding cutting-edge developments in technology has been one of the biggest inspiring factors that has inspired me to go deep into this area of cyberlaw.
What are the challenges faced by technology leaders today while implementing digital technologies?
Today, technology leaders are facing immense challenges while implementing digital technologies. The first challenge pertains to the relentless march of technology, which is making a lot of things obsolete or antique as it goes forward. Hence, constantly updating technology is one of the biggest challenges faced by technology leaders.
Further, post-COVID-19, the mindset of people working from home has evolved. As a result, digital technologies are increasingly becoming intrusive in terms of surveillance, monitoring, and interception.
Most of the stakeholders have mental blocks when it comes to implementing technology. Also, encouraging your organization and its employees to adapt to and accommodate cyber security and newly emerging technology is also a big challenge. There is a huge pushback that most of the industry leaders have to face in this regard.
Further, misuse of digital technologies is bringing far more headaches for technology leaders. Even while adopting and implementing digital technologies, there is not much clarity on the number of legalities pertaining to the same, and the same represent big challenges that are faced by technology leaders.
Another biggest challenge while implementing digital technologies is figuring out how to bridge the digital gap at various levels amongst distinctive stakeholders. While implementing digital technology, a technology leader is always riding a running tiger, and the leader has the immense challenge of trying to stay on top of the running tiger while it continues on its bumpy journey.
How can technology leaders overcome the challenges they face?
Today, technology leaders can overcome the challenges they face by first having a tenacious mindset. The ability and will to fight for new solutions and innovative approaches is a great way to enable technology leaders to overcome their challenges. They need to constantly update their skill sets and brace up for newly emerging technological realities. Technology leaders need to adopt cyber security as a way of life. They further need to be agile and nimble-footed while dealing with technology challenges. They will also have to be prepared for a choppy and uncertain future. Hence, it is all the more imperative that the technology leaders start coming up with new approaches to not just retain their manpower but also to come up with new innovative strategies to deal with the uncertain time that technology brings along.
Any best practices, industry trends, or advice you would like to suggest to fellow technology leaders for their successful professional journeys?
All technology leaders have to realize that technology is a great teacher. It constantly forces you to reskill yourself. Technology leaders have to be mindful of the fact that every technology brings with it new legal policy and regulatory issues. They must be mindful of the legalities concerning the newly emerging technologies. They must be concerned about the legalities of newly emerging technologies. Complacency is the last thing that technology leaders must rely upon. Technology is the game changer, and if you don't give it the appropriate respect, it has the power to wipe you out and also impact your business operations. Hence, understanding the legalities of emerging technologies becomes a crucial necessity.
Further, as governments of the world are now coming up with stringent compliance mechanisms, it will be imperative for technology leaders to ensure that their organizations are in compliance with the applicable and prevailing compliances and parameters of law. In the Indian context, technology leaders need to understand that the Indian Information Technology Act, 2000, is India's mother legislation and impacts everything in electronic format. Hence, technology leaders have to make sure that their organizations are in compliance with the parameters of the Information Technology Act, 2000, and the rules and regulations made there under, as well as other applicable laws, including the Aadhaar (targeted delivery of financial and other subsidies, benefits, and services) Act, 2016, the Aadhaar and Other Laws (Amendment) Act, 2019, and also the Draft Digital Personal Data Protection Bill, 2022.
Technology leaders now need to have the mindset that the legalities pertaining to technologies are moving ahead at a great speed, and it will be expected of them that they be up-to-date with the same. Technology leaders have to now realize that increasingly restrictive legal frameworks concerning technology in India are invoking criminal liability for the companies and their top management. Hence, technology leaders have an added responsibility to ensure the protection and preservation of the legal interests of their organizations and also of their top management. It will also be the bounden duty of technology leaders to ensure that they protect the top management and board of management of their respective organizations from exposure to potential criminal consequences.
Technology leaders have to come up with new innovative approaches to collaboration, as collaboration is the name of the game.
Any other points that you would like to highlight?
At the end, I would like to just state that all technology leaders need to understand the intrinsic nature and character of the internet and cyberspace. The Internet as a paradigm never sleeps. The Internet as a phenomenon never forgets. The forces of change brought up by new challenges are phenomenal, and technology leaders have to make sure that their tech operations and those of their companies are in sync with the latest emerging tech trends. However, technology leaders will have to make sure that their organizations are in compliance with the appropriate parameters stipulated by the Information Technology Act of 2000 and the rules and regulations made thereunder.
Protecting your legal interests and those of your organization is the best step going forward for technology leaders while they go ahead and do their technology operations.
At the end of the day, technology leaders must first protect their own selves, their organizations, and their top management from exposure to both civil and criminal liability in order to be successful and flourish in the context of a constantly changing technology race.
Also read: Technology leaders are required to step up to become successful business partners
Do Follow: CIO News LinkedIn Account | CIO News Facebook | CIO News Youtube | CIO News Twitter
About us:
CIO News, a proprietary of Mercadeo, produces award-winning content and resources for IT leaders across any industry through print articles and recorded video interviews on topics in the technology sector such as Digital Transformation, Artificial Intelligence (AI), Machine Learning (ML), Cloud, Robotics, Cyber-security, Data, Analytics, SOC, SASE, among other technology topics