Keep a close watch on how technology trends are evolving in line with your business
This is an exclusive interview conducted by the Editor Team of CIO News with Jignesh Wara, Associate Director at PwC India
Bringing balance to your innovation and growth strategy is important. At one end, it may be important to focus on growth with the existing strategy, while at the other end, being agile enough to innovate and be ready for the next growth lever is equally important for long-term sustainability.
How did you plan your career path to be a successful technology leader?
It's by constantly asking and reminding about "What value are we able to create and deliver?" These questions have often provided me with directions for the steps that I need to take in my professional life so far.
But as I started to mature in my professional life, I started to realize that it's all about creating value to bring in efficiencies. Whether it's business, technology, finance, operations, etc., every function of the organization should have one common objective: creating value and delivering it to your clients and customers efficiently.
But often we are surrounded by tons of problems to solve, and it may not be practical to solve everything that is available to you at the same time. Hence, that is where I rely on the Matrix of Problem Complexity vs. Value Delivery, based on which I find it a better way to get organized for making those important decisions as, with its help, it simplifies how to approach various problems at various stages of professional life.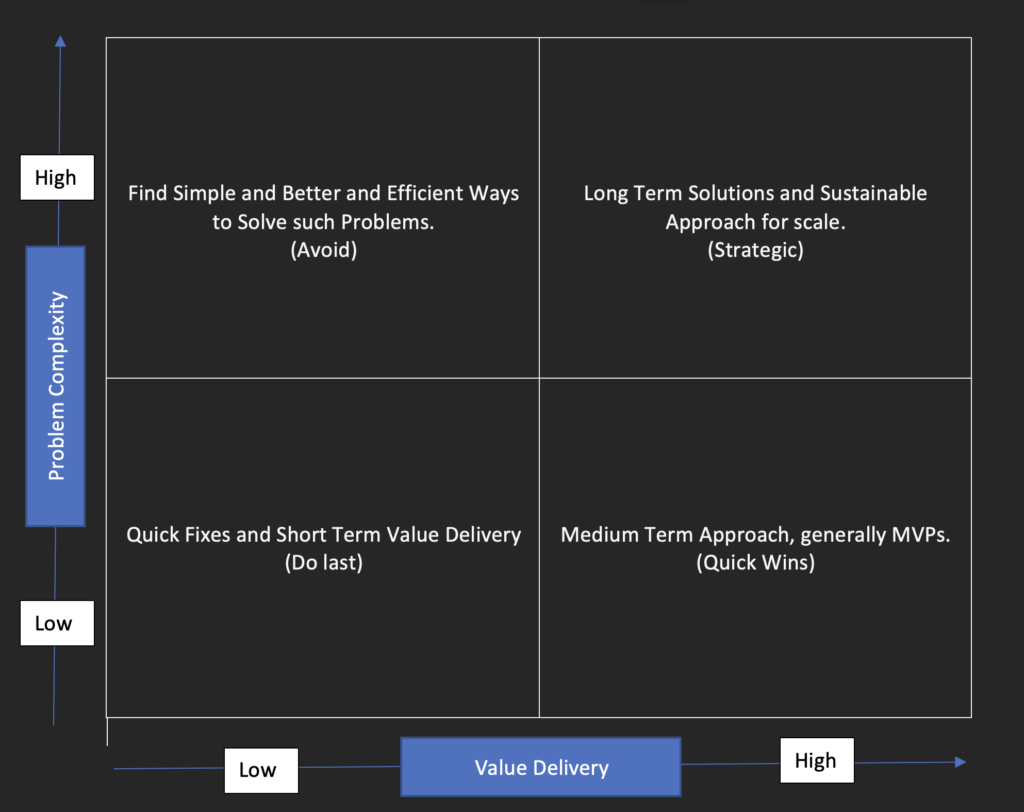 What challenges have you faced in your career path and how did you overcome them?
If you look at the past two decades, the way things have evolved is in the same direction, i.e., creating value and bringing in efficiency. Whether it's our ability to store and process large volumes of data on smaller and smaller devices or large compute power packed into smaller and smaller devices, and due to the limitations that we had a decade ago on storage and compute, which no longer exist, this has given rise to a plethora of business transformation possibilities with the help of new edge technology like cloud storage and compute, IoT, AI/ML, etc.
It's also important to carefully evaluate the technology solutions that you bring in, as with every new solution we may create a new problem. Migrating from on-premises to the cloud, for example, DC can bring in a lot of efficiencies in terms of reliability, scalability, and availability, but it can also open up new risks w.r.t. data security, cost, etc., as this may require new ways of working with changes in roles and responsibilities, changes in security policies, etc.
Hence, it's important to keep a watch on how things are going to evolve, what problems you can solve with these evolving technologies, how much value these technologies will deliver to your business, and what your exposure is to various kinds of risks and how you plan to mitigate them.
As I moved ahead in my career, I started to relate my work to some meaningful purpose. As you may know, the most satisfying thing is to find a meaningful purpose and then work towards that purpose.
As a leader, it's important to find your purpose and then work towards it, as then you have the potential to attract the right set of people around you who believe in your purpose and work together to make it easier to achieve the goals collectively.
What are the challenges faced by technology leaders today while implementing digital technologies?
Post-pandemic, we have seen a change in customers' expectations. We have seen an exponential increase in customer's digital interactions with brands. And customers do expect services to be available 24×7 across all channels, allowing them to connect with their preferred choice of medium. This means that technology leaders will have to lead from the front to transform the experience of their products and services for their clients and customers.
What has changed is our ability to capture and process large volumes of data over time. The core technology foundation at its center remains the same, but the way we design, architect, and deploy our systems and applications is rapidly changing. I recollect the time when we used to install an operating system with 6 to 21 floppy disks of 1.44 MB each. And if you see today, the size of the data has exponentially gone up, but the physical size of the storage systems has only reduced since then. We are capable of capturing, storing, processing, and analyzing every single customer interaction. The computing size of Apollo 11 is something that we carry today in our pockets (mobile phones). Hence, due to our ability to capture, store, process, and analyze terabytes of data by leveraging modern technology like cloud computing, multiple flavors of distributed database systems, IoT devices, and Pub-Sub solutions for streaming data, to process the large volumes of data for machine learning and to be able exchange this data with multiple systems using APIs, etc., we are able to simplify some of the traditional technology challenges we had to be able to design a simple, scalable, and secure architecture for our products and services.
The only way forward is to figure out the right building blocks of your technology and then put them together by carefully evaluating various risks to make it work as desired.
How can technology leaders overcome the challenges faced?
Technology leaders are required to step up to become successful business partners by reinventing and discovering new streams of opportunities to transform existing business models by leveraging modern technology and optimizing costs, thereby improving margins and delivering maximum business value.
Bringing balance to your innovation and growth strategy is also important. At one end, it may be important to focus on growth with the existing strategy, while at the other end, being agile enough to innovate and be ready for the next growth lever is equally important for long-term sustainability.
Any best practices, industry trends, or advice you would like to suggest to fellow technology leaders for their successful professional journeys?
Since technology leaders are at the forefront of driving the digital transformation journeys for their organizations, they have to focus on ways to reduce redundancy and improve operational efficiencies. Develop a digital strategy that is based on business benefits rather than being defined by IT plans.
Below may be some of the priorities for technology leaders to consider:
Automating Software Development Operations (CI/CD pipelines)
Automating IT Governance (Infrastructure as Code, Continuous Monitoring, Code Scanning)
Automating Insights (Enabling Observability across IT Infrastructure and Applications)
Introduce business process management tools to bring efficiencies.
Align your IT roadmap and budget with business revenues (phasing out IT costs from CAPEX to OPEX).
Identify any impediments that can impact your team's performance.
Coach and mentor your team. If possible, go beyond your own team to mentor other teams as well to bring in synergy and thus reduce friction in the system.
Have well-defined career path mapping for your team.
As you see, people are driven by purpose, and your team should find purpose in staying with you. Hence, as a leader, find that purpose and then drive it.
Training people for the right skills that you may need based on your IT roadmap
Keep a close watch on how technology trends are evolving in line with your business.
Also read: A career in the tech industry is full of opportunities
Do Follow: CIO News LinkedIn Account | CIO News Facebook | CIO News Youtube | CIO News Twitter
About us:
CIO News, a proprietary of Mercadeo, produces award-winning content and resources for IT leaders across any industry through print articles and recorded video interviews on topics in the technology sector such as Digital Transformation, Artificial Intelligence (AI), Machine Learning (ML), Cloud, Robotics, Cyber-security, Data, Analytics, SOC, SASE, among other technology topics