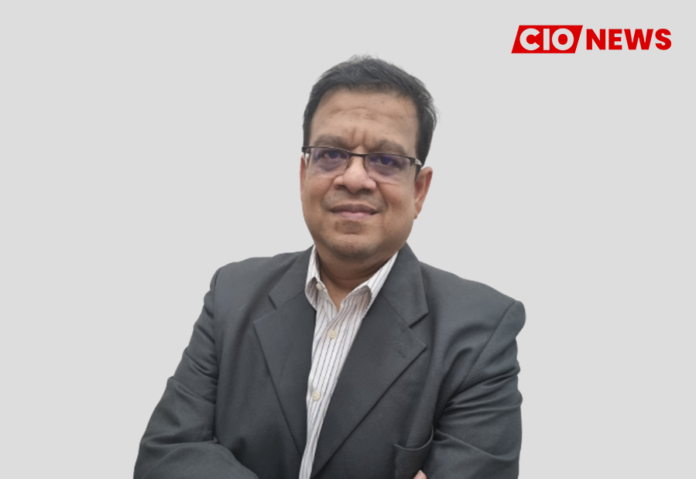 With so many technological disruptions redefining how we function, we will frequently need to unlearn and then relearn new concepts
This is an exclusive interview conducted by the Editor Team of CIO News with Kalpesh Doshi, Group Chief Information Security Officer (CISO) at HDFC Life
How did you plan your career path to be a successful technology leader?
Every successful person has some common traits. Hence, it is very important to read as much as you can about leaders' approaches, what motivates them, and how they overcame hurdles in their careers. This is an important aspect when you want to be wise and learn from the past.
For the present, one has to be the best when it comes to their domain of work. Remember that "best" means they are focused on the outcomes and can put in any amount of effort to achieve those goals.
What is important early on in your careers is your ability to take risks. Most of the leaders you will hear about or read about will tell you their first break was when they cracked something that looked impossible to start with, and once they cracked it, there was no looking back. Often I see youngsters shying away from taking on tough assignments or difficult tasks. I would urge them to always look at every task as an opportunity and see what one can learn from the situation. Remember that successful people are not those who never fail, but those who are never afraid of failing. Hence, develop this undying spirit to be the best at whatever you do, and no task is impossible. If there is a problem, there needs to be a solution to it as well.
Today's CISO jobs are stressful and have a short shelf life. Hence, do you like being a CISO?
Yes, the job of CISO is demanding, and there are many myths and preconceived biases surrounding information security, which is frequently viewed as a roadblock in an organization's journey. But I believe there are such issues in every role. However, I have noticed that there is a growing recognition that the CISO office is critical to an organization's success.
The CISO today occupies a vital place in the boardroom because of the colossal importance assigned to information and its security. The role has an immense amount of responsibility because securing information is key to the sustainability of contemporary organizations. Hence, being a CISO gives me the opportunity to nurture the qualities of a leader. Performing this role gives an immense sense of satisfaction since the CISO's efforts are helping businesses stay secure and safe.
What is one event in your professional career that resulted in an "AH-HA!" moment?
In the days when hiring security professionals with the right skillset was a challenge, we launched a programme to hire interns who were fresh and had just completed their graduation to join our teams. There was obvious resistance from within the organisation because these professionals lacked formal security certifications or experience.
We had developed intense training programmes for them to understand security concepts and bring them up to speed. After evaluating the success of this programme and the performance of this team, the programme was approved for re-running to meet our future demands.
The fact that many of these early recruits are now in leadership positions at organisations in various parts of the world is extremely satisfying and serves as my Aha moment. Nothing gives one more satisfaction than to see their team grow and scale great heights.
What challenges you faced in your career path and how did you overcome them?
I would like to quote Calvin Coolidge. "Nothing in the world can take the place of persistence." Talent will not suffice; nothing is more common than unsuccessful men with talent. Genius will not; unrewarded genius is almost a proverb. Education will not; the world is full of educated derelicts. Persistence and determination alone are omnipotent. The slogan "Press On" has solved and always will solve the problems of the human race. This has been the mantra of my life: persistence, a curious mind, active listening, and determination are anchors I discovered can help you overcome any challenges. Take one step in the direction of resolving the issue and observe how solutions to address the problem evolve on their own. We often run away from challenges; the faster we run, the faster challenges follow us and keep increasing. But when you decide to face the challenges head on, I've discovered that nothing is impossible.
What are the challenges faced by technology leaders today while implementing digital technologies?
We are witnessing an explosion of technology that is rapidly changing and challenging the old ways of computing. Today, technology is no longer a support function, and modern organisations are working tirelessly to convert their organisations into tech-led organizations. For every person who wants to build a career in the field, they will need to focus on the following key aspects: They will need to constantly keep learning; at the pace at which the technology space is evolving, if you don't keep yourself abreast of the latest technologies, chances are you will be out of touch with reality. Further, the technology landscape has expanded vastly, and with the introduction of hybrid work, which redefines the concept of perimeter, fosters cloud adoption, and addresses skills shortages, cyber concerns are increasing. This definitely looks like a boiling pot, and the industry is trying to cope with all of these regardless of their scale.
Any best practices, industry trends, or advice you would give to fellow technology leaders to help them succeed professionally?
There are many, and I believe each one will have to find a best practise that is closest to their organization's culture. In BFSI, you are required to comply with regulatory requirements, which can be detailed and elaborate. In general, ISO certifications have wide acceptance and can form the foundation on which organisations can build their cyber framework. I've learned one thing about technology over the last two decades: change is constant, so I always advise everyone in our field to keep learning. With so many technological disruptions redefining how we function, we will frequently need to unlearn and then relearn new concepts. If we stop this process, we will be unable to travel far.
Also read: Digital skills have evolved into basic life skills
Do Follow: CIO News LinkedIn Account | CIO News Facebook | CIO News Youtube | CIO News Twitter
About us:
CIO News, a proprietary of Mercadeo, produces award-winning content and resources for IT leaders across any industry through print articles and recorded video interviews on topics in the technology sector such as Digital Transformation, Artificial Intelligence (AI), Machine Learning (ML), Cloud, Robotics, Cyber-security, Data, Analytics, SOC, SASE, among other technology topics