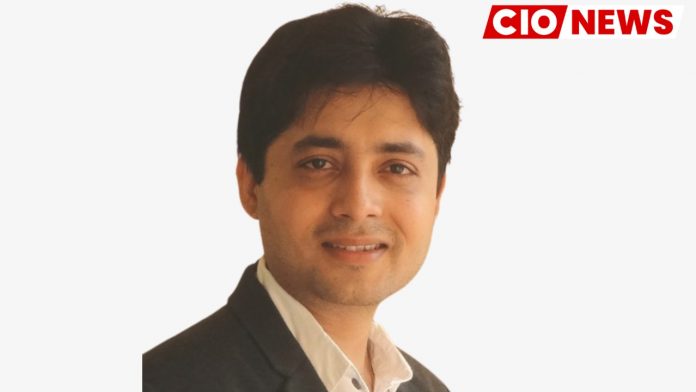 An IT leader must form strong bonds with all business leaders and collaborate with them in order to understand their goals and how technology can help them achieve them
When asked how he planned his career path to be a successful CIO, Nikunj Jain, Chief Information Officer (CIO) at Procter & Gamble, India in an exclusive interview with CIO News, said that the career path to becoming a CIO is usually not set or linear. It is long, challenging, and competitive, but for information technology (IT) professionals with the drive and determination to reach the top, the journey to the top is worth pursuing.
If you want to reach the C-suite, the first step is to understand what a CIO does. Early on in your information technology career, being able to answer this question will help you focus on developing the knowledge, skills, and abilities that will help you climb the IT career ladder all the way to the top. I personally focus my career journey on four dimensions:
Technical Mastery: The acquisition of technical mastery to make effective use of technological knowledge is critical to the achievement of self-sustaining development in line with business requirements.
Business Acumen: It enables information technology professionals to connect the dots between technology and business needs with a broad understanding of the market and industry. And design solutions that create new business value and growth for companies.
Invest in People: A good leader can bring out the best abilities in his/her team members and motivate them to work together to achieve a shared goal. I focused on developing this important skill by constantly investing in myself by observing great leaders and learning from the guidance and feedback I received from my mentors.
A constant thirst to learn and up-skill: Technology is evolving every day. Making yourself known about upcoming digital trends by developing the right skills, attending networking events, and gaining valuable experience can ensure you are on track to the best of your ability.
When asked about challenges he faced in his career path and how he overcame them, he said, "There are plenty of external forces that can throw obstacles in your career path." But most often, it's our own thoughts, feelings, and ways of reacting to situations that can create some of the biggest hurdles in reaching a leadership position. Below are a few areas out of many I personally focused on to overcome the above challenges.
Staying humble: Leadership is about influence and impact, not authority. They recognise the value of the team around them. And they reap the rewards of a team that respects their character and willingly works alongside them to achieve a common goal.
Having self-confidence: We just said you have to fight to stay humble, and this sounds a little like the opposite. But having confidence isn't the opposite of humility. Healthy confidence is an essential characteristic of leadership. Self-assurance implies an understanding that you add value to the environment.
Overcoming fear: Not much can get in the way of leading well, making good decisions, and moving your organisation forward like fear. Fear is a basic human instinct, and no leader is immune to it. What you can do is recognise it, own it, and deal with it effectively.
Investing in yourself: The practise of making yourself into a more experienced, well-rounded person through different tasks, goals, and activities. This may include reading more, creating a schedule for yourself or taking a class. If you invest in yourself, you may see improvements in your productivity and happiness.
When asked about the challenges faced by CIOs today while implementing digital technologies and how CIOs can overcome the challenges, he said, "P&G is on a journey of digital transformation and every transformation requires a change." All information technology leaders are likely to face it today or tomorrow, which you need to overcome if you want to stay relevant and competitive in the modern workplace. Below are a few of the many areas where I have focused as P&G India CIO to drive digital transformation in the organization.
Driving Digital Fluency of Organizations:
P&G is constantly investing in innovation and leading digital transformation across all aspects of the value chain. As a Digital Leader, I am responsible for educating management on digital trends and building their digital capability, which is needed to drive the change. At P&G, we also run our flagship program, Ignite, to drive digital fluency throughout the organization. It is a continuous journey where this programme encourages every individual in the organisation to up-skill and develops more digital capabilities, which is helping us to drive digital transformation across the organization.
Becoming digital leaders, not just IT managers:
IT leadership is different today than it was only a few years ago. We at P&G are accountable to business for designing, developing, and implementing digital initiatives. Working hand in hand with a multi-functional business team to drive change and create sustainable growth for the company.
Managing risk:
The more leaders of information technology invest in digital projects, the more they must assess and mitigate risk. We work closely with risk management professionals to design plans focused on risk assessment and mitigation, cyber-security and business continuity.
When asked about best practices, industry trends, or advice he would like to suggest to fellow CIOs for their successful professional journeys, he said:
Connect the dots between Business Goals & Digital Innovation:
All of us in the future will experience the trend that buy-ins dictate and fund new projects of information technology. It requires looking beyond the TECH and focusing deeply on the business' direction. Adjusting the direction of the business with the IT strategy is the balance a modern CIO should aim for.
Don't hurry into Digital Trends:
Everyone and everything is buzzing about stepping into artificial intelligence and its implementation. Before you decide to embrace it, make sure that your company is ready for it. Remember that every AI technology is different, and some are more developed than others, like e.g. machine learning is adaptable for various purposes or tasks. You'll be able to recognise and categorise certain AI technologies and make a list of those that you'll perhaps need in your long-term business strategy.
Holistic Vision in Digital Transformation:
An IT leader must form strong bonds with all business leaders and collaborate with them in order to understand their goals and how technology can help them achieve them. Use your knowledge and experience in recommending a universal solution that will positively impact various business areas.
Grow The Business And The Talent:
The technology is evolving & will continue to evolve, change and impact the business. What's essential is talent, as it is becoming harder and harder to hire, retain, and grow talented workers. We can guess that finding the right employees will be even harder in the future.
Your approach has to be creative and brave. On the one hand, focus on retaining talent and be ready for up-skilling on the other. You'll have to surround yourself with those who are motivated, skilled, tech-fluent, and ready for faster growth.
Also read: CIO News interviews Shri Wangki Lowang, Minister (IT) of Arunachal Pradesh
Do Follow: CIO News LinkedIn Account | CIO News Facebook | CIO News Youtube | CIO News Twitter
About us:
CIO News, a proprietary of Mercadeo, produces award-winning content and resources for IT leaders across any industry through print articles and recorded video interviews on topics in the technology sector such as Digital Transformation, Artificial Intelligence (AI), Machine Learning (ML), Cloud, Robotics, Cyber-security, Data, Analytics, SOC, SASE, among other technology topics