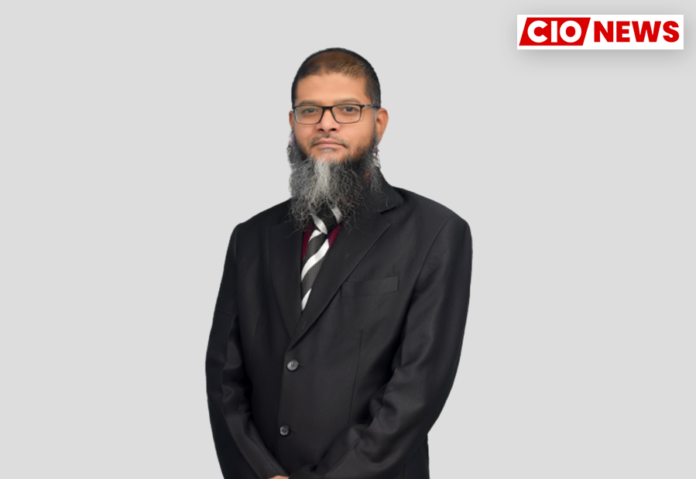 As an IT leader, we need to ensure that their business is on the cutting edge of technology
This is an exclusive interview conducted by the Editor Team of CIO News with Asim Badhuralam, Chief Information Officer (CIO) at Food Industries Polytechnic
How did you plan your career path to be a successful technology leader?
I have always been passionate about technology, and I knew that I wanted to make it my career. To be honest, I did not plan a specific career path, but I caught the lemon that life threw at me from time to time and made cool lemonade out of it.
I have moved around roles and taken on additional responsibilities to help me learn and lead the delivery of technology. As you already know, technology keeps advancing, and it brings additional challenges for learning and adoption by organizations. As I continued to manage deliveries and lead transformations in various roles, each role and new challenge moulded me to take on the CIO role with ease.
What challenges you faced in your career path and how did you overcome them?
I am always looking for new ways to improve the IT department, but there is always so much more I want to do! The department has grown rapidly over the last few years, and we are still trying to figure out where we want it to go in the future.
The first challenge is getting all of us on board with what we want. Everyone has his or her own ideas about how things should run, and there is no real consensus about what direction we should go in. We need someone who can help us prioritise our needs and make sure that everyone gets their fair share of resources.
The second challenge is making sure that everyone understands what needs to be done so they can work together as a team rather than against each other. "This doesn't just mean figuring out who's doing what, but also making sure everyone knows what they're supposed to do so they feel respected and valued within this organization."
The third most challenging is budget approval from the management. For every IT initiative, I had to prove why the project was worth doing and then convince leadership that it would be a good investment for our organization.
What are the challenges faced by technology leaders today while implementing digital technologies?
"In the middle of difficulty lies opportunity." IT leaders with strategic planning can efficiently overcome the challenges while leading the way towards a successful business transformation.
As an IT leader, we need to ensure that their business is on the cutting edge of technology.
Unfortunately, however, most people are uncomfortable with change, and the larger the change, the less comfortable people are with it.
There are several common reasons why people resist change. The key challenges unfolding this year are as follows:
Boosting Customer Experience:
As a successful technology leader, our focus is on improving the customer experience for both internal users and external business partners and clients. It's often a top priority for digital transformation projects, but it's not just about making life easier for internal users; it's also about making sure that everything your business does is grounded in empathy for its customers—and that includes you!
When you make sure that your company is always thinking about the customer experience—whether that means making your internal customers' lives easier or making things easier for your external clients—you'll be well on your way to achieving success in the digital world.
Deploying Automation:
Automation is a great way to ensure efficiency and effectiveness, but it can also be a way to improve creativity. Generally, if we are automating and defining various workflows, we are moving people to higher-value functions so they can return a higher value to the company. "I don't want my team to do things that are mundane or boring, and I don't want them doing things that aren't very interesting."
Finding and retaining the talent:
We are living in a world where technology is changing at an increasingly rapid pace. This means that the skills required to succeed in these new industries and technologies are also changing rapidly.
As new technologies emerge, old ones quickly become obsolete, and we are seeing a lot of pivots in the tech world. This means that advanced and proprietary skillsets are becoming a must. These include skills like AI, data science, analytics, programming, and software engineering. In addition to this issue of a talent shortage, there is also the problem of retaining top talent once it has been hired on board. Tech leaders must find ways to engage and motivate team members beyond monetization.
How can technology leaders overcome the challenges faced?
The answer is simple: focus on developing internal, or in-house, skills and capabilities. It is critical that leaders invest in talent development and retention.
Any best practices, industry trends, or advice you'd give to fellow technology leaders to help them succeed professionally?
In today's world, technology is a huge part of our lives. Companies are constantly looking for ways to improve their processes, reach new customers, and stay competitive. The best way to do this is with technology-based solutions.
However, you can't just throw technology at your business and expect it to work—you need to know what you're doing! Here are four things that worked for me before they started integrating technology into their business processes:
Clarity for the Technology: Learning continuously, experimenting, and how to use these technologies for business growth
Conviction to drive digital business transformation sometimes means failing quickly and pivoting further, sometimes means working on the problem from different solution perspectives, and sometimes means constantly finding ways to educate business leaders on newer technologies.
Commitment: Commitment is an area in which a lot of people struggle with the implementation of new technology. To achieve this, we need to wholeheartedly commit, and at that point, you can accomplish it.
Consistency: Last but not least is consistency in achieving the milestones, and consistency yields results. A lot of people get discouraged when they don't see results, and I am very confident that the four C's are essential in achieving success in any aspect. Remember, consistency conquers!
Any other points that you would like to highlight?
As a technology leader, it is important that you keep yourself close to technology, but do not forget that your success is dependent on how well you grasp business issues and provide solutions to these issues.
Networking is very important. Do not miss any opportunity to network with your co-workers and technology leaders from other organizations. In addition to attending technology forums, do attend industry seminars or forums related to your organization's main business.
Be bold and innovative. Encourage experimentation within your team. However, that doesn't mean you should be reckless. All your experiments should have a business objective and a measurable feedback matrix. It is better to fail early than late.
In the end, do not forget that you are the leader, and you need to take care of the talent that looks up to you. Be their mentor and guide. Invest in their continuous learning. Encourage collaboration. Help them manage their work-life balance. Be inclusive. Only a highly motivated team can produce consistent results that ultimately make you a great leader.
Also read: There are endless opportunities in cybersecurity
Do Follow: CIO News LinkedIn Account | CIO News Facebook | CIO News Youtube | CIO News Twitter
About us:
CIO News, a proprietary of Mercadeo, produces award-winning content and resources for IT leaders across any industry through print articles and recorded video interviews on topics in the technology sector such as Digital Transformation, Artificial Intelligence (AI), Machine Learning (ML), Cloud, Robotics, Cyber-security, Data, Analytics, SOC, SASE, among other technology topics