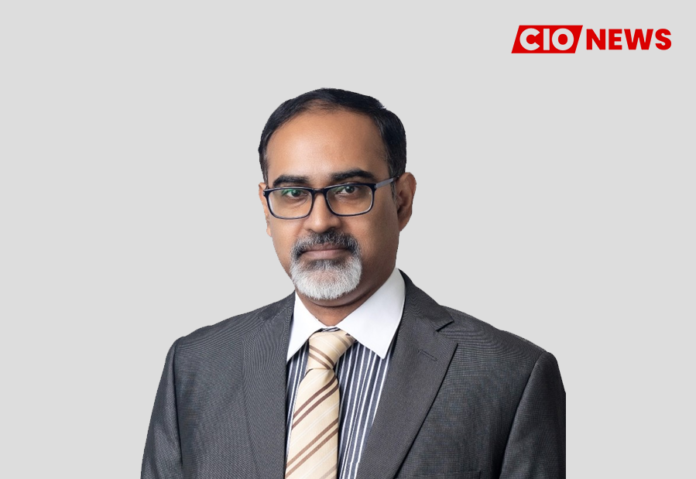 Technology leaders need to constantly keep in mind is ESG (environmental, social, and governance), as it is going to be one of the very critical areas all of us need to be mindful of
This is an exclusive interview conducted by the Editor Team of CIO News with Soumyabrata Saha, Associate Partner at Infosys Consulting
How did you plan your career path to be a successful technology leader?
It was never completely planned, in my opinion; it evolved over time. From my college campus when I started my career, I always wanted to be in management consulting, which has driven my career path so far. In my 20+ years of journey across multiple countries working for a lot of global and Indian clients, I came across some wonderful people who trusted in my capabilities, which paved the way to where I am today. My dedications to the purpose of the role I have taken on, and my strong perseverance in achieving what I wanted, are two things that I have always planned and acted on consciously. I am a firm believer that if one has a strong desire to achieve a goal and sticks to it with conviction, putting in the effort, results will follow – sooner or later. The only part I always believed in was putting in hard work and building a great team that could support you in achieving your goal.
What challenges you faced in your career path and how did you overcome them?
Over nearly two decades, many challenges were faced honestly. The profession of management consulting is always characterised by high expectations for bringing expertise to the table, which the person on the other side of the table needs to appreciate. The main challenge at the start of a career was to learn quickly, gaining expertise in a few industry areas that could later be nurtured for maturity. As I progressed up the ranks, one of the most difficult challenges was figuring out how to build an A team that you can retain to make your solid next general and learn continuously to keep you ahead of the curve. I achieved this in combination with providing the right exposure to team members to make their work interesting, working deeply with them to build trust, and showing empathy in all our interactions. Fortunately, I had a great set of people whom I helped grow in their careers and who are doing very well in different parts of the world, but who always fondly remember our association. On my own self-learning, I always make it a point to read up on new digital technology developments, the challenges faced by various clients in adopting these, and then apply those at the appropriate time to bring value ads. Last but not least, there have been ups and downs in my career over nearly two decades, and they have always been interesting challenges to face, which make one stronger. My only formula for success was to keep believing in myself and my abilities, to keep trying until you succeed, and to rely on a wonderful group of people who had positive experiences with me to help turn the tide.
What are the challenges faced by technology leaders today while implementing digital technologies?
The current time is one of the most interesting times in the era of digital technologies, while rapid changes are making everyone race to gain the advantage of technology. At the same time, one needs to be cautious in this race to ensure that the right technology decisions are taken to bring the best business results. Every organisation is unique, and neither of the two exactly matches the other. Technology leaders must carefully consider the best way to adopt new technologies and how the business benefits will be realised over time. Looking at short-term goals may lead to the wrong junction ahead. For technology leaders, innovation is the key to surviving the current time of constant change on the technology side, and performing it as part of organisation culture in a continuous way is the right recipe for success. The other most important challenge that technology leaders must address is how to continuously up-skill people so that they are always ready to work on the upcoming technologies required to make the organisation successful while also keeping the current team relevant for the future.
How can technology leaders overcome the challenges they face?
Technology leaders are no longer just technologists; they are also innovators and people leaders. Silos between business and technology are getting blurred every other day, and as more technology teams are able to collaborate with business teams as one team, organisations are more successful. Hence, operating model transformations are an integral part of success for technology leaders who bring squads, agile teams, and multi-skilled people together to achieve a common goal and solve the problem. Keeping the team constantly ready for new skills is one of the current survival requirements. It's of immense importance for the technology leaders to keep the team motivated with the right career path and by showing empathy to make the team belong to the organization, as they are the warriors in this success pursuit. With the constant advancement of digital technology, it is critical that technology leaders continually update their IT strategies and technology roadmaps in order to meet market demand and stay ahead of their competitors.
Any best practices, industry trends, or advice you'd give to fellow technology leaders to help them succeed professionally?
While cloud, data, and security have become the cornerstones of technology strategy for all organizations, it is also essential that, while coming to adoption for each of the organizations, the right foundations be established that will give benefits to the organization. The biggest risk is rushing to adopt a technology without doing enough research on its benefits and use cases. Keeping the short- and long-term roadmaps defined and taking incremental steps towards the roadmap's achievement is key to success.
One other important aspect is that technology leaders need to constantly keep in mind is ESG (environmental, social, and governance), as it is going to be one of the very critical areas all of us need to be mindful of. Sooner we embrace it, make it part of our goals, consider it in all our technology decisions, and start implementing small measures, it will count in a big way in the coming years.
Any other points you'd like to highlight?
From my experience spanning almost two decades, I strongly feel that dedication and hard work can make everything possible for an individual. The majority of the work is completed if one can be truthful to himself/herself that he/she is doing his/her best to achieve a goal or outcome. I always believe relying on great mentors and leaders who come your way in the professional journey is a great value add, as no one is an expert in everything and a small guiding light from others' experience helps quite a bit in steering one's career at times.
Also read: A strong relationship between technology and business leaders is vital for a successful digital transformation
Do Follow: CIO News LinkedIn Account | CIO News Facebook | CIO News Youtube | CIO News Twitter
About us:
CIO News, a proprietary of Mercadeo, produces award-winning content and resources for IT leaders across any industry through print articles and recorded video interviews on topics in the technology sector such as Digital Transformation, Artificial Intelligence (AI), Machine Learning (ML), Cloud, Robotics, Cyber-security, Data, Analytics, SOC, SASE, among other technology topics