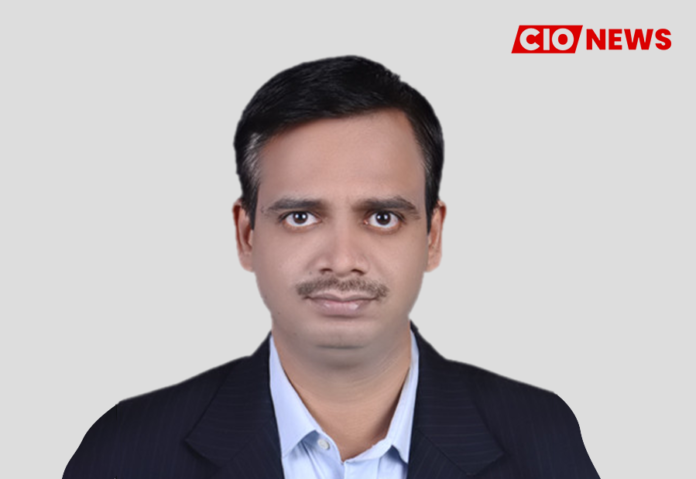 Creating sustained competitive advantage in today's industry needs a strong environmental and cultural shift combined with clearly defined goals, values, and operating models and a focus on foundational capability building.
This is an exclusive interview conducted by the Editor Team of CIO News with Pradeep Mishra, Associate Vice President and CTO of BFS at LTIMindtree
How did you plan your career path to be a successful technology leader?
During the early days of my career, I was fortunate to be surrounded by some of the best technologists and mentors in the industry. I did not have a firm plan for my career path to begin with, but the environment in which I operated buzzed with technology and how it can make our everyday lives easier, and that built this obsession in me. This made it clear that I would continue on a technology career path. My journey as a technologist has blessed me with multiple path-breaking opportunities, which have nudged me and made me an avid learner. As I traversed this path, my career started shaping up.
What challenges have you faced in your career path, and how did you overcome them?
The environment in which technology works is evolving at an extremely rapid pace. One of my biggest challenges was keeping myself one step ahead of this evolution. This is important because it helps address a client's current needs while building a base to be future-ready. The second biggest challenge was applying this learning to our day-to-day work.
To overcome the first challenge, I studied the "Art of Learning." This enabled me to quickly learn any new technology, process, or leadership style. The second challenge was addressed through behavioural changes. I built a habit of self-evaluation by observing what worked and did not work for me and making quick course corrections.
What are the challenges faced by technology leaders today while implementing digital technologies?
We are living in a VUCA world, and the "World Uncertainty Index" in the last 30 years was highest during the start of the recent pandemic (Q1-2020). This is driving a massive change in the industry and in the expectations of stakeholders. Technology leaders are facing huge challenges like meeting business agility, time to market, and regulatory mandates, to name a few. In addition, the pandemic has changed the environment and ways of working, which poses another set of challenges in building and retaining talented team members.
How can technology leaders overcome the challenges faced?
In this uncertain environment, technology leaders need to create a sustained competitive advantage to stand out in the industry. Technology leaders need to focus on the following three parameters to differentiate themselves from others:
Building Foundational Capability: In this era of digital technology, a foundational capability is primarily a combination of skilled talent, reusable software assets and accelerators, and processes to use the same. Building foundational capability must be the priority for any technology leader. Continuous learning of emerging technology, design thinking, and behavioural aspects must be each team member's goal. Software assets and accelerators must be built based on team members' learning from various engagements, and the reusability of these assets enables team members to outperform others.
Build an innovative culture and environment: Culture drives people's behavior, which directly influences business outcomes. An organisation must have a multicultural environment, and the same should be driven by the organization's values, purpose, and vision. For example, technology delivery engagement requires a mechanistic culture to drive predictability, repeatability, on-time delivery with quality, etc., but reimagining a new business proposition through technology requires an organic culture empowering team members, a fail-fast and fail-safe environment, psychological safety to build trust, and empathy-based leadership.
A clearly defined goal, values, and operating model:A technology leader must define the goal, values, and operating model. Technology leaders should use the value and operating model as a principle or a guideline to operate their team in an environment and culture that promotes the reuse of assets and accelerators, measure the progress made towards the goal, and determine if there are any risks or dependencies that need to be addressed through course correction.
Any best practices, industry trends, or advice you'd give to fellow technology leaders to help them succeed professionally?
At the speed with which the world is changing, applying any past practises may lead to competitive disadvantages for technology leaders. However, a technology leader's action must be guided by certain principles:
Drive technology solutions to achieve business outcomes. The industry norm of technology and business operating in two distinct worlds needs to change. Business and technology organisations need to work cohesively to focus on creating measurable business outcomes that optimally fit current requirements and are also future-ready.
Define strategy before implementing technology: Any technology implementation must begin with a well-defined architecture, design, and implementation strategy. With a wide and highly distributed ecosystem, it is the responsibility of technology leaders to build an extended enterprise. An extended enterprise, where architecture, design, and implementation strategy become the means for communication across stakeholders and ensure everyone is aligned to achieve a common goal.
CONTINUOUS learning is the ONLY way:New and emerging technologies are fast becoming mainstream, making it possible to reimagine business outcomes that were once just a fantasy. Technology leaders need to drive rapid learning and adoption of these new technologies at scale within their teams and should create a culture of continuous learning and applying it to real life. Team members who learn and use new technologies, processes, and behavioural patterns must be rewarded to differentiate them from others.
Any other points that you would like to highlight?
The technology leaders required in today's world must be different from yesterday's. Technology leaders need to embrace change and deliver constant innovation with agility to differentiate themselves from others.
Also read: Martech involves a combination of data analysis and creative thinking
Do Follow: CIO News LinkedIn Account | CIO News Facebook | CIO News Youtube | CIO News Twitter
About us:
CIO News, a proprietary of Mercadeo, produces award-winning content and resources for IT leaders across any industry through print articles and recorded video interviews on topics in the technology sector such as Digital Transformation, Artificial Intelligence (AI), Machine Learning (ML), Cloud, Robotics, Cyber-security, Data, Analytics, SOC, SASE, among other technology topics