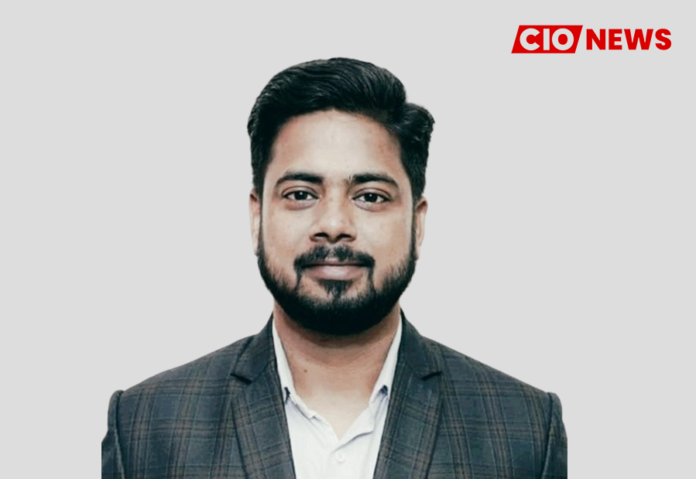 Technology leaders should work very closely with human resources and business leaders to strike the right balance in establishing needs and expectations
This is an exclusive interview conducted by the Editor Team of CIO News with Soumitro Mandal, Director Information Security and Global Security Office at Publicis Re:Sources
How did you plan your career path to be a successful technology leader?
I must say that my journey as a professional sort of ran parallel to the growth of the cyber security industry and technology. I started my career in security operations in 2005 and went on to perform management as well as leadership roles in cyber risk and compliance over the last 17 years of my professional journey. I have worked with reputed clients, organisations, and talented people to develop and build multiple security teams, risk and compliance programs, and engagements. I worked in many industry verticals, such as finance, retail, energy, utilities, media & advertising, technology-enabled services, etc., and helped businesses address their cyber security and risk management business objectives.
While there were fewer avenues of career advice in cyber security during my initial years, I realised that I had to evolve with the changing business environment that was constantly moving from core service-oriented models to using innovative digital technologies and solutions to deliver personalized, experience-based methods to deliver products and services. The changing landscape also expanded the organization's cyber security risk and compliance scope, and thus, to be successful in my role, I had to invest a lot of time in continuous learning, handle new initiatives, and most importantly, connect to industry peers and knowledge forums.
What challenges you faced in your career path and how did you overcome them?
The biggest challenge of a cyber-risk and compliance role is to collaborate with multiple teams and people, many of whom are not familiar with cyber security issues and challenges and are not sure how to invest their time in such programs. Bringing everyone together to achieve business and client security objectives is sometimes daunting. However, I have always tried to focus on understanding key requirements and translating them into actionable goals that everyone can integrate within their work programmes and achieve easily.
What are the challenges faced by technology leaders today while implementing digital technologies?
I think the primary challenge is that implementing digital technologies requires a significant shift in organisational and employee culture. Digital technologies are hugely aligned with automation, analytics, and technology-driven intelligence to bring out value. With that said, it's not easy to achieve this unless the people are inclined to commit themselves to these changes and think in line with the factors on which digital technologies are dependent, such as a data-oriented mindset, an agile work approach, and delivering a personalised experience for customers and consumers alike.
How can technology leaders overcome the challenges they face?
The most important step to facing the challenges that digital technologies bring is to develop a value-oriented approach where people and digital technologies are not seen as steps in a process but are intertwined at each step of the digital journey. This will help leaders identify the core technical as well as people skills (such as strategic thinking, a product-oriented approach, an analytical mindset, and risk-based thinking) required at the table and thus align human resources management to bring in the right people. Hence, technology leaders should work very closely with human resources and business leaders to strike the right balance in establishing needs and expectations.
Any best practices, industry trends, or advice you'd give to fellow technology leaders to help them succeed professionally?
As a cybersecurity leader, I would like to encourage my fellow leaders to keep themselves aware of the cyber security risk and issues that many organisations and clients face, especially when newer technologies rely heavily on the use of data to deliver value and are often subject to multiple data-focused security and privacy regulations as well as constant external and internal security threats. An effective way is to subscribe to or associate with the best industry sources through conferences, seminars, and forums while working with clients, internal leadership, other industry leaders, advisory consultants, auditors, and regulators, as well as service providers, to discuss primary security challenges that can cause a major negative impact on the achievement of digital transformation objectives.
Any other points that you would like to highlight?
Modern technologies such as public cloud computing offer a vast array of solutions as a service for organisations moving forward in their journeys towards digital transformations and are constantly upgrading to offer more solutions. Technology leaders should be proactive in building an effective assurance programme to ensure businesses not only adapt the most effective solutions but also manage the risk of using public cloud solutions, especially around implementing a secure data life cycle and cyber-resilient technology environments.
I wish everyone all the best on their evolving journey as technology leaders.
Note: These are solely my personal views on the questions asked, and my responses are not linked to my current or past organisations in any way.
Also read: Martech involves a combination of data analysis and creative thinking
Do Follow: CIO News LinkedIn Account | CIO News Facebook | CIO News Youtube | CIO News Twitter
About us:
CIO News, a proprietary of Mercadeo, produces award-winning content and resources for IT leaders across any industry through print articles and recorded video interviews on topics in the technology sector such as Digital Transformation, Artificial Intelligence (AI), Machine Learning (ML), Cloud, Robotics, Cyber-security, Data, Analytics, SOC, SASE, among other technology topics