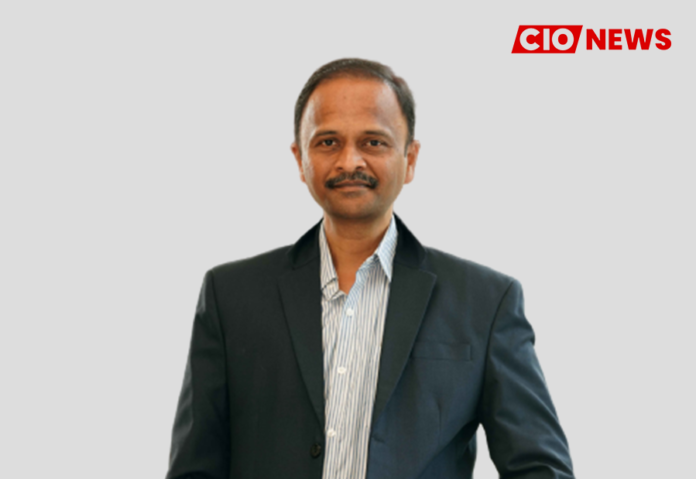 Technology changes quickly, and leaders should be able to stay informed and make strategic decisions about which technologies to adopt
This is an exclusive interview conducted by the Editor Team of CIO News with Santhosh TG, Chief Digital Officer (CDO) at Switch Mobility
How did you plan your career path to be a successful technology leader?
I truly believe that life is a journey that one needs to navigate skillfully. While one should certainly have a dream or a vision and chart out a long-term plan to achieve it, it is the ability to change directions and make the required manoeuvres in the short term during the journey that really helps in propelling an individual up the corporate ladder.
Throughout my career, I've had the opportunity to work in a variety of industries, from automotive to aviation, BPO to IT behemoths. Exposure to various industries across geographies has resulted in a vast network of technology peers and leaders who help me stay abreast of the latest technologies. It is imperative that we stay updated about the latest technology trends and advancements, continuously build knowledge and skills, and actively seek out professional development opportunities.
Having said that, I believe the following four actions are critical for an individual to be a successful technology leader, and I have been working hard to improve them on a continuous basis with zeal:
Stay up to date with emerging technologies: You should keep abreast of new and emerging technologies and assess their potential impact on my organisation and industry.
Develop leadership skills: You should study leadership theories, work on communication, collaboration, and decision-making skills, and constantly seek out leadership opportunities within my organization.
Gain business acumen and lead by example. You must gain an understanding of the business side of technology, including budgeting, strategy, and project management. Demonstrate strong ethical standards, a commitment to excellence, and a willingness to take calculated risks to drive positive change.
Believe in the Bhagavat Gita's canons: You must always give your best and let the outcome be determined by cosmic forces!
What challenges you faced in your career path and how did you overcome them?
Leadership is a challenging yet rewarding journey that requires a great deal of resilience, adaptability, and creativity. Keeping up with rapidly evolving technology has always struck me as one of the most difficult challenges. Technology changes quickly, and leaders should be able to stay informed and make strategic decisions about which technologies to adopt. A leader cannot afford to take his or her eyes off the challenges related to people. Attracting and retaining top talent today is a challenge across industry segments. Competition for top tech talent is fierce, and leaders must find ways to attract and retain employees. Yet another challenge is the art of balancing innovation with cost control. Leaders must strike the right balance between investing in new technologies and controlling costs. Last but not least, it is very important to know how to appreciate people and recognise their efforts. Acknowledging the effort goes a long way towards building trust. We must create a culture that encourages and rewards innovation while also ensuring that new ideas are aligned with the company's strategy. My mantra is "Success is always the result of collective efforts and never about individual brilliance."
What are the challenges faced by technology leaders today while implementing digital technologies?
In my opinion, the four major challenges to technology adoption are the following:
Resistance to Change Management: Digital interventions often have an impact on day-to-day business operations. Any change in the "as-is" process is met with resistance from the workforce, which might have developed a level of comfort with the process that we are trying to automate. Employees may even feel threatened by technology automation in some cases; in such cases, senior management's role in effectively communicating with the workforce and encouraging them to cross-skill and re-skill becomes critical.
Technology Landscaping: In most organizations, the technology landscape would have evolved over a period of time with a mix of standalone applications, modern responsive interfaces, and legacy solutions. As a technology leader, it is critical to recognise this and implement a solution that can accommodate both integration and migration from this diverse set of technologies.
Data Security Concerns: Data security is a growing concern in today's digital age as sensitive information is being stored and transmitted online using data centres that are on the cloud. Hacking, cryptocurrency mining, cyber-attacks, identity theft, and unauthorised access to sensitive data are all becoming more common, and these breaches can have serious consequences for businesses and their brands. It's our prerogative to ensure that digital technologies comply with evolving data privacy regulations and protect sensitive information.
Budget constraints and ensuring return on investment (ROI): Implementing new technologies often requires significant investments, and finding the necessary budget can be a challenge for many organizations. It is important for technology leaders to ensure that the investments made in new technologies yield a positive return for the organization.
How can technology leaders overcome the challenges they face?
As technology leaders, it's important for us to learn the business before we can offer a technology-based solution for a business challenge. This holistic view is essential for co-creating solutions with the help of business users. A solution that is in line with the end user's expectations is more likely to be adopted and utilised to its full potential. This knowledge also becomes the key to projecting an accurate ROI and the utility of technology implementations.
A technology leader must stay current with industry trends and advancements, cultivate strong communication skills to effectively convey their vision to the team and stakeholders, establish a culture of collaboration and inclusivity, and be adaptable to change. By developing strong leadership skills, being a strategic thinker, and having a passion for technology, a technology leader can successfully navigate these challenges and drive their organisation to success.
Any best practices, industry trends, or advice you'd give to fellow technology leaders to help them succeed professionally?
A leader must have the ability to adapt to change, remain calm under pressure, and lead by example. "Put yourself in others' shoes"—they must be able to build strong relationships with their team and understand the perspectives of others.
As a leader, it's important to communicate with all stakeholders and proactively involve yourself in decision-making forums. This will help align the technology roadmap for the organisation within typical constraints of budget, timeline, and complexity. Having said that, following the below steps will lead you to success.
Master the art of "Managing the Management"
Be a master of your own destiny.
Try always to differentiate yourself both in your "thinking" and "doing." Rise above the rest.
Always look at the "big picture." Have a "telescopic" view of the future and a "microscopic" view of the current!
Network and collaborate with all stakeholders with empathy.
Any other points that you would like to highlight?
It's not advice, however, I would like to conclude by saying a few words to the next generation of leaders: stay curious and never stop learning. The field of technology is constantly evolving, and it's important to keep up with the latest trends and developments. Adding to it, it's crucial to develop strong technical skills but also to have a well-rounded exposure that includes a broad understanding of the social, economic, and political impacts of technology. Don't be afraid of taking risks; always pursue your passions, as they can often lead to innovative solutions. It's also important to develop strong communication and collaboration skills, as success in technology often depends on working effectively with others. Finally, always strive to use technology for good and to have a positive impact on society.
Also read: Is serverless architecture a need for organisations in 2023?
Do Follow: CIO News LinkedIn Account | CIO News Facebook | CIO News Youtube | CIO News Twitter
About us:
CIO News, a proprietary of Mercadeo, produces award-winning content and resources for IT leaders across any industry through print articles and recorded video interviews on topics in the technology sector such as Digital Transformation, Artificial Intelligence (AI), Machine Learning (ML), Cloud, Robotics, Cyber-security, Data, Analytics, SOC, SASE, among other technology topics