Continuous change in technologies implies a parallel shift in cybersecurity trends as news of data breaches, ransomware, and hacks becomes the norm
This is an exclusive interview conducted by the Editor Team of CIO News with Mohamed Hamed, Chief Technology Officer (CTO) at Ceramica Platino.
With the digital revolution around, all businesses, small or large, corporations, organizations, and even governments are relying on computerised systems to manage their day-to-day activities, making cybersecurity a primary goal to safeguard data from various online attacks or any unauthorised access. Continuous change in technologies also implies a parallel shift in cybersecurity trends as news of data breaches, ransomware, and hacks becomes the norm. Here are the top cybersecurity trends for 2023.
What are the top cybersecurity trends to keep an eye on?
The Rise of Automotive Hacking
Modern vehicles nowadays come packed with automated software, creating seamless connectivity for drivers in cruise control, engine timing, door locks, airbags, and advanced systems for driver assistance. These vehicles use Bluetooth and WiFi technologies to communicate, which also exposes them to several vulnerabilities or threats from hackers. Gaining control of the vehicle or using microphones for eavesdropping is expected to rise in 2023 with more use of automated vehicles. Self-driving or autonomous vehicles use an even more complex mechanism that requires strict cybersecurity measures.
Artificial Intelligence's (AI) Potential.
With AI being introduced in all market segments, this technology, with a combination of machine learning, has brought tremendous changes to cybersecurity. AI has been paramount in building automated security systems for natural language processing, face detection, and automatic threat detection. Although it is also being used to develop smart malware and attacks to bypass the latest security protocols for controlling data, AI-enabled threat detection systems can predict new attacks and notify admins of any data breach instantly.
The New Target: Mobile Devices
Cybersecurity trends provide a considerable increase (50 percent) for mobile banking malware or attacks in 2019, making our handheld devices a potential target for hackers. All our photos, financial transactions, emails, and messages pose more threats to individuals. Smartphone viruses or malware may capture the attention of cybersecurity trends in 2023.
The cloud may be vulnerable as well.
With more and more organisations now established on the cloud, security measures need to be continuously monitored and updated to safeguard the data from leaks. Although cloud applications such as those from Google or Microsoft are well equipped with security from their end, it's the user end that acts as a significant source for erroneous errors, malicious software, and phishing attacks.
Data Breach: A high-priority target
Data will continue to be a leading concern for organisations around the world. Whether it is for an individual or organization, safeguarding digital data is the primary goal now. Any minor flaw or bug in your system, browser, or software is a potential vulnerability for hackers to access personal information. New strict measure: The General Data Protection Regulation (GDPR) was enforced from May 25th, 2018 onward, offering data protection and privacy for individuals in the European Union (EU). Similarly, the California Consumer Privacy Act (CCPA) was applied after January 1st, 2020, to safeguard consumer rights in the California area.
What is a "cybersecurity risk assessment"?
A cybersecurity risk assessment requires an organisation to determine its key business objectives and identify the information technology assets that are essential to realising those objectives. It's then a case of identifying cyber-attacks that could adversely affect those assets, deciding on the likelihood of those attacks occurring, and assessing the impact they may have; in sum, building a complete picture of the threat environment for particular business objectives. This allows stakeholders and security teams to make informed decisions about how and where to implement security controls to reduce the overall risk to one with which the organization is comfortable.
How to perform a cybersecurity risk assessment?
A cybersecurity risk assessment can be split into many parts, but the five main steps are scoping, risk identification, risk analysis, risk evaluation, and documentation.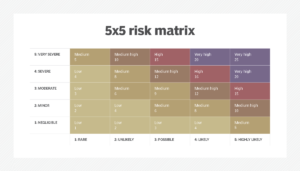 Any scenario that is above the agreed-upon tolerance level should be prioritised for treatment to bring it within the organization's risk tolerance level. There are three ways of doing this:
Avoid. If the risk outweighs the benefits, discontinuing an activity may be the best course of action if it means no longer being exposed to it.
Transfer. Share a portion of the risk with other parties through cyber insurance or by outsourcing certain operations to third parties.
Mitigate. Deploy security controls and other measures to reduce the likelihood and/or impact, and therefore the risk level.
However, no system or environment can be made 100% secure, so there is always some risk left over. This is called residual risk and must be formally accepted by senior stakeholders as part of the organization's cybersecurity strategy.
Also read: Technologies are becoming more valued in the eyes of business
Do Follow: CIO News LinkedIn Account | CIO News Facebook | CIO News Youtube | CIO News Twitter
About us:
CIO News, a proprietary of Mercadeo, produces award-winning content and resources for IT leaders across any industry through print articles and recorded video interviews on topics in the technology sector such as Digital Transformation, Artificial Intelligence (AI), Machine Learning (ML), Cloud, Robotics, Cyber-security, Data, Analytics, SOC, SASE, among other technology topics