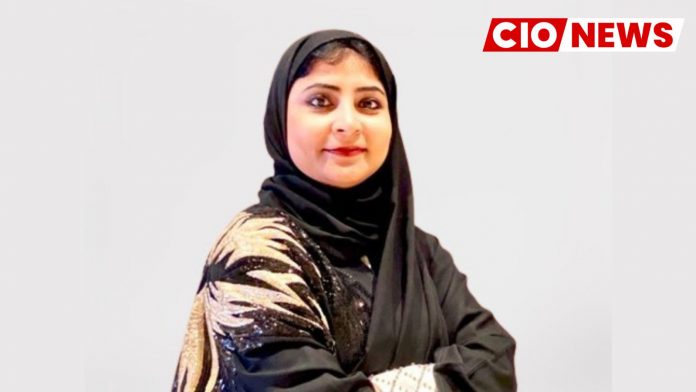 My advice for women leaders and fresher's in technology and business is, 

"Do not give up"
This is an exclusive interview conducted by the Editorial Team of CIO News with Sheeba Hasnain, Senior IT and Digital Transformation Specialist at a Government entity of UAE, on her Journey as a Women in Technology Industry
When asked if she can share a little bit about what it is that she does and what her typical day is like, Sheeba Hasnain, Senior IT and Digital Transformation Specialist at a Government entity of UAE, in an exclusive interview with CIO News, said, my early morning starts with a glass of warm water and Morning Prayer leading to, stretching and breathing exercises and at least 500 words writing for my books in hand or technical column reading about technology and business. Proceeding towards, my daily routine to prepare breakfast for my family, send my sons to school, and I and my husband proceed towards our offices. 
Along with office work, I am always indulged in reading and learning more about disruptive technologies, different use cases, and how to work on continuous innovation to move with the pace of changing environment of business and technology. Wrapping up my day with dinner and having fun with family and 10 minutes walk.
When asked if she always knew that working in technology was what she wanted to do, she said, it's really an interesting question and nostalgic as well. My parents wanted me to be a doctor and it was my dream too, till grade nine. However, in grade nine, one of the renowned training providers for computer languages and hardware visited our school and they had presented the basic knowledge of computer science in a very interesting manner since that day I wanted to learn everything about computers and I knew that learning Information Technology aspires me the most. 
Those days my parents used to teach me all the subjects after school, especially my dad was teaching me Maths, Science, Physics, Chemistry in most interesting ways that I loved and excelled in all those subjects. My gaining aspiration and passion towards technology and computer science compelled my dad to pursue a short-term course in computing in 1996. And once he was trained he started teaching me about the basics of computer science and he had purchased my first Celeron 800, I and my brother were feeling on the seventh sky by getting a computer as a gift from our parents. And fortunately, by that time my school also brought many Celeron-based desktops to provide basic computer knowledge in school. 
My passion for technology kept growing, leading me to take physics chemistry, and mathematics as core subjects for further higher studies. Then, I decided to pursue Masters in Computers to follow my aspirations towards technology. 
Upon finishing my Masters in Computer Application, I received great opportunities to work with reputed organizations in India and in UAE. Fortunately, I was surrounded by a learning atmosphere where each day I learned something new. And my passion in the technology for learning and implementing more new milestones looks like a non-stop journey towards technology.
When asked if as a woman in the technology industry, has she ever been in a situation when gender has affected the way she was treated by her seniors or co-workers and how she handled those situations and proved that women in the technology industry are equally important as men are, she said, "Gender and Cultural Challenges have been the biggest hurdles I have ever faced in the working environment as a woman in technology". Sometimes, knowing how to execute work and technology knowledge cannot help at all, especially, for women in the technology industry where men have been the leaders for many decades. Major issues arise due to gender inequality and cultural influence at the workplace for women not only in technology but also in business. 
My advice for women leaders and fresher's in technology and business is, "Do not give up". Hone the skills necessary to give you those opportunities, such as your knowledge of technology, communication skills, leadership development, and emotional intelligence. Raise your hand in meetings. Speak up, and be heard. By the time I realized that, although I had all the IT technical skills, some of the management skills were lacking in me. I started working out in that area of mine and gathering information on how to improve and excel. Therefore, I decided to do an MBA in Leadership and Strategy Management. Although it was the most difficult time for me because, family, office, college and society, and managing them all together was extremely difficult for me, also to get a regular degree in UAE, I had to pay my savings, still, I took a lead to move ahead with the decision to learn and excel to overcome the obstacles in my higher leadership career due to lack of understanding of management part. "Try, Try and Try Never give up for any reason either it's cultural, gender or any other reason." By making your knowledge and experience more valuable and recognized, one day you will overcome all the challenges which were mended for women for a long time.
Speaking about the best part of being a woman in the tech industry, she said, I have been hearing since childhood girls cannot be good in mathematics and other science subjects, they can only be good in home science and other arts area. Being a woman in technology you prove yourself and challenge the challenges always given to a girl that she is not capable enough to work in the technology area. For Instance, initially, to be in the area of science, I had faced a lot of challenges from a societal perspective, but once I had overcome all those challenges, today when I see myself and the kind of opportunities which I am receiving it's the greatest example that to stand in this world we have to go through challenges and those challenges enable us to be an outstanding personality from the normal crowd. Present respectable and reputed Women in Technology and Business leaders are best examples for the new generation to choose the area of technology, follow your instinct and have a very wonderful career in technology because the future of all business and economy will be based solely on technology. Therefore, a basic understanding and knowledge about the digital area is a must for all human races.
When asked if she has noticed a lack of women in technology and if so, why does she thinks that's the case, she said, previously, during my school and college days and when I was pursuing Masters in Computer Application, out of 40 students in my batch, we were only two ladies. If I think about two decades ago, social media and communication were not so prominent parents and girls were driven by the old societal norms and thoughts and that's why we were opting for regular areas for studies.
However, the present era is the time of fastest communication, and therefore, parents are well informed and aware. They are encouraging their girls to have higher studies in technology providing them a nurtured environment to excel in the field of technology because they know the importance and impact of great career benefits of specializing and having technical skills nowadays.
When asked about her advice to women considering a career in the tech industry, she said, "A woman considering tech industry as a career must be passionate and aspirant of technology". She must be a fast learner, implementer, innovator, and have a girt towards the tech industry. As it's a highly vibrant industry, changes are the core of the tech industry. Static knowledge and legacy ways of handling the problems would not let you survive in the most agile environment. 
Therefore, along with all the responsibility of a woman, which includes home, the social establishment of a family, etc., "Women in Technology Industry carries the greatest responsibility towards their work and commitment, which they can only fulfil if they are highly passionate and having zeal towards their work and technology to provide their contribution to the industry and society".
When asked what she wishes she had known about the technology industry before starting her career and what advice you would like to give to fresh candidates who look forward to a successful career in the technology industry, she said, "I would say, not only to opt for technology industry but to pursue any study at the level of expertise and perfectionist, you must know your will and love towards the area. Once you have awareness about the strong will to learn and pursue the path you would surely excel in the opted field". 
"Additionally, if I specifically talk about the tech industry as I previously mentioned it's a highly agile industry". Therefore, you must be nurtured in a highly hard-working environment to pursue your career in the technology industry. Moreover, before opting for the core field of study in technology, if you would know how your future career would move with that particular area and would it be the most interesting area for you to work and innovate, it would play a vital role to place you at the right direction from very early days of your career. Now a days, various career magazines, career fairs organized by various universities and governments (online and in-person) world-wide have opened tremendous opportunities for students and fresher candidates to connect with the right career counsellors and teachers to get the guidance to pursue a career in technology and etc.
Basically, I would conclude your GRIT and guidance are the key players to define your career in technology.
Also read: CIO News interviews Shri Wangki Lowang, Minister (IT) of Arunachal Pradesh
Do Follow: CIO News LinkedIn Account | CIO News Facebook | CIO News Youtube | CIO News Twitter
About us:
CIO News, a proprietary of Mercadeo, produces award-winning content and resources for IT leaders across any industry through print articles and recorded video interviews on topics in the technology sector such as Digital Transformation, Artificial Intelligence (AI), Machine Learning (ML), Cloud, Robotics, Cyber-security, Data, Analytics, SOC, SASE, among other technology topics