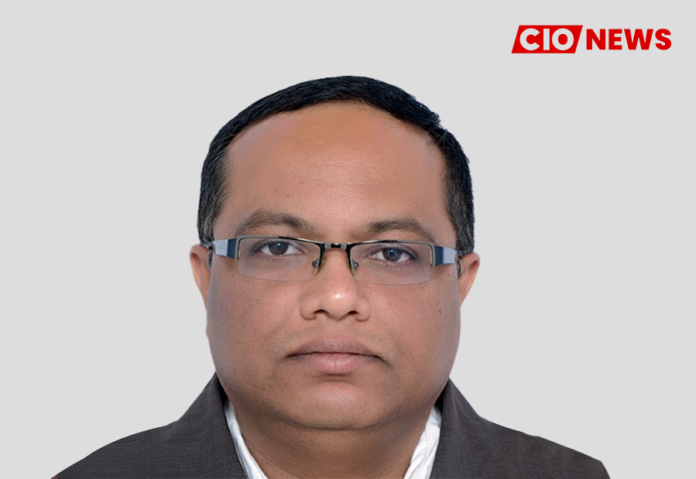 Technology leaders will need to make a sincere attempt to speak the same language as their business counterparts
This is an exclusive interview conducted by the Editor Team of CIO News with Rohit Verma, Senior Director – Architecture at GE Renewable Energy
How did you plan your career path to be a successful technology leader?
Well, interestingly enough, I never planned a career in technology. Ever since childhood, I have been passionate about teaching and would leave no stone unturned to teach English to the watchmen and nurses working in my aunt's nursing home. While I was in Grade 4, I got my first paid tuition assignment, and there was no looking back. I continued to teach all the way through my engineering degree, coaching students for medical and engineering entrance exams.
I went on to pursue engineering "as planned and designed" and graduated as a mechanical engineer from Birla Institute of Technology, Mesra, Ranchi.
Engineering gave me a very fundamental realisation: I did not have the right aptitude for mechanical engineering. By then, the IT industry was blooming, and engineering professionals from any specialisation were being considered for IT roles. To prepare for a career in IT, I enrolled in a few diploma courses at various computer training institutes beginning in my second year and began receiving training in the most recent IT tech stack available at the time. This is what disappoints me today if students from non-IT specialisations play the victim card, stating that they were not taught computer subjects.
I began my career with Wipro Technologies through a campus selection, where I spent the first 6.5 years of my career working on Java, J2EE, SOA, and Middleware Technologies. One of the things I did from the beginning of my career was to prioritise my personal learning and development in any assignment or project that I took on, which also helped me demonstrate my learning agility to the organization. For example, for one of my first projects, where I worked as a manual tester with an investment bank in the UK, I learned various testing techniques and went on to take the Securities and Insurance certification and the Prince 2 project management certification. My preferred route for learning has been through certifications, as they provide me with a bit more structure towards learning and help me achieve a well-defined outcome.
As I joined GE in 2008, there were two things that intrigued me quite a bit:
While the industry was trending toward people switching jobs every 2 years, here I saw people being in the organisation for at least 10 years or so.
I saw people leading programmes in areas where they did not necessarily have a background or desired technical expertise.
I realised why GE was in a different league and was regarded as the world's leadership factory. My leaders did bet on me, and I was able to take on challenges and new roles every couple of years (when I would feel that my learning had been saturated). As time passed, I was able to take on roles in ERP, SFDC, CPQ, and D&A, all of which were completely alien to me when I took on those roles, but I was confident of my success due to my learning ability coupled with the support from the great employees who would be my new peer group. In hindsight, having the ability to take risks and the confidence that I carry today to be able to learn, execute, and deliver any new challenge thrown at me comes from my engineering days. (For the semester exams, the preparations would start just a week before the exam, and I was still able to get pretty decent grades in my engineering.)
Over time, I realised that my passion was not just for teaching or technology, but for the entire field of talent development. In 2016, for about 3 years, I had the opportunity to lead the early career talent development and leadership programmes for GE, India, and Baker Hughes globally. This role gave me a lot of insights into the new generation joining the workforce and what success or an accomplished career looks like for them. During this period, I was disconnected from my core technology portfolio, and to ensure that I stayed relevant in the technology space as well, I took up certifications in DevSecOps and SAFE Agile along with year-long PG Diploma courses in Data Science. I am currently going through a year-long programme in cybersecurity.
To summarize, the exposure to various domains within IT through my various roles (ranging from development, programme management, and architecture), whether it was custom applications or enterprise solutions, coupled with the courses and certifications that I keep doing in parallel, helped me get a broad view and understanding of the overall IT landscape.
What challenges you faced in your career path and how did you overcome them?
Challenges seemed to have started right away, even before I started working. I graduated in 2001, which is when the global recession hit, followed by the 9/11 attacks. As a result, our collaboration with Wipro was postponed until early 2002. It meant sitting and waiting for those 8–10 months. I started leveraging the time at hand by getting up to date on the latest IT technologies prevalent at that time and expanding my tutoring activities, which generated more than sufficient income for me. So, the waiting time was not wasted.
Post joining Wipro, we were trained for about 2 months on the Microsoft technology stack, and then I was suddenly assigned to a Java group (I am sure a lot of you would resonate with this). It meant learning an entirely new tech stack in a short span of time with minimal support, and the internet was not as easily accessible during those days. I was asked to take up certification on one of the application servers, and I failed in my first attempt. It was probably a wake-up call for me that I needed to work harder to improve my skills. I made sure that I took the challenge and cleared the exam on my next attempt.
Then came my first live project. I was extremely proud of the code that I had developed, and it fulfilled all the functional requirements with perfection. When the code was reviewed by the project architect, I received review comments of "fatal," only to realise that my code quality was good for a standalone system but had the potential to bring the system to its knees if it were deployed for scaled use. It was a heartbreaking moment for me, and I cried with tears, only to find support from the seniors in my team, who offered to do the entire code for me. I had a few very important learning from this episode:
The standalone codes that we write as rookies are good enough to win a hackathon, but industry-standard codes are more than that. They should be able to integrate with other systems, performing, secure and scalable.
There is always a large ecosystem of peers and seniors who are available to provide support. It is our own inhibitions that keep us from raising our hands and asking for help, as we fear being judged.
Sometimes it is just enough to sit next to the distressed employee and show them that you are there for them. That is all they need.
While this event dates back 21 years, it is still so fresh in my memory as this incident gave me one of my early lessons in humility—something that I still keep in mind as I lead teams.
Another significant event worth mentioning was my very first project at GE, where the majority of the project activities were outsourced, and I simply became too casual about it, only to discover that we had not tested the final code in the appropriate environment, which was due to my oversight. This resulted in my project being deferred by 2 weeks from going live. After that, my leader asked me for the remediation plan, which I explained to him. He heard me, joined my calls for the next two days, and then left it over to me. Eventually, the project got deployed, and I even received an award for it. This incident gave me two important lessons that played an important role in shaping my career:
Despite my failure to deliver on the first try, my manager chose not to micromanage me and instead extended his support by saying he was available if I needed him and giving me another chance to correct my mistakes. If I were him, I would have never done that and probably taken charge of that project in my own hands. The big lesson I learned was that allowing people to make mistakes and learn from them, and giving them the confidence that it is OK to fail as long as you learn from it, and going one step further to even recognise that behavior, is a great way to drive accountability and build a risk-taking culture in your organization.
Well, while for me the project slipped by 2 weeks (which I felt was not too big a deal) and I was presenting this in a CIO review, he heard it all and appreciated me for the bounce back, but he stated that from his perspective, it was actually a miss by a quarter based on his commitment to the CEO. This gave me a senior leadership perspective on these matters.
As I was approaching my mid-career phase, I was an accomplished employee, and I had a new leader (a first-time people manager) taking over charge of our team. The initial days were just so unsettling while I was trying to adjust to the new leader's priorities and style of working that I felt so stressed that I actually went on a month-long stress leave along with counselling support. It is important to mention this here, as despite going through this rough patch, I still stand strong today. Mental health is a real issue and needs to be addressed. Most of the time, employees are silent about it as they fear retaliation and being judged. In my case, I got immense support from my organization. My manager was also not penalised but rather sensitized. I eventually went on to work for the same manager for the next 2 years, and we developed a great rapport over time. In fact, I received most of my promotions and accolades during that time.
What are the challenges faced by technology leaders today while implementing digital technologies?
The biggest hurdle technology leaders face today while implementing digital technologies is the resistance from the business teams to provide the right level of engagement and support, which is the key to driving acceptance and adoption.
While businesses have evolved, there is still a hard divide between the business teams and the digital teams. Both of them need to come together to be a part of one team to enable digital transformations. Businesses need to understand that digital tools can actually serve as strong enablers of their productivity and the way they work. They need to start looking at digital teams as more than just a bunch of folks fixing their laptops and video conferencing, but rather as partners who could help them run their business more efficiently.
Business leaders have traditionally been resistant to black-box solutions that do not allow them backward traceability. They feel more confident and empowered using tools like Excel, which allow them to trace the results backward. This is something their teams have been using for years and seems to be working fine for them. Excel and spreadsheet solutions are some of the biggest competitors for any digital solution. Similarly, the practise of doing post-mortem reactive analytics is hard to break, as that has 100% accuracy on the data, unlike the predictive model, which can never promise 100% accuracy.
Digital projects that have a commitment from executive business leaders to support them with funding, resourcing through appropriate domain experts, time, and adoption are way more likely to be successful than those that engage with business on an ad-hoc basis.
Another important dimension to this is that the digital world has been witnessing rapid transitions in the technology stack; it would be important to carefully evaluate and make the right technology choices that can not only be executed in the current time but can also be sustained over time.
How can technology leaders overcome the challenges they face?
Technology leaders will need to make a sincere attempt to speak the same language as their business counterparts. They need to demonstrate that they understand the business and the real gaps to be able to establish their credibility as enablers in this process, rather than being perceived as someone who is just trying to shove IT solutions down their throats.
Businesses will need to understand the consequences of being on a legacy stack and how it could pose both cybersecurity and business continuity risks to their operations. The value proposition of any new implementation will have to be clearly articulated, and a proper change management methodology will have to be adopted to get the required buy-in from all the key stakeholders.
Business leaders must also be willing to take some risks and make some investments in new technologies like machine learning and artificial intelligence, which will enable a higher degree of predictive analytics and automation of their processes. Technology leaders will need to empathise with the business leaders on this journey as they transition from reactive to predictive and prescriptive analytics and the trade-offs involved in this process.
As a result, among the key changes that technology leaders will need to make in their behaviours and modes of operation are the ability to articulate and communicate a technical problem or solution into a business statement.
The challenges associated with the rapidly changing technology stack will necessitate a revisit of the technology organization's entire Talent Development programmes to ensure constant reskilling and upskilling of existing people and how they could be shuffled or rotated continuously to take on new challenges on a regular basis, which will be important to grow and retain them without jeopardising the sustainability of these projects because it is only a matter of time before a hot-skip occurs. One of the other ways to address this would be to build in as much automation as possible to enable redundancy.
Any best practices, industry trends, or advice you'd give to fellow technology leaders to help them succeed professionally?
A few pointers I could potentially recommend based on my experience are:
Get into the skin of your business counterparts. You will win their respect and trust only when you speak their language.
Focus on your own learning and development. Learning will ensure your self-enrichment and relevance in the industry over the long term.
Allow your teams to try new things, fail, and learn from their mistakes.
Trust your team, empower them to take decisions, and back them up, especially when they fail. This will enable you to efficiently delegate and create time for you to take on a larger scope. In the process, your team feels valued and motivated, and the overall bar for the team goes up.
Allow your teams to try "proof of concepts" on new technologies, which you might not even be implementing. All jobs would roughly be 50% interesting and 50% operational – You need to find ways to keep your team motivated and excited.
Create time for your team to participate in business seminars, industry overview sessions, conferences, and symposiums. Ensure that there is a significant investment in soft-skill training.
Focus on employee well-being and development—this is not just about fun events but also about their financial and emotional well-being.
Hire people who are "smarter" than you and bring complementary skills.
Before investing in your passionate digital project, conduct a thorough and fair cost-benefit analysis to eliminate any personal biases you have about the project.
Before committing funding and resources to any project, do ensure that you have identified your key stakeholders and have their buy-in to proceed.
Also read: The best technology leader is the one that makes capable and independent resources surround him
Do Follow: CIO News LinkedIn Account | CIO News Facebook | CIO News Youtube | CIO News Twitter
About us:
CIO News, a proprietary of Mercadeo, produces award-winning content and resources for IT leaders across any industry through print articles and recorded video interviews on topics in the technology sector such as Digital Transformation, Artificial Intelligence (AI), Machine Learning (ML), Cloud, Robotics, Cyber-security, Data, Analytics, SOC, SASE, among other technology topics