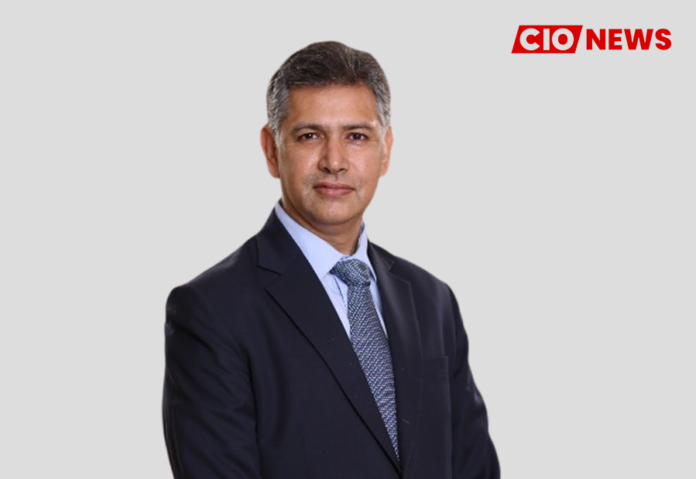 The key aspect is for technology leaders to fully embrace the changed scenario and adopt an agile, innovation driven, customer centric mindset
This is an exclusive interview conducted by the Editor Team of CIO News with Sumit Puri, Co-Founder of Synergy Digital Solutions and Executive Director of AuraData Technologies LLC
How did you plan your career path to be a successful technology leader?
After completing my engineering degree, I joined Indian Aluminum (part of ALCAN Canada) and then Maruti Udyog in 1993 to streamline their supply chain and production life cycle operations. After 4 years of work experience, I joined the postgraduate MBA programme at IIM Bangalore in order to enhance my holistic understanding of business aspects. After my MBA, I joined PricewaterhouseCoopers, one of the Big 4 consulting firms, from campus, which gave me excellent exposure to different business verticals. I realised that with digital and mobile technologies coming of age, IT was evolving into a mainstream revenue generating function from the erstwhile backend support function to which it had been relegated earlier. With digital technologies enhancing and transforming almost every aspect of business functioning, it was time for CIOs and technology leaders to step up and become leaders of innovation for their businesses. That's what motivated me to embark on the path of technology leadership as the digitization leader at GE Money and then as the global digitization leader at GE Capital International Services and I have not looked back since.
What challenges you faced in your career path and how did you overcome them?
The biggest challenge I have faced in my career has been resistance to change and the entrenched, risk-averse mindsets of some operational leaders wanting to continue with outdated, person-dependent, inefficient business operating models. It was important to demonstrate practically the advantages that effective leveraging of technology could bring to the business by conducting awareness sessions and co-opting business leaders into the transformation journey. A good example of this was the Integrated e-Prescription and Electronic Health Records project at Max Hospitals, where, in conjunction with Max's Clinical Governance team, we spent close to 1 year discussing and aligning expectations of clinician teams across 15 hospitals, which helped us move from 7% to over 85% successful digitization of patient records and significantly enhanced both patient safety and operational efficiency. I firmly believe that every digital transformation project should be a collaborative effort between IT and business teams with key strategic business objectives outlined, and a business leader should lead and champion the adoption of the same at the grass-roots operational level. For all the IT organisations I led across geographies, we always ensured that IT spoke the language of business and successfully adopted the role of a strategic business partner, facilitating and delivering these results and objectives to the business.
What are the challenges faced by technology leaders today while implementing digital technologies?
The main challenges faced are the burden of legacy systems in traditional organizations, the ever-changing business landscape, and siloed functional requirements given by business stakeholders, which leads to a lack of alignment of system development with business goals. The legacy systems make it very difficult for traditional IT organisations to deliver well-integrated, easy-to-use systems on timelines that meet expectations from functional stakeholders. The lack of alignment on business goals and limited integration on functional requirements lead to making digital projects purely IT projects with no clear functional ownership and limited business accountability on system usage and adoption. This is further complicated when business stakeholders and the competitive landscape change in the midst of projects.
How can technology leaders overcome the challenges they face?
The key aspect is for technology leaders to fully embrace the changed scenario and adopt an agile, innovation driven, customer centric mindset. The good news is that the COVID pandemic has significantly accelerated the pace of digital transformation and user adoption across enterprises, with remote work, digital health, and online collaboration becoming the order of the day. Technology leaders should always keep abreast of business challenges and scout for new technologies that can drive business goals effectively. They need to forge excellent partnerships with business leaders and proactively leverage technological innovations to seamlessly assist the CXO team in delivering their key business goals. Besides robustness and scalability of system development and technology infrastructure, they also need to give importance to simplicity in user interface design to enable ease of use and high rates of system adoption.
Any best practices, industry trends, or advice you'd give to fellow technology leaders to help them succeed professionally?
Tech leaders should embody the change they would like to see in their organizations. They should stop viewing the world through a technological lens and become equally committed as a business leader to making technology work for the business. Also, if possible, create a separate, forward-looking agile organisation for encouraging innovation while continuing to manage the legacy and core systems landscape. Technology is changing rapidly and can transform the way we work, live, and operate. Along with technology, we need to work with HR and business leaders to enable the required people and process ecosystem, which would deliver seminal long-term results for the organisation.
Any other points that you would like to highlight?
I would like to advise technology leaders to consider themselves future business leaders and make maximum efforts to enhance their understanding of data and digital technologies pertaining to their respective business domains. Data is the new currency of the world, and if, as technology leaders, we can enable our business leadership by gaining useful insights and making timely decisions, our organisation will stand to win big in the global marketplace. Leveraging new emerging technologies like AI, machine learning, blockchain, metaverse, and big data, we can deepen our understanding of consumer behaviour and create a continuous feedback loop, which can help tailor our product offerings to evolving customer preferences.
Also read: The best technology leader is the one that makes capable and independent resources surround him
Do Follow: CIO News LinkedIn Account | CIO News Facebook | CIO News Youtube | CIO News Twitter
About us:
CIO News, a proprietary of Mercadeo, produces award-winning content and resources for IT leaders across any industry through print articles and recorded video interviews on topics in the technology sector such as Digital Transformation, Artificial Intelligence (AI), Machine Learning (ML), Cloud, Robotics, Cyber-security, Data, Analytics, SOC, SASE, among other technology topics