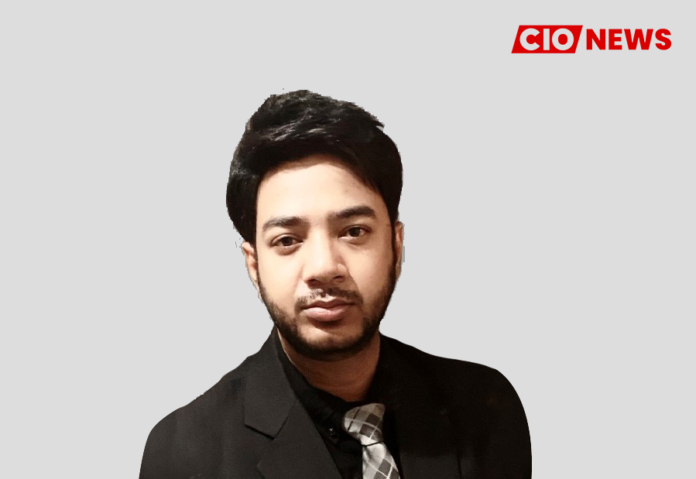 Instead of thinking from a mindset of "What should the technology stack be?" shift course and approach situations from a business-solving perspective
This is an exclusive interview conducted by the Editor Team of CIO News with Dibyajyoti Biswal, Digital Transformation Specialist at a leading financial firm.
"The trick is not to just pick your battels but to determine which battleground you want to be in!"
How did you plan your career path to be a successful technology leader?
There was no magic, a manual, or a beautifully paved yellow brick road that I followed to become a successful technology leader; rather, a pragmatic approach helped. Being a technology enthusiast by heart, for me, a very important aspect was to take up everything that came my way—it always helped me learn different things, thus making my decisions more and more risk averse. Even carefully planned job changes helped me bake in different perspectives and inputs that came from as many experiences and people as possible, helping me learn to solve technical and interpersonal problems in innovative and creative ways. No two career paths were ever identical. Working with CxOs who had strong technology backgrounds and others who brought in unique business knowledge to lead the tech team—learning from their expertise—helped develop my potential.
What challenges you faced in your career path and how did you overcome them?
As much as innovation creates winners, it also creates losers. The fact that new entrants into the market succeed in the innovation process may imply the displacement of other players. Roughly, technological obsolescence can be thought of as a devaluation of an item due to technological progress, and thus, it usually happens when a new technology or product replaces an older one, which need not necessarily be dysfunctional. When we have mastered one technology or skillset, it suddenly hits a roadblock once there is a different way to do it.
By now, we all know change is inevitable. As a result, as technology leaders, we should view this as an opportunity to continue experimenting and learning about emerging trends. The trick is not just to choose your battalions, but also to decide which battleground you want to be on. While you may understand the overall ecosystem of the IT landscape and its processes, it is important to create a niche for yourself and stay updated on it. Niche does not necessarily mean to understand a specific set of technology; it could be to understand a specific business or industry and its technology trend and the way the industry leverages technology to grow its business.
What are the challenges faced by technology leaders today while implementing digital technologies?
I have worked for many organisations to date, and I have mostly picked up digital transformation projects. Organizations were improving business performance as a result of technology transformation efforts, with advanced technologies and strong IT performance serving as differentiators and key growth drivers. However, there was always a pause to digest what they would accomplish before undertaking this transformation journey and spending a lot of money. While doing so, I have experienced cultural and talent gaps and weak partnerships between IT and the rest of the business.
Overcoming these issues was not one man's job, but it required a top-down push (a digital vision of the organisation is always a pre-cursor to this). With the help of CXOs, we had to reskill people, reboot culture, forge closer IT–business relationships, and rigorously measure IT's value. To be successful, one needs to carry everyone along. The success of the business is what defines the success of the technology leaders.
How can technology leaders overcome the challenges faced?
Instead of thinking from a mindset of "What should the technology stack be?" shift course and approach situations from a business-solving perspective. If you work in tech but don't want to learn about its newest innovations, you can still likely have a career in this field. Unfortunately, you won't be exposed to new challenges or know how tech companies grow or achieve new avenues for change. It's imperative to stay curious. Keep asking questions and absorbing other people's perspectives. This will help you better understand what's new about technology, so you can foresee use cases where that tech can improve businesses and lives.
Any best practices, industry trends, or advice you'd give to fellow technology leaders to help them succeed professionally?
I would like to highlight three concepts that help build the most effective IT function:
Call for the technology team's collaboration with the business on strategy and operations.
Updated resource model offering talent, methods, and tools to accelerate innovation.
A future-proof technology foundation of flexible, scalable systems that speed the release of IT products.
Any other points that you would like to highlight?
I'd like to quote a section of a Mckinsey article that resonates with my thought process and that I would recommend to anyone.
Solve for journeys, not applications: It's not about modernising applications; it's about understanding how applications work with other tech components to create smooth customer journeys.
Take a risk-based approach: A two-pronged approach to risk—a top-down, business-driven approach and a bottom-up approach that calculates the risk profile of a specific tech component—can help companies understand the probability of failure, speed its detection, and minimise its impact.
Put IT operations data to work: Companies should use AI technology and other advanced capabilities to improve how they handle outages.
Design for the storm, not blue skies: Usually, companies design for traffic surges of perhaps 50 percent on top of normal volume. That doesn't help much when traffic surges by 500 percent. Organizations should plan for these extremes and build in the ability to rapidly augment capacity in times of need.
Adopt an engineering mindset: By hiring new talent and upskilling the existing workforce in modern engineering practices, organizations can better identify and address IT issues.
Avoid hero culture: Don't confer most of the responsibility on a few individuals. Sharing responsibility more equally fosters more resilient teams.
Become proactive, not reactive: Identify operational control failures before they spread systemwide.
Also read: Technology leaders must keep themselves abreast of changes and trends
Do Follow: CIO News LinkedIn Account | CIO News Facebook | CIO News Youtube | CIO News Twitter
About us:
CIO News, a proprietary of Mercadeo, produces award-winning content and resources for IT leaders across any industry through print articles and recorded video interviews on topics in the technology sector such as Digital Transformation, Artificial Intelligence (AI), Machine Learning (ML), Cloud, Robotics, Cyber-security, Data, Analytics, SOC, SASE, among other technology topics