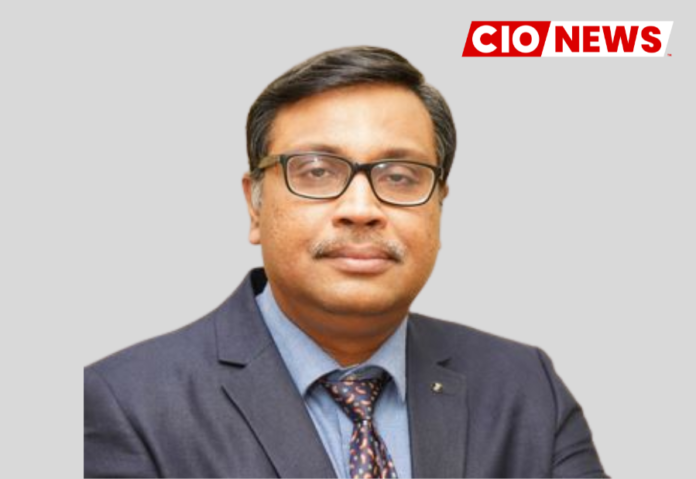 When embarking on a digital transformation journey, businesses should think about everything
This is an exclusive interview conducted by the Editor Team of CIO News with Abhisek Chakrabarti, Chief Digital and Information officer at Vedanta Limited – Aluminium Business
How did you plan your career path to be a successful technology leader?
From the beginning of my career, I tried to be a decisive, strategic, and performance-driven professional to drive growth by transforming conventional operational processes into innovative and digital lean manufacturing processes by using advanced technologies and smart automation. I began my career in manufacturing operation and maintenance, meticulously monitoring all associated actions. I discovered many things that could be optimised using advanced tools and techniques, especially when compared to the linked data set. I tried to get more in-depth scrutiny of each problem and map it with the best resolution. This helped me establish myself as a digital strategist with nearly two decades of technology leadership experience, mainly in the power and metal industries, along with the recognition of being a digital role model with large global and Indian conglomerates. Since the beginning of my career, I have leveraged innovation and a strategic approach for driving digital transformation and project management. I describe myself as a transformation representative. Over the years, I led some major business transformations to steer the growth and operational excellence of the enterprises I worked with.
Being a successful CII assessor and certified six sigma black belt executive, I tried to develop strong competencies in the areas of strategy, consulting, digital transformations, business process transformations, digital maturity assessment, IT architecture, solution design, the internet of things, solution ideation, business transformation, change management, product management, etc., with many award-winning digital solutions across organizations.
I firmly trust the power of digital and have efficiently fostered it over the preceding decades to change the competitive situations of organizations. I believe that Digital is linked to technology and human behaviour. The capability to innovate depends on one's culture. Building a digital culture is difficult, but culture leads to technology adoption.
What challenges have you faced in your career, and how did you overcome them?
Digital transformation is not only implementing new software programs, technologies, and processes that are more competent and automated than old-style business practises and procedures; it's a completely novel, innovative way of doing something that is essential to your business.
When embarking on a digital transformation journey, businesses should think about everything from how people will react to the change to how it will affect customer relations to the cost and how it will align with business goals. Digital transformations permit establishments to take their business into the future.
To overcome this challenge, there is no single, one-size-fits-all solution available. Each establishment's journey is unique. As a result, finding an approach that fits your business is critical. Well-crafted approaches are always required to put them in place. For me, I adopt four foundational guidelines. Regardless of a specific business situation, using these strategies during the early planning stages will strengthen overall outcomes and increase the likelihood of a successful initiative. Firstly, build a vision for your digital transformation journey. Secondly, develop a holistic and realistic strategy. Thirdly, identify the right collaborative partner with the industry expertise required to deliver the change you need, and lastly, upskill your team to adopt the transformation and run the entire show independently and to make it sustainable.
What are the challenges faced by technology leaders today while implementing digital technologies?
Here are the few most important challenges to consider when undertaking a digital transformation journey.
Many enterprise organisations in data-sensitive industries are concerned about privacy and cybersecurity. Most digital transformation efforts involve using cloud solutions instead of traditional on-premises solutions and integrating all of the company's data into one centralised system. This brings up the amplified hazard of cyberattacks stealing secret information.
Change management culture is vital for any establishment's success. By our nature, humans like routines, as they always make us feel comfortable. It is called the comfort zone for a reason. Things can easily start to seem unattractive when our routines are altered and ambiguity enters our lives. Undergoing a digital transformation is the epitome of discomfort. It may make employees feel threatened.
New developments and skills often present challenges in the form of confrontation with employees who feel there is nothing wrong with the way they're currently doing traditional business.
Digital transformation is not a cheap venture. Most of the establishments alter their digital transformation journey to suit the allotted budget. This will not only slow the pace but also impact the enthusiasm level of the execution team. Also, the investment does not justify a major change in the system, which leads to the failure of the entire program.
How can technology leaders overcome the challenges they faced?
Every organisation is different. A huge, global company with a dozen workplaces spread out across three different continents is going to have different requirements and experience unique points of resistance when compared to a small start-up. Nonetheless, if we take a broad representational assessment of the business now and study the extensive trends, it becomes apparent that today's tech leaders are facing many of the same problems.
As an industry, the first step is to distinguish the challenges that exist. The second step involved countering and overcoming.
There's the issue of remaining on top of trends. You must be persistent in this domain to stay ahead.
An effective change management strategy comprises the forecasting of an implementation plan by identifying the root causes of issues and building relationships with all participants.
With any new package implementations, establishments must provide comprehensive onboarding training as well as nonstop employee performance support to help employees become productive and proficient.
Most businesses have the impression that they have sound digital strategies, yet only a very small fraction believe that they have the people and skills to deliver them. Finding talent is tough. It's the duty of a leader to retain top talent. Leaders must find ways to involve and motivate team associates beyond monetization. Leaders should ensure internal flexibility and start a "stretchy" working situation with strategic and continual exercise, specialised development, a focused work environment, and competitive remuneration for professionals based on their experience and outcomes.
As companies grow, along with them come more applications, tools, software, and solutions that are combined into organisational technology stacks. It becomes progressively difficult to scale processes. Growth stalls when scalability is insufficient. Leaders needed to ensure that the process they were implementing was scalable and could be horizontally deployed in other areas with minimal effort.
The majority of businesses are aware that they have a skills gap. This skill gap is heavily fueled by the rise of technologies like AI, ML, the metaverse, blockchain, etc. To bridge this gap, IT leaders should begin controlling workforce education and training programmes that encourage and aid upskilling and reskilling within the organization.
Any best practices, industry trends, or advice you want to give fellow technology leaders to help them professionally?
Every organisation will reach a point where they need to make changes to gain an inexpensive advantage or at least avoid falling behind.
However, not everyone in an organisation is ready for big changes. Employees may resist changes to the workflows and tools they're used to. This can have a negative impact on business technology adoption rates. Leaders should adopt best practises to achieve their goals by overcoming those problems.
Technology solutions have a major influence on the efficiency of different business processes. To achieve the best consequences, people in the organisation need to use their novel expertise. Change resistance and low adoption rates mean missing out on the benefits of new technology.
Obsolete or unsupported software arrangements can be an easy attack vector for malicious actors who want to cause damage or steal sensitive information. Uniformity helps minimise the risk of major security gaps.
Companies should establish a Center of Excellence (CoE) that serves as a recognised entity for the successful implementation of the digital transformation plan. Main activities include avoiding duplication of work and costs by clustering tasks within the company. to create a schedule for each task and monitor the time spent. Lastly, determine domain expertise and create a podium to spread the know-how they have through the workers.
Each company must support its cultural values through an appropriate corporate governance structure in order to increase its chances of success.
Aside from that, a few things should be implemented, such as prioritising customer needs, selecting the right technologies, doing things correctly, properly engaging all employees, linking digital transformation with business goals, and attempting to adopt agile methodologies.
Also read: Digital literacy is practically the only way to live our lives these days
Do Follow: CIO News LinkedIn Account | CIO News Facebook | CIO News Youtube | CIO News Twitter
About us:
CIO News, a proprietary of Mercadeo, produces award-winning content and resources for IT leaders across any industry through print articles and recorded video interviews on topics in the technology sector such as Digital Transformation, Artificial Intelligence (AI), Machine Learning (ML), Cloud, Robotics, Cyber-security, Data, Analytics, SOC, SASE, among other technology topics