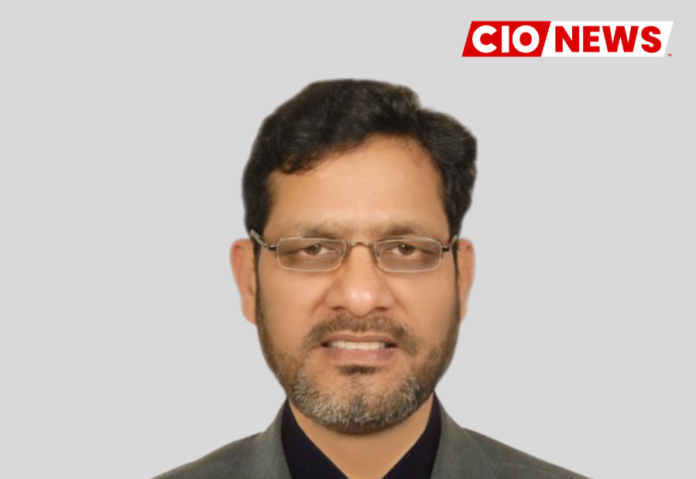 Digital healthcare plays an increasingly key role in healthcare today
This is an exclusive interview conducted by the Editor Team of CIO News with Abdullah Saleem, Group CIO at Omni Hospitals
About Mr. Abdullah Saleem
Mr. Abdullah Saleem has more than 27 years of experience in the healthcare IT domain. He is a senior healthcare information technology leader with strategic and tactical planning experience, experience in evolving and refining large systems, systems integration, and clinical transformation, and excellent management, planning, and technical skills. He has a solid understanding of business and technical issues and the needs of the healthcare domain for product users, product development, and design.
Mr. Abdullah Saleem is currently the Group CIO of Omni Hospitals, a South India-based tertiary hospital chain, where he is responsible for developing leadership excellence, creating clinical and business transformation, and managing technology-based strategic growth. He has successfully provided IT transformation support to this chain's various hospital leadership teams on benchmark-based cost containment, novel revenue growth, and data-driven revenue leakage avoidance strategies, resulting in unit EBITDAs more than doubling in six months.
Prior to joining Omni, he was working with Ohum Health Care Solution Pvt Ltd, where he was heading the end-to-end enterprise solution delivery and deployment for public and private sectors in India, the USA, Europe, and the Gulf countries by leading the R&D, assessment, product development, QA, solution configuration, implementation and adoption, release management, and gate and support teams. Mr. Saleem has also been appointed to the HIMSS India Chapter's Clinical Systems Adoption Committee.
He has a passion for managing the end-user and product sides of healthcare technology. He has been a process excellence functional consultant for the NHS to deliver and deploy the EHR and has provided clinical transformation expertise as part of their massive EHR implementation programs. He was part of the leadership team at Ohum that setup India's first EHR Company and created India's first clinical transformation doctrine, which was responsible for India's first HIMSS-6 EHR implementation. Before taking over the EHR projects, Mr. Saleem had led the HIS end-to-end development for a couple of product sets that were deployed across the entire major Apollo group hospitals during the years 2001 to 2007.
Mr. Saleem completed his graduate work at Christ Church College in Kanpur and has a master's in information technology from Karnataka University. Mr. Saleem has designed the 5As methodology to deploy and adopt the EHR, which has had a massive impact on the adoption of the EHR by clinical users and hospitals.
What position do you think Indian healthcare start-ups are in right now, and how are they doing?
The healthcare sector is growing rapidly in the Indian landscape, both in terms of revenue and market share globally. Indian healthcare start-ups are focusing on three areas in particular to ensure their growth to the next level, and those three wings are:
Healthcare access and delivery
Affordable healthcare
Quality Healthcare
The organisations are moving from opting for primary healthcare solutions to digital healthcare solutions due to COVID-19. However, there are significant challenges ahead, primarily on the budgeting front, for getting their organisation completely digital, as the industry has recognised that it is impossible to provide convenient and cost-effective care delivery without adopting a digital platform. Most healthcare start-ups whether mid-sized or large corporate hospitals, strategize their business performances based on data outcomes and analytics, from patient acquisition to conversion, in order to continuously improve patient footfall and thus improve the top and bottom lines of their business revenue.
One of the biggest healthcare start-ups in India, Netmeds is an online platform that has firmly established itself as India's leading online pharmacy, with millions of active customers and deliveries to more than 19,000 PIN codes. It is also known as "Pharmacy of India" and offers streamlined shopping for medicines and other healthcare products through its 24×7 online portal and mobile app.
On the other side, the healthcare organisation has started ensuring to mitigate all the issues and challenges that were faced by the patient, such as travelling to meet the doctor, poor customer service, crowded and long waiting times, unhygienic conditions, no sample pickup and report delivery, etc., by deploying the digital platform to improve patient satisfaction and engagement.
Over the past few years, healthcare has seen a dramatic evolution. New developments and trends in the healthcare sector are being developed by start-ups in that sector. Do you believe the healthcare services offered by start-ups to patients are of high quality?
Yes, of course, as this industry is extremely competitive and has a big market. As a result, healthcare start-ups are entering the market with a strong strategy focused on the ease and convenience of patients by ensuring cost-effective and quality healthcare is delivered by connecting to the best doctors and supporting business partners with the adoption of cutting-edge technology and having the right people and processes in place. To generate revenue for the organization, the start-ups connect rural health by considering a large stack.
There is one start-up that calls itself a one-stop solution for all medical needs; like Medecure, it is also an aggregator of hospitals, doctors, laboratories, and clinics. It has 5,000 doctors and 80 affiliates (hospitals, diagnostic clinics, and pharmacies) on its panel across the region. Based on patient need, the best doctors, hospitals, and diagnostic centres are being prescribed in and around their locality. The organisation has chosen doctors and hospitals based on patient and user feedback.
The healthcare industry's large and small start-ups have a better understanding of the patient or customer demands, which are mostly related to cost and affordability, time savings, and door-to-door delivery; thus, all communication and pertaining to the consumer's needs are taken care of by adopting technology to deliver the services on time.
Do you believe artificial intelligence is making a sufficient contribution to the expansion of start-up healthcare companies in India?
Yes, it is making a sufficient contribution to plan the business' growth. Once the data is in place, AI and predictive analytics will lay out a growth pathway with better accuracy than the manual thought process and assumptions based on the digital data consolidation. It will also be predicted that the business department will receive the most attention, while the specialty departments will receive the least. In other words, the AI enables the organization's leadership to plan their expansion of the business with a minimum calculative risk. It also aids in the treatment of the patient during the patient's treatment plan and assists clinicians in avoiding clinical errors. A few recent studies have proven that AI-based disease diagnosis is more accurate than a doctor's diagnosis and findings.
Since AI is one of the components of IoT, it would be helping the healthcare product development company to design and develop the application, ensuring the ease of use of the application; hence, end users' adoption of the digital platform will be more effective from the first day of the go-live of the digital platform, especially for the clinical users.
Hospitals and doctors may streamline operations, engage patients, streamline procurement procedures, and more with the help of digital care ecosystems provided by health tech start-ups. What are your thoughts on it?
It is not a question of whether the healthcare industry should empower the digital ecosystem; rather, it is a requirement of the current healthcare industry, as the industry has recognised that cost-effective quality delivery is impossible without digitisation. As far as the tech start-up is concerned, it is, of course, empowering the future of healthcare across the global market, especially in India.
These start-ups provide innovative solutions in a variety of medical fields, including telemedicine, e-pharmacy, diagnostics, digital transformation, mental health monitoring, health fitness, and wellness, among others. Health tech startups are driving accuracy and improving patient and HCP outcomes. The digitisation of patient health records, data mining, and banking on data analytics are offering healthcare providers insights into clinical data, facilitating informed decision-making at the point of care about diagnosis, and helping them provide the right treatment at the right time to the right patient.
What opportunities and threats do you think Indian start-ups in the healthcare industry face?
Due to the immense scale and potential of the current market space, there are countless opportunities for learning and growth, as well as commercial engagement, for all stakeholders in Indian healthcare associations, authorities, and organizations. In the year 2018, India had over 5000 healthcare start-ups, and this number is exploding and rising as we go along. In the wake of COVID-19, the world has also raised many questions on healthcare and the need for adequate healthcare facilities in a country teeming with billions. This growth in the industry is primarily due to an ageing population, a growing middle class, a rising proportion of lifestyle diseases, a greater emphasis on public and private partnerships, and accelerated adoption of digital technologies, including telemedicine and tele-health, in addition to increased investor interest and FDI inflows over the last two and a half decades.
Second, adoption of the digital platform was not mandatory for healthcare providers, and there was no minimum budget used to be allocated for IT infrastructure, an application wherein COVID-19 Arena has enforced for this industry to adopt the digital platform as there was a demand from clinicians and the patient fraternity towards better patient engagement among doctors, hospitals, and patients. Prior to COVID, the healthcare industry was the slowest to adopt digitisation, compared to banking, retail, mortgage, and manufacturing. In the current state, the industry is adopting technology at a rapid pace by emphasising the importance of data and the fact that without data consolidation, it will be impossible to compete in the healthcare business; on the other hand, patients and clinicians have demanded that the digital platform provide better engagement and experiences.
How did this year go for Indian healthcare start-ups? What are their expectations for the future, and where do they envision themselves as 2023 draws closer?
The healthcare start-up—a product provider—was evolving with deep diving, and it has been implemented up to a few miles, though there are many more to go to enable access for private and public healthcare sectors, including rural healthcare in India. After COVID-19, it began to take shape, with new healthcare start-ups coming up with deep innovation and topping up as value-added tools by bundling with the market's existing native applications rather than re-inventing the wheel. In other words, start-ups are focusing directly on the pain points of missing digitisation elements, such as remote patient monitoring (RMP), home care, and the integration of existing hospital native applications, in order to ensure that patients are treated cost effectively while saving time and being comfortable.
As far as 2023 is concerned, the evolving footprint of start-ups will keep increasing, and it will be more than doubled in terms of business revenue and acquiring more customers across India and the globe, of course. The healthcare start-ups would improve the healthcare organisation by:
Boosting the efficiency of healthcare providers.
Transformative solutions leveraging technologies such as AI and ML are helping automate manual processes.
Moreover, digital care ecosystems offered by healthcare start-ups for doctors and hospitals are enabling the streamlining of operations, taking care of booking appointments, monitoring patients, administrative functions, procurement processes, patient engagement, and more.
Moreover, by using AI, a digital twin, etc., these emerging organisations would be helping to design personalised, cutting-edge treatments.
Designing novel treatments.
Healthtech start-ups are also rapidly growing in the fields of genomics and biotech.
Making diagnostics affordable.
Monitoring and leading healthier lives.
Wearables or IoT (Internet of Things) devices such as smartwatches, fitness trackers, ECG monitors, blood pressure monitors, and biosensors will be more effectively used with the integration of the native application.
What do you think about the current state and prospects for your organisation in the digitally driven healthcare ecosystem?
"Digital health" or "digital healthcare" is a broad multidisciplinary concept that includes concepts from an intersection between technology and healthcare providers. The digital health industry applies digital transformation to the healthcare field, incorporating software, hardware, and services. Under its umbrella, digital health includes mobile health apps, electronic health records, electronic medical records, wearable devices, telehealth, and telemedicine, as well as personalised medicine and other health records.
The stakeholders in the digital health field include patients, practitioners, researchers, application developers, and medical device manufacturers and distributors. Digital healthcare plays an increasingly key role in healthcare today. These drivers are components that aid in data consolidation from time to time during the patient's treatment.These are components that ensure a robust healthcare ecosystem for better clinical and quality outcomes.
As it has been understood, using information and communications technology to provide digital health interventions to prevent disease and improve the quality of healthcare delivery and human life isn't a new concept. However, in the face of global concerns related to aging, maternal and child illness and mortality, epidemics and pandemics, excessive costs, and the effects of poverty and racial discrimination on access to healthcare, digital health platforms, health systems, and related technology continue to grow in importance and evolve. As a result, Omni Group of Hospitals has undertaken a number of technology adoption initiatives, with the firm belief that achieving HIMSS Stage 7 (a completely paperless operation) clinically and non-clinically is the only way to serve the patient and ensure better patient delights, patient experiences, and enabling quality care delivery within the individual reach of the patients.
Since the healthcare industry has taken giant leaps forward, it looks like we have only scratched the surface. With the research and invention of newer technologies like IoT and many more disruptive use cases, vaccines for dangerous viruses, treatments for critical illnesses, early diagnosis for genetic disorders, treatments for mental conditions, geriatric conditions, and more, all seem within reach. The future of healthcare in India appears to be bright, thanks to enthusiastic Healthtech founders, healthcare providers, and strong investors.
Also read: Digital literacy is practically the only way to live our lives these days
Do Follow: CIO News LinkedIn Account | CIO News Facebook | CIO News Youtube | CIO News Twitter
About us:
CIO News, a proprietary of Mercadeo, produces award-winning content and resources for IT leaders across any industry through print articles and recorded video interviews on topics in the technology sector such as Digital Transformation, Artificial Intelligence (AI), Machine Learning (ML), Cloud, Robotics, Cyber-security, Data, Analytics, SOC, SASE, among other technology topics