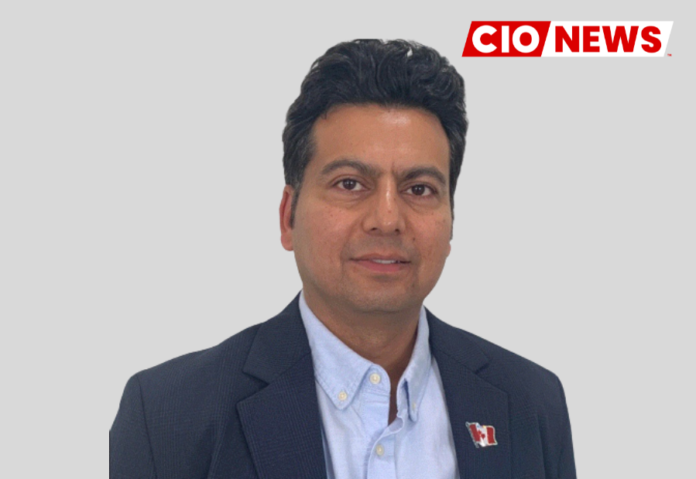 A good technology leader must assess and respond quickly and decisively to problems
This is an exclusive interview conducted by the Editor Team of CIO News with Khuram Ali Rana, Director- Global Security, Audit, Risk & Compliance at Equifax
How did you plan your career path to be a successful technology leader?
For me, it was not a matter of time but growth. Technology is a passion of mine, and I enjoy nothing more than learning the trends that technology is taking to work more efficiently and see progress and success. Look to see what's seriously missing in you and add that. You learn as you progress; learning doesn't stop ever. First of all, if you have been working in the technology industry for many years, you will gain confidence and gain a lot of knowledge and experience. This in itself is a big achievement. Secondly, you need to be smart enough to know what the role's requirements and the organization's expectations of you are, the norms and the ethics of the organisation apart from your core responsibilities. You should learn and learn fast. Just give your 100%. You should be able to think outside the box and shouldn't just stick to your core tasks to be a successful leader.
What challenges you faced in your career path and how did you overcome them?
I've faced many challenges throughout my professional life. Each step on a career path can bring new expectations and challenges to overcome. It also provides you with a learning opportunity and teaches you how to deal with it. If you put in the effort, anything is possible.
Here are a few steps that I have used to deal with any challenge:
Remain Calm & positive: Staying calm will help you to be motivated and focused on overcoming any challenge, from job tensions to workplace conflicts.
Look at the challenge from all aspects: Write down a list of all of the possible solutions to a problem, even the ones that do not seem feasible. You can then do your due diligence on the solution that seems the best.
Working with the team: You will need to know when to consult and delegate your few tasks to other members of your team. Not only does delegation help your workload and you will be more focused on the challenge upfront, but it also allows the team to learn new skills and stay motivated.
Set small goals: Each small goal helps you get stronger, become more confident, and be able to try more challenging things instead of trying to do everything at once. This can assist you in tracking progress and identifying barriers to your project's completion.
What are the challenges faced by IT leaders today while implementing digital technologies?
As a leader, you must understand that challenges are not always directly related to technological concerns or technical barriers. They also include people-centric issues, organisational structures, and other non-technical factors. The best way to overcome them is to identify and assess the specific challenges that could affect your digital technology implementations. The most common are:
Integrated strategy and clear transformation goals with the allocated budget
Leadership commitment from the CEO through middle management
Lack of expertise to lead digitization initiatives
Ensuring the technology is secure and compliant with data privacy and security regulations is paramount
Increased security risks during the implementation, especially in access management
Effective monitoring of progress with clear metrics towards defined outcomes & clear accountability of delivery
How can IT leaders overcome the challenges they face?
Technology leaders can overcome challenges by staying on top of trends. You have to be a constant student of the industry to observe what's happening and stay "in the know."
Finding talent is hard enough, but then there's the added layer of retaining top talent once it's brought on. Tech leaders must find ways to engage and motivate team members beyond monetization.
Data governance, security, and privacy are proving to be a real challenge for tech leaders. Strong governance and privacy practises make the right, quality data assets easier to find for those who should have access to them, while allowing sensitive data to remain hidden unless appropriate.
Finally, invest in your expertise and innovation. The first step to building a strong reputation for yourself and your business is to choose a specific expertise and focus on developing it.
Any best practices, industry trends, or advice you'd give to fellow technology leaders to help them succeed professionally?
It could be many because every day technology is changing, and if you don't keep up to date with new technologies, trends, etc., you will be obsolete. Continuous education is essential to achieving success as a technology leader. Powerful tech leaders are fluent both in the language of business and the language of technology, which makes them fantastic points of contact for everyone in the company. While some choices need to be assessed carefully, a good technology leader must assess and respond quickly and decisively to problems. In other words, today's IT leaders need to be agile.
Any other points which you would like to highlight?
Technology employees are naturally passionate people. IT leaders are the people that lead the way toward an innovative company culture, building on the existing love that staff members have for their sector and encouraging them to accomplish new things.
As thrilling as the fast-moving pace of technology can be, it's also stressful for some. The right leadership needs to be in place to continue inspiring employees when things get tough. Leaders are willing to take risks, try new things, and remind their team that it's okay to make mistakes sometimes.
Also read: Digital transformation is the new normal
Do Follow: CIO News LinkedIn Account | CIO News Facebook | CIO News Youtube | CIO News Twitter
About us:
CIO News, a proprietary of Mercadeo, produces award-winning content and resources for IT leaders across any industry through print articles and recorded video interviews on topics in the technology sector such as Digital Transformation, Artificial Intelligence (AI), Machine Learning (ML), Cloud, Robotics, Cyber-security, Data, Analytics, SOC, SASE, among other technology topics