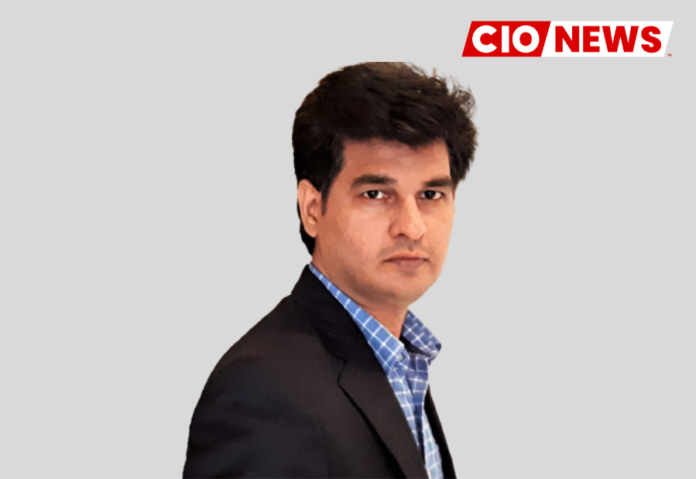 Enterprise IT contributes significantly to the world's carbon footprint and IT leaders must take a fresh look at their technology through the leans of sustainability
This is an exclusive interview conducted by the Editor Team of CIO News with Ashok Pradop S, Director, Group IT Global Support Practice at Capgemini
How did you plan your career path to be a successful technology leader?
Technology is something I have been passionate about, and building a career path wasn't difficult for me.
I have always approached my career with a growth mindset, and it is one of the critical elements of workplace success. In today's ever changing business environment, everything around you is evolving, and having a growth mindset will open new doors of possibilities, help you continue to develop and expand your current capabilities, and eventually enable you to thrive with these changes and progress in your career.
I give credit for my career journey from technical specialist to technology leader to a curious mindset and the ability to accept new challenges and remain versatile and comfortable with new technologies.
What challenges did you face in your career path and how did you overcome them?
I approach challenges not as something to deal with but as something I choose to solve.
Customers expected quality service in the past, but in recent times expectations are far higher. Customers want service personalised for them and connected experiences across multiple digital channels, which challenges me and over a period I erudite to stay appraised of customer experience and expectation trends.
IT has changed over time from being served as the gatekeeper for technology to becoming a collaborator and trusted business partner. The leadership approach of the past was a challenge to handle the complexity and uncertainty of today's IT world. I have adapted and focused on communicating with everyone and getting people on board with the vision and mission of the organisation and developing the competencies of people under me.
Finally, corporate careers do not always move as quickly as you expected. I am a fast-moving person, and it sometimes becomes frustrating in the current role or position. I understood later that every step in your career has value and your focus should be on what you can learn in that role and use those strengths to move forward in your career.
What are the challenges faced by technology leaders today while implementing digital technologies?
Digital transformation is a paradigm shift for organisations. This shift results in creating or modifying business processes and the value they yield for their customers through the use of new digital processes and tools. However, in practice, there are hurdles you need to face throughout the DT process, ranging from technology concerns to non-tech factors like people-centric issues and organisational structures.
A common obstacle to a digital transformation is the limited alignment between IT and business outcomes and the lack of a shared set of KPI's across IT and business teams. To create meaningful value for business, the outcomes of digital transformation should be aligned to measurable business objectives and KPI's.
Some of the other digital transformation challenges are siloed strategies and decision making, legacy systems, digital skills gaps, and increased security risks.
How you approach digital transformation depends on where you are in the journey. Organizations like us have embraced digital transformation and adopted the latest technologies like SDDC, UCC Platform, AIOps, NAC, Chatbots and are looking for ways to maintain that momentum and innovate in new ways to stay ahead.
How can technology leaders overcome the challenges they face?
The digital transformation challenges might seem overwhelming, but with the right strategy and tactics, organisations can overcome these obstacles to successfully complete their transformation.
The first step in overcoming the challenges of digital transformation is to create a roadmap and align your initiatives with business outcomes. Prioritize digital investments based on their impact on the organization's strategic goals. Also, craft a solid implementation plan and ensure the rollout plans and implementation processes are communicated well throughout all departments.
Improper security leads to an unsuccessful digital transformation, which brings uncertainty and instability. Make sure to align cybersecurity with business goals. Cybersecurity experts must outline where the organisation is at risk at every digital touchpoint, and advanced monitoring solutions can be implemented to bolster protection and ensure the digital rollout proceeds smoothly.
On the other hand, it's very important to build digital dexterity by reskilling and upskilling the workforce. This will ensure that they have the skills and capabilities to adapt to the digital shift. Create experience-based career paths for employees by providing them with various career path options and cross-functional experience.
Finally successful digital transformation is not about adopting latest digital technologies, it should be a flexible architecture and scalable as the business expands.
Any best practices, industry trends, or advice you'd give to fellow technology leaders to help them succeed professionally?
In a world driven by devices and technology, tech leaders and their organisations are forced to address increasingly complex challenges as well as grow with uncertainty. Early adoption may make more sense when the quick-changing nature of technology is considered. In addition to speed and agility, effective leaders that are resilient, optimistic, and empathic will make the critical difference in the digital age.
Any other points which you would like to highlight?
Enterprise IT contributes significantly to the world's carbon footprint and tech leaders must take a fresh look at their technology through the leans of sustainability. Creating and implementing a sustainable IT is now the core mission of the purpose driven tech leaders. In this way, sustainable IT can play a critical part in tackling climate change and achieve a better and more sustainable future for all.
Also read: Digital transformation is the new normal
Do Follow: CIO News LinkedIn Account | CIO News Facebook | CIO News Youtube | CIO News Twitter
About us:
CIO News, a proprietary of Mercadeo, produces award-winning content and resources for IT leaders across any industry through print articles and recorded video interviews on topics in the technology sector such as Digital Transformation, Artificial Intelligence (AI), Machine Learning (ML), Cloud, Robotics, Cyber-security, Data, Analytics, SOC, SASE, among other technology topics