Everbridge was instituted with a commitment to keep people safe and business running faster, and this roadshow is another step in this direction
Everbridge, a global software company that automates and accelerates organizations' operational response to critical events, is hosting the 'APAC Resilience Roadshow' on the theme "Powering Enterprise Resilience". The event featured keynote addresses and panel discussions by noted speakers, along with a free resilience assessment for enterprises. The APAC resilience roadshow will be held across 8 cities in the Asia-Pacific region, with three stops in India – Delhi, Mumbai and Bangalore on 6th, 7th and 9th September respectively.
Through the event, the firm hopes to shed light on the need for robust operational resilience to protect people, business and infrastructure. It examines the future of resilience, common challenges in building operational resilience and ensuring business continuity and to what extent organizations can prepare for a crisis. The event also sheds light on the paramount role of technology in allowing organizations to respond, adapt and grow safely and securely.
A ZDnet report cited APAC as the most targeted region of 2021, taking on one in four cybersecurity attacks globally. The APAC region is also 4x more prone to natural disasters than the rest of the region. By offering their critical event management solutions in the region, the firm plans to unlock business opportunities and act as a partner to firms in their resilience journey.
"The past two years have served to be a definitive wake-up call for business leaders and security professionals all over the world, particularly in the APAC region. Critical events such as a global pandemic, civil unrest, severe weather events, terrorist attacks and supply chains disrupted the very foundation of businesses, and forward looking leaders began not just focussing on recovery, but also prioritised the strengthening of organisational resilience systems. At the end of the day, organizational resilience can be achieved only through a robust, unified response system across both physical and digital infrastructure." says Tracy Reinhold, Chief Security Officer, Everbridge.
"Everbridge was instituted with a commitment to keep people safe and business running faster, and this roadshow is another step in this direction. We are heartened by the excellent response in India, and look forward to our upcoming events in the APAC region," he adds
The events featured reputed keynote speakers such as Mr. Daman Dev Sood- EY, Ms. Ratna Pawan- EY, Mr. Alexander V Chacko- Infosys, Captain Sanjay-Wipro, Mr. Yogesh Kumar – Tata, Mr. PA. Mahendran – Philips. Through this roadshow, the firm hopes to expand business in the region and target accelerated expansion in the upcoming years.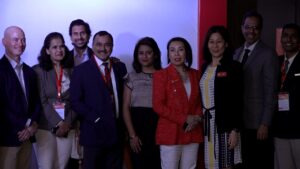 About Everbridge
Everbridge was founded in 2002 in the aftermath of the tragic events of 9/11 with the mission of helping to keep people safe amid critical situations. We initially focused on building out the industry's most reliable and scalable notification engine, backed with redundancies in SMS and other message delivery capabilities, and with very fast execution, to ensure messages are received without fail when life safety is at risk. This high bar has provided us with an extremely reliable underlying infrastructure. Over time we have significantly broadened our capabilities to meet customer needs and today we provide a Critical Event Management platform that helps organizations manage the full lifecycle of a critical event: Assess risks and determine which are relevant to your assets and people; Locate mobile and traveling employees, as well as responders, who are near or traveling to areas of risk; Act to automate standard operating procedures to launch and manage incident response; and Analyze performance to identify bottlenecks and improve response for subsequent events. Our Critical Event Management solutions are used by 6,100+ global organizations to keep people safe and avoid and/or lessen disruption to operations when such events as severe weather, workplace violence, active shooters, terrorism, IT and power outages, environmental spills, brand attacks on social media, product recalls, and medical emergencies occur.
Also read: How to Build an OT Cyber Security Program
Do Follow: CIO News LinkedIn Account | CIO News Facebook | CIO News Youtube | CIO News Twitter
About us:
CIO News, a proprietary of Mercadeo, produces award-winning content and resources for IT leaders across any industry through print articles and recorded video interviews on topics in the technology sector such as Digital Transformation, Artificial Intelligence (AI), Machine Learning (ML), Cloud, Robotics, Cyber-security, Data, Analytics, SOC, SASE, among other technology topics