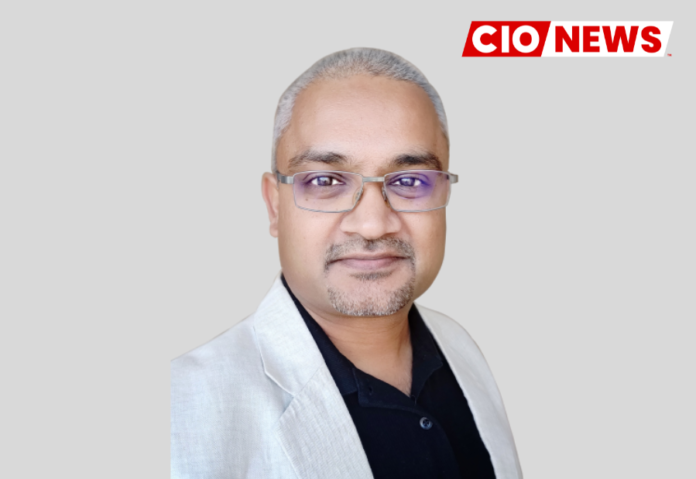 As a technology leader, you will be exposed to stressors from various angles over the years. How you effectively manage this and evolve for the better depends on your learning.
This is an exclusive interview conducted by the Editor Team of CIO News with Manoj Kuruvanthody, CISO & DPO at Tredence Inc.
How did you plan your career path to be a successful technology leader?
It is said that "A journey of a thousand miles begins with a single step." The beginning of my professional journey started with a dream of doing something significant. It was about gaining the needed breadth of skills and knowledge, as well as depth in as many areas as possible in cyber security. This was from the perspective of how I can enrich myself with such skills and experience, which can help me become an effective leader in my middle and senior years as a professional. This was also furthered by my passion to mentor and coach individuals in the industry when I gain sufficient experience myself.
My initial years of growth heavily focused on learning (as if there was no tomorrow!) and acquiring relevant certifications in various technologies, standards, and frameworks. That said, I also gave equal weightage to refining my soft skills over time. This, I can vouch for, became a very useful element in my overall skillset portfolio, especially towards the later part of my career, as people skills became a more and more critical capability expectation, than just being a technology leader who can talk and work on technologies all day.
What challenges did you face in your career path, and how did you overcome them?
The early stages of my career were heavily focused on learning and obtaining certifications in various technologies, standards, and frameworks. At this juncture, what was missing was a focus on learning management skills. Though it wasn't absolutely critical at that point, I felt a need to fine tune myself in that area too so I could become a much more effective technologist. This approach assisted me in dealing with the people challenges of the time, which I'm most individuals experience at all phases of their career!
What are the challenges faced by technology leaders today while implementing digital technologies and how can they overcome the challenges?
Technology leaders face multitudes of challenges from many vectors on a day-to-day basis. One could be where they have many perspectives from various individuals or industry studies on how a vendor's technology can be implemented in their environment. While many organisations might base their decision making on a certain budget constraint, technology leaders have the challenge of addressing their product or platform, IT, or cyber security needs while keeping in mind the permissible budget too. Cyber security leaders face a far more pressing problem: balancing budget versus risk. The second scenario could be how they manage technological changes within their organization. Every organisation has its own change appetite, which determines how they accept or reject a change in their environment. While many smaller organisations would prefer fewer technologies and/or controls, larger organisations will have matured to the point where they have access to or many technologies and security controls that have been implemented and fine-tuned over the years. The employee culture plays a vital role in this success, in addition to how changes are pushed across the organization. Do you implement changes piecemeal, or do you implement them in larger batches, if not in a big bang approach? While there isn't a silver bullet on this, pacing a change would be a preferred approach for many technology leaders. This way, any business noise can be gauged in phases, so that any unwarranted issues will have a comparatively smaller impact, if they arise at all. The third thing that strikes me is the rate at which the global technology landscape is evolving year on year, not just in IT but also in the cyber security influenced by the cyber security threat landscape. This forces the CIOs and the CISOs to adapt to newer trends by either fine-tuning or upgrading their technology stack. Last but not the least, lately there is also a focus on technology consolidation because organizations are looking at optimizing their technology stack as well as ensuring best use of what they already have, at the same time considering the possibility of cost management too in the process.
Any other points you would like to highlight, or any best practices, industry trends, or advice you would like to suggest to fellow technology leaders for their successful professional journeys?
As it is said, "Change is the only constant."  As a technology leader, you will be exposed to stressors from various angles over the years. How you effectively manage this and evolve for the better depends on your learning. Personal stress management and fitness are keys and are as important, if not more, than your technical knowledge. Taking care of your stress management and physical fitness will help you be a much more effective leader when you deal with the waves of issues that come up every day. As much as you are engrossed in all of this, find time to detach from work and electronics and take a walk in nature on your own, with your loved ones, or with a pet. Practice deep breathing (e.g., Pranayama), Yoga, or go to a gym if that interests you. Listen to, sing, or play music depending on your level of involvement in music, or play a sport. Take care of what you eat and how much you sleep. All in all, take care of your body, mind, and soul; it will make you a better, happier, and healthier person and an effective leader.
Be a lifelong student. There are constant upgrades happening out there in the industry. Subscribe to suitable podcasts and YouTube channels that are popular and publish good content frequently. If needed, read more about it on the web or in books and try it a bit hands-on if that fascinates you. Make time to learn daily. As for structured learning, there are many courses in the industry studying after which you may consider writing a certification exam. Certification exams are a great avenue to give you a sense of confidence as well as assurance that you have conducted your learning against a pre-defined syllabus rather than reading random topics in an unstructured manner from many sources. While there is no right or wrong way with respect to obtaining certifications (or not doing them at all), if you decide to pursue a certification, you must set a goal, study daily, and methodically and also ensure the momentum of learning. In this regard, your learning momentum is key.
Treat every challenge as a learning experience, whether you like it or not. This will make you better equipped to handle the same challenge or much bigger ones tomorrow.
Skill with people. The skills and knowledge you have acquired over the years are not just about your proficiency in technology alone; they also have to do with people. Your people skills will play a significant role in making you a versatile and effective leader.
Nurture the next generation with your experience in any way possible. Coaching and mentoring can open a very different dimension of experiential learning and growth for the self, because there is more to giving than receiving.
Also read: Trends of Cybersecurity for organizations in 2023
Do Follow: CIO News LinkedIn Account | CIO News Facebook | CIO News Youtube | CIO News Twitter
About us:
CIO News, a proprietary of Mercadeo, produces award-winning content and resources for IT leaders across any industry through print articles and recorded video interviews on topics in the technology sector such as Digital Transformation, Artificial Intelligence (AI), Machine Learning (ML), Cloud, Robotics, Cyber-security, Data, Analytics, SOC, SASE, among other technology topics