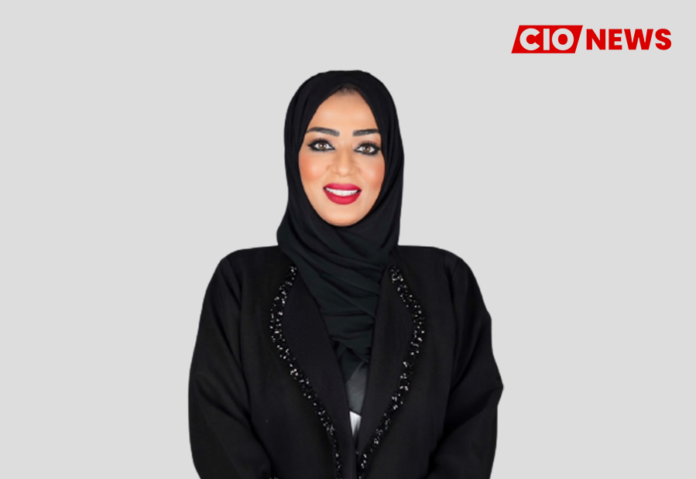 Immerse yourself in the latest technology and changes
This is an exclusive interview conducted by the Editor Team of CIO News with Badreya AlMehairi, AVP Senior Manager – Data privacy- Information Security in the financial industry
Did you always know that working in technology was what you wanted to do?
Growing up in a multi-cultural environment yet surrounded by a community that believed women's destination could not be beyond their home, family, and most importantly, kids, I am blessed to have parents who purchased a computer for me at a young age and encouraged me to understand and embrace technology.
My first encounter with a computer in my class left me wondering how this box would change my life. My free time was used to further my understanding of technology once I began taking computer lessons. Soon I realised that technology is where my passion lies, and I would like to take this up as my profession.
I completed my certification in information technology and business in 2002, and then there was no looking back. A diploma, bachelor's degree, and master's degree in science informatics from a British university in Dubai are among the other certifications I have completed. My journey of learning and progressing in technology is unstoppable as the UAE gives us the platform of artificial intelligence in varied business sectors without gender bias.
Have you ever been in a situation where gender affected the way you were perceived or treated in the technology industry? How did you handle the situation?
My home has always been a blissful haven for me, as the world outside has challenged me for various reasons, one of which is being a woman. For centuries, society offered dos and don'ts for the female gender, and so did the professional environment. As a woman, I didn't feel welcome in this male-dominated profession.
According to feedback, women are unsuitable for this line of work because it requires 24×7 availability and may involve lifting heavy boxes, and women are less competently brain-wired in technology. Any mistake seemed unpardonable and easily mocked at. However, the real challenge came when men (my subordinates) had to take orders from me.
But changing this thought process wasn't part of my KPIs. I stayed focused on what was expected of me professionally and continued my learning journey by motivating myself. I continue believing in my abilities, learning from my mistakes, and transforming into the best version of myself.
Do you notice a lack of women in technology? If so, why do you think that's the case? 
Both genders have contributed to technology, yet women's substantial contribution as computer professionals and scientists has been invisible and unrecognised.
The biggest reason for the small number of women in technology is the lack of female role models in this industry and the general perception that men are better at science than women. Although, in recent years, women have increasingly shown interest in pursuing technology as a career, the numbers remain comparatively low. Gender inequality has taken some time to settle, however, given the shift in culture in the IT industry towards women in the industry, the future seems promising for women.
Impostor syndrome—or a fear of failure—is another factor that has an impact on women. Men's reactions to women's discomfort with technology are often mocking or dismissive, making women more reluctant to engage with technology (Tedesco, 2019).
What do you think is the best part of being a woman in the tech industry?
A woman is usually synonymous with being a mother or leading the next generation. Technology is built into the brains of the new generation. We are nurturing the future leaders at home as mothers and sisters.
Technology and women are both shining across all business sectors and industries.
We talk about women's empowerment in every field, and reports reveal that numerous women are advancing in technology. While analysing Ivanti's report, Rebot Digital marketing agency, it's inspiring to note that 67% of women believe that making a positive impact on their organisation is the best thing about women in technology.
While the second-best thing is encouraging other women, somehow, I find myself fitting into this category quite well.
Being surrounded by women with the right attitude is a prerequisite. Like minded women in the industry, which is clearly the future, are being marked by their participation in technology networking events and mentorship.
What advice would you give to a woman considering a career in the tech industry?
Immerse yourself in the latest technology and changes.
Don't be afraid to flaunt your accomplishments.
Set short-term and long-term goals.
Make connections and share your knowledge wherever you can.
Bear in mind that feedback is free knowledge; accept it positively.
Be modest and teachable.
Keep communicating with your colleagues and bosses.
Trust me, having a mentor really helps.
Register yourself for seminars to gather knowledge and to network.
Ensure that you are ready to do your share at work, even on weekends.
Don't forget to have a good work-life balance.
What do you wish you had known before starting your career in the technology industry?
I wish I knew that the technology industry would transform and leap to this height after COVID. Nevertheless, I read numerous articles, blogs, and attended seminars to upgrade myself and stand on par with the industry specialists.
The industry demands that I be available 24×7, and sometimes maintaining a good work-life balance is a challenge. Also, women are sensitive, and this position requires emotional intelligence for quick decision-making. However, my project management and organisational skills are being used quite well here. This profession helped me sharpen my time management skills; I wish I had done that earlier, which would have meant a few of my projects would have been better delivered.
Soft skills are as important as hard skills.
Being organised and multi-tasking are daily routines.
Not only do you need processing skills, but you also need creative skills.
Perseverance is the spirit of never giving up.
Also read: Learn relevant tech skills and gain experience
Do Follow: CIO News LinkedIn Account | CIO News Facebook | CIO News Youtube | CIO News Twitter
About us:
CIO News, a proprietary of Mercadeo, produces award-winning content and resources for IT leaders across any industry through print articles and recorded video interviews on topics in the technology sector such as Digital Transformation, Artificial Intelligence (AI), Machine Learning (ML), Cloud, Robotics, Cyber-security, Data, Analytics, SOC, SASE, among other technology topics