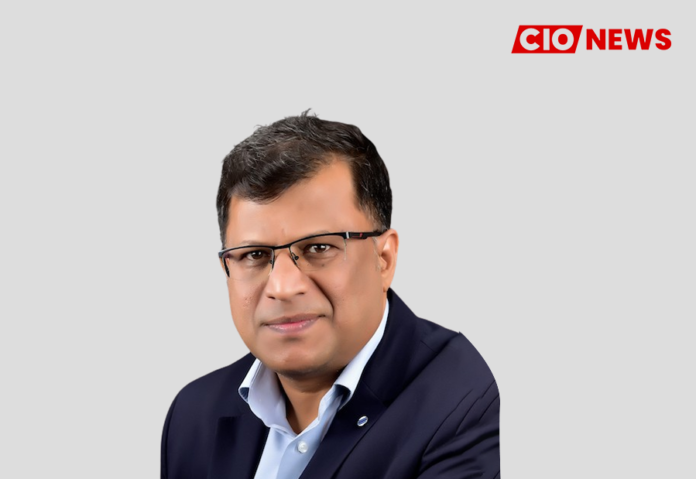 Continuous learning, unlearning, and evolution are the keys to continuing to be successful, especially with the rapid pace at which the world and technology are evolving
This is an exclusive interview conducted by the Editor Team of CIO News with Nivarti Jayaram, Chief Data Officer at Societe Generale Global Solution Centre
How did you plan your career path to be a successful technology leader?
My journey into being a technology leader would probably look quite different from that of many others in the field. I got involved with IT for the first time in the year 2000 because of my project management experience. I was tasked with driving the communication modernization project, which threw me into deep IT infrastructure from a novice to handling the advanced infrastructure like CISCO 12000 routers, L3 switches, firewalls, setting up a VOIP network, system integration, etc. I moved into the corporate world in mid-2010, joining Mphasis and managing infrastructure modernization for GM across their international operations. My core skill being transformation, I joined ANZ and was involved in leading one of the largest transformation programmes in Australian banking, as well as setting up a new payments platform and leading another operational process transformation program. This brought me in touch with institutional banking, payment systems, and business process management technologies. What has proved helpful is being open to taking on challenging work, having the curiosity to understand each and every technology that I interfaced with, and being open to seeking help with what I don't know and understand. I have had the privilege of having a great group of mentors, colleagues, and leaders who have supported and guided me along the journey. The learning and unlearning continue even today.
What challenges you faced in your career path and how did you overcome them?
One of the biggest challenges I have been facing even today is managing corporate perception. Even after more than a decade in a corporate setting, successfully leading enterprise technology and business transformations, the services background appears to mislead people about the competencies. The only way I have found so far is to keep challenging myself, continue to learn and experiment, build my personal brand, and hope to positively influence the C-Suite. I am a firm believer in the saying, "To win the game, you need to be in the game."
What are the challenges faced by technology leaders today while implementing digital technologies?
While implementing digital technologies, the majority of technology leaders focus on the needs of technology modernization, enhanced ROI, operational efficiency, etc. This creates quite a few challenges in the form of budget allocation, business participation and prioritization, the availability of a skilled workforce, and organisational silos with competing priorities. These challenges can prove quite daunting and result in much time spent on resolving conflicts rather than making actual progress towards driving the digital strategy and agenda of the organization.
How can technology leaders overcome the challenges faced?
A few of the ways in which they can overcome the challenges listed above:
Align digital transformation strategies with business objectives and priorities.
Balance technology investment around building new business products and business models and enhancing business and operational resilience.
Focus on building leadership competencies to be able to equip, enable, and empower teams to be autonomous.
Focus on collaborating and partnering with businesses rather than competing with them in order to break the organisational silos and promote the "one team" spirit.
Invest in continuously upskilling and reskilling the employees and improving their workplace environment in order to positively influence their experience and motivation.
Any best practices, industry trends, or advice you'd give to fellow technology leaders to help them succeed professionally?
Continuous learning, unlearning, and evolution are the keys to continuing to be successful, especially with the rapid pace at which the world and technology are evolving. The key is to stay informed and up-to-date on developments and how emerging technologies affect our organisational and business contexts. Embracing a growth mindset and being vulnerable and empathetic are critical, but most importantly, a people-first approach is what will drive ownership in the people we collaborate with. Leadership is all about exhibiting the right behaviors; it's not about leading people but about being a leader.
Also read: Learn relevant tech skills and gain experience
Do Follow: CIO News LinkedIn Account | CIO News Facebook | CIO News Youtube | CIO News Twitter
About us:
CIO News, a proprietary of Mercadeo, produces award-winning content and resources for IT leaders across any industry through print articles and recorded video interviews on topics in the technology sector such as Digital Transformation, Artificial Intelligence (AI), Machine Learning (ML), Cloud, Robotics, Cyber-security, Data, Analytics, SOC, SASE, among other technology topics