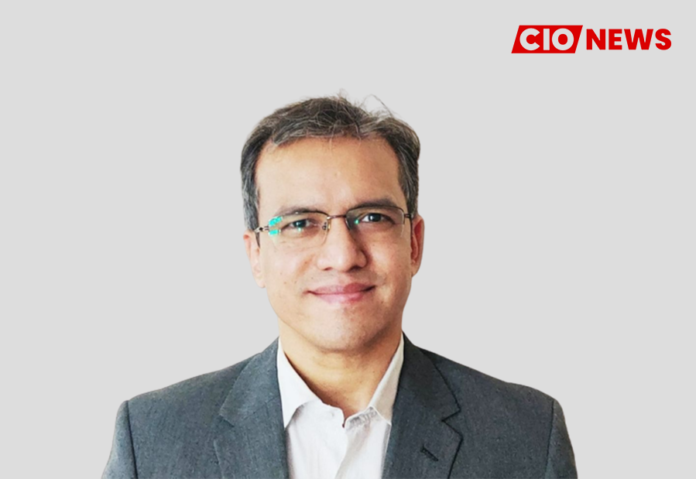 Implementing digital technology is about the business transformation that forces changes across processes, business models, and even culture
This is an exclusive interview conducted by the Editor Team of CIO News with Jainendra Kumar, Vice President at Xceedance
How did you plan your career path to be a successful technology leader?
I was in my electrical engineering programme when I was introduced to the microprocessor, digital signal processing, and a few high-level computer languages. I was fascinated to see how tiny-looking electronic chips can control big motors, generators, and electrical transmission lines. I started spending days and nights in computer labs working on supervisory control systems, fuzzy logic, and simulations. With my deep interest in computers, I looked for an opportunity in the same area, which I managed to get, as fortunately, back then, it was an emerging field. But from there to now, it has been a roller coaster ride with ups and downs and multiple turns. In the early days, the career demanded in-depth knowledge and expertise in a specific area, but gradually I started focusing on wider problems and solutions. Technology by itself is cool, but it becomes fabulous when it is used to solve a real-life problem and provide value. I think a combination of business obsession, a deep understanding of technology, foresight, and empathy differentiates a IT leader. 100% dedication toward work, giving my best in adverse conditions, being innovative, learning, adapting fast as the business environment changes, and a bit of luck have helped me attain success.
I was fortunate to get the opportunity to work with seasoned business, technology, and management leaders, an excellent peer group, and family support that mentored and supported me through the career path. Building strong relationships, a strong self-brand, and good referrals are all important as you advance in your career.
What challenges you faced in your career path and how did you overcome them?
People in the technology field face challenges not only from the economy and business changes but also from the technology itself. The rapid pace of technological change is changing consumer behaviour, business priorities, and the overall ecosystem. Continuous learning, being hands-on, having design thinking ability, and having a growth mindset are critical for success. To manage through them, I have not hesitated to take on different kinds of responsibilities and challenges, and at times I have not hesitated to take difficult personal decisions to align myself with new emerging technology areas like cloud computing, big data, artificial intelligence, machine learning, and blockchain. It is not just focused on technology areas, but also improving on the softer behavioural aspects that are required as one grows in their career.
What are the challenges faced by IT leaders today while implementing digital technologies? How can IT leaders overcome the challenges they face?
Thank you for asking this question. In my mind, implementing digital technology is about the business transformation that forces changes across processes, business models, and even culture. Technology leaders don't own business processes or business models, so building a framework for strong collaboration between business and technology is foundational. For this to happen, IT leaders have to understand business priorities, challenges, goals, aspirations, and the associated emotional elements. Below is a list of some of the things a technology leader can do:
Get a sense of the overall business challenges.
Build a long-term technology strategy that is aligned with business challenges.
Build a strong team.
Create a product and platform MVP that is configurable, adaptable, scalable, and fits the business model.
Communicate, communicate and communicate up, down, side and centre
Build confidence across the organisation by delivering on low-hanging fruits and small wins.
Establish a business and cross-functional partnership model.
Play in the larger ecosystem by building a strong partnership with vendors, channel partners, technology partners, marketplaces, research institutions, and innovators.
Any best practices, industry trends, or advice you'd give to fellow IT leaders to help them succeed professionally?
A couple of areas that IT leaders should watch carefully are:
The rapid adoption of cloud technology across industry verticals
Maturity of artificial intelligence and machine learning technology and tools and their use cases in your industry and business
Another area would be client-centric innovation. Agile, lean, and iterative value delivery with intermediate checkpoints to validate products with clients is the way forward.
Any other points that you would like to highlight?
2023 is projected to be a difficult year with a turbulent business outlook. I see it as an opportunity for rapid adoption of digital technology, as CXOs would be looking for efficiency and quick ROI. Digital products and platforms that deliver faster speed to value would outperform custom development and other similar value delivery approaches. I wish my fellow technology leaders all the best for 2023.
Also read: Digitally empowered youth will automatically accelerate digital adoption
Do Follow: CIO News LinkedIn Account | CIO News Facebook | CIO News Youtube | CIO News Twitter
About us:
CIO News, a proprietary of Mercadeo, produces award-winning content and resources for IT leaders across any industry through print articles and recorded video interviews on topics in the technology sector such as Digital Transformation, Artificial Intelligence (AI), Machine Learning (ML), Cloud, Robotics, Cyber-security, Data, Analytics, SOC, SASE, among other technology topics