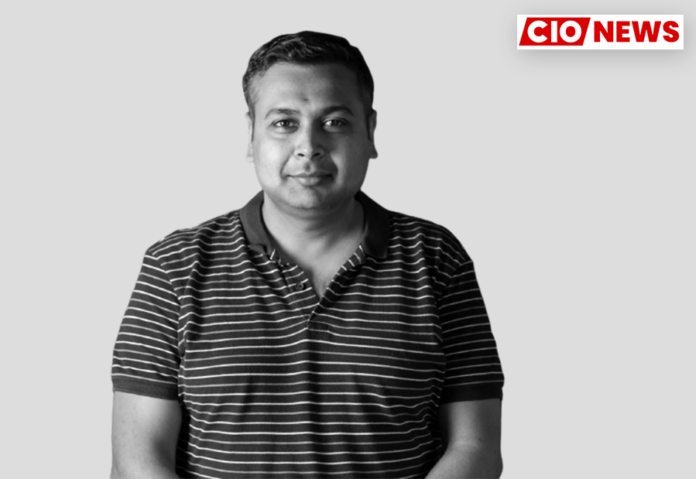 Technology is evolving at an exponential rate, and it can be challenging too, as it requires continuous learning, patience, and integrity
This is an exclusive interview conducted by the Editor Team of CIO News with Sushan Rungta, CTO at Absolute – Plant bioscience startup, on his Professional Journey as a Technology Leader.
How did you plan your career path to be a successful technology leader?
Technology has always been my passion, and what interests me the most is how I could implement IT to solve real-life problems. I progressed in my career by gaining experience working with multiple technologies.
I started my professional journey by joining IndiaMART in 2004, which helped me acquire start-up skillsets along with technical insights. Our main focus then was to develop innovative platforms for our customers with minimalistic utilisation of resources like the internet (internet bandwidth was very expensive in those days), open-source architecture (Linux), CPU, RAM, data packet size, optimised & SEO-friendly pages, and many more.
Thereafter, I started my own start-up, which helped me build my career path and learn optimum utilisation of resources, scalability, profitability, knowledge, wisdom, and integrity.
In my journey as the CTO at Absolute, I am responsible for translating the company's vision into easy-to-use platforms and delivering transformational technologies to Indian farmers to maintain a competitive edge and incorporate futuristic technologies. My areas of expertise here include the Internet of Things (IoT), geospatial search, cloud computing, and frontend technology, to name a few. My passion for technology got me where I am today.
What challenges did you face in your career path and how did you overcome them?
Technology is evolving at an exponential rate, and it can be challenging too, as it requires continuous learning, patience, and integrity. In this digital age, data acts as an asset. However, it can change into a liability if not implemented properly. The associated data privacy, user interaction, and protection has become a demanding task. A commonly faced challenge is ensuring compliance with set guidelines to protect both businesses and customers. Understanding a user's requirements in the right manner always helps in getting the software application implemented smoothly.
I have developed products whose examples were very rare and came with expectations of making them future-proof. Predicting future capabilities and making the users switch to using a system on a digital platform is one of the biggest challenges that I have faced. However, to overcome this, simplicity and application performance play a vital role, which I always try to maintain in the products I build!
What are the challenges faced by IT leaders today while implementing digital technologies?
Technology is an ever-evolving landscape, and as a technology leader, it is crucial to discover and implement the appropriate solution that is relevant to the business goals and customers. I believe every role comes with its own challenges. Finding the right balance between engaging customers through disruptive solutions and maintaining a simple and smooth experience is critical. Another obstacle most digital technology solution providers grapple with is product portfolio diversification and, ultimately, a lack of competitive edge.
Successful tech leaders usually attribute their success to the right team. This is largely because a company's growth story is strongly influenced by its people. Greater success can be achieved, especially for start-ups, by hiring talent that matches the company's culture and possesses the necessary technical abilities and skillsets. Additionally, a sizable percentage of IT leaders believe that a dearth of soft skills and workplace competencies is a significant challenge, emphasizing the fact that many engineers lack digital skills and knowledge that could jeopardize a company's digital transformation journey.
Additionally, bringing a healthy code review mindset to your team is also seen as a major challenge that can trigger unfortunate situations and make the process cumbersome. Each code review presents an opportunity for community and personal growth. It is imperative to cultivate a positive outlook and mentor your team till it comes naturally to your teammates.
While most businesses are shifting their operating models to allow remote work, many IT leaders are finding it difficult to address network-related challenges. Large-scale attempts to migrate applications, processes, and data to a cloud data centre often lead to issues that need to be proactively fixed before the transition.
As a IT leader, recognising and identifying the challenges that exist is the first step. The second step is to take relevant measures to overcome these challenges to maintain a healthy mindset and a sustainable workplace environment.
How can IT leaders overcome the challenges they face?
As a technology enthusiast, it is important to adapt new technologies that are straightforward and simple enough to meet customers' needs while being scalable as the business grows. Even so, keeping aligned with the business vision and preparing non-tech-savvy customers to embrace digital transformation is what needs to be addressed. Strategic thinking, reassessment of business models, and evaluating technology capability will lead to digital sustainability. In an agile environment, the challenges of the digital age can be turned into opportunities by leveraging data to innovate, automating processes with AI, and optimizing the dynamics of customer experience.
As new technologies are emerging and old ones are pivoting, hiring new talent with advanced, proprietary skills and retaining the old ones is another area of challenge that IT leaders have to cater to. Hence, it's important to maintain the right blend of knowledge and financial benefits amongst the team members to keep them motivated and ensure productivity. Moreover, as most teams work in a remote or hybrid model, retaining the work culture by frequently interacting with the team and keeping them engaged with each other helps solve the employee satisfaction puzzle.
Any best practices, industry trends, or advice you'd give to fellow IT leaders to help them succeed professionally?
Change is inevitable in the world of technology. Unlearning and new learning must be a continuous process. One piece of advice that I would like to give to the upcoming tech leaders today is that it is extremely crucial to up-skill and reskill not only their employees but also themselves to stay updated with the latest technology and skillsets. This is done to ensure that one remains current with the ever-changing industry dynamics. Also, the amalgamation of business and technology to design a tech-forward business strategy, integrate tech management across organisational silos, and deliver excellent user experiences is the way to go for IT leaders to spur business scalability and growth.
Leaders don't become successful overnight. Take risks, but be cautious. Explain the potential for falls. If there is a chance of falling, it is a lesson learned. If not, you are one step closer to success.
Any other points that you would like to highlight?
Instead of criticising employees for their mistakes, we encourage our employees to own up to them, learn from them, and move on. We believe that only after failing countless times can one succeed and implement this culture across teams. Hence, it's important to award the effort that the team members have put in and not just the outcome.
Working in a dynamic work environment, I have always placed great emphasis on cross-functional learning and understanding the core positioning and differentiators of the business to implement the right tech solutions. At Absolute, we believe that a true breakthrough in agriculture will come from an unparalleled understanding of plants—their choices and behaviours—and in my current endeavour, my pursuit is to foster that understanding in my team to be able to effectively utilise technology as a medium.
Also read: Tech leaders must always invest in meeting future challenges rather than just current demand
Do Follow: CIO News LinkedIn Account | CIO News Facebook | CIO News Youtube | CIO News Twitter
About us:
CIO News, a proprietary of Mercadeo, produces award-winning content and resources for IT leaders across any industry through print articles and recorded video interviews on topics in the technology sector such as Digital Transformation, Artificial Intelligence (AI), Machine Learning (ML), Cloud, Robotics, Cyber-security, Data, Analytics, SOC, SASE, among other technology topics