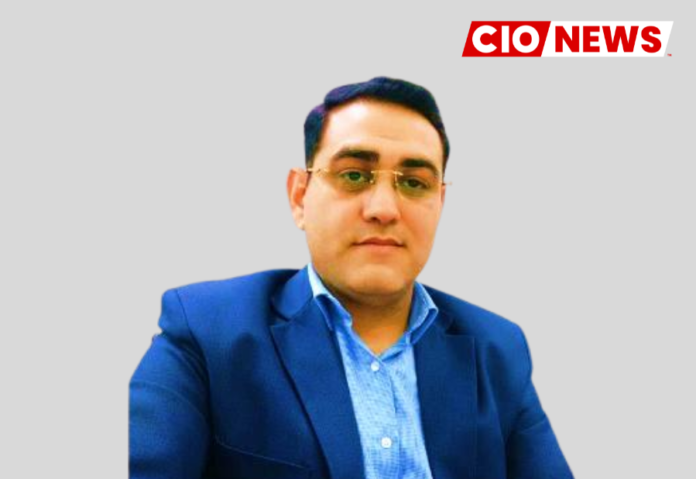 The selection of technology tools in commensuration with digital architecture from the bouquet of offerings is of paramount importance
This is an exclusive interview conducted by the Editor Team of CIO News with Sandeep Pandita, CIO at Hero Steels Limited
How did you plan your career path to be a successful technology leader?
My carrier path began 17 years ago, as I did not have a firm plan for my career path to begin with and was not aware of anything when I started my career as a Network and Security Support Engineer. And my journey as a technologist has blessed me with multiple path-breaking opportunities to work in a variety of domains and industries, which helped me understand other industry standards. and have nudged me and made me an avid learner, so my career started shaping up.
This enabled me to advance as a senior technology leader with diverse experience in all facets of information technology, a visionary and strategist with progressive leadership experience in stabilising and optimising service delivery operations and driving digital transformation projects, leveraging people, process, and technology to deliver stability and business growth on enterprise products primarily for large manufacturing and industrial conglomerates from various geographic regions.
have developed strong competencies in the areas of IT infrastructure, SAP S4/HANA Implementations, AMS, strategy, consulting, digital transformations, business process automation transformations, digital maturity assessment, IT architecture, on-cloud migrations, solution design, solution ideation, business transformation, change management, product management, etc.
I led some major business transformation projects to steer the growth and operational excellence of the enterprises, winning many awards across organizations.
While IT is ever evolving, as a technology leader, I have kept abreast of the changes and done my bit to enable organisations to adapt to new technology that meets business needs.
My eagerness to learn about new advancements and create business value from them gave me an advantage in my journey up to this point.
What challenges you faced in your career path and how did you overcome them?
Apart from the word challenge, I would say experience, because nothing is impossible if you have determination and zeal to achieve, and there will be no challenge so far in your personal and professional career as well. Career growth comes with challenges in accepting the role and following certain rules that make you moldable to the requirements of an existing environment.
Also, as I mentioned above, at the beginning of my career, I got a platform with many diversified technologies to work with, was frequently assigned to night shifts, and was assigned to handle more Priority 1 (complex and business outage) incidents, which actually helped me gain more knowledge because most maintenance and technical and configuration changes occur during the night shift and weekends, even if they are continuous for 72 hours on site until issues get resolved, and many of the cases I handled were critical. Greenfield and brownfield projects gave me a lot of insights into the technology that I worked with. As a result, understanding how we build an interdependent ecosystem comprised of self-competency, ethics, peer relationships, team strength, and partner community, to name a few, is critical for a technology leader.
As you can see in my portfolio, I have been moving around and joining different industries, and there is always a challenge to grow and excel. Since you are new to a certain business industry, it doesn't mark you as new to the technology implemented; you are selected there to enhance the system, and business growth should be seen along with better tuning and scaling and accepting certain changes. I am never short of opportunities to learn from my colleagues and mentors. You should never lose track of learning at any age or stage. I am not encouraging or advising anyone to be only industry-specific; rather, stand out from the crowd to be known as a game changer. A job cannot define you personally, but you, as a person, can define what needs to be done in a righteous way.
The first challenge that always keeps coming up and needs to be addressed is customer or end-user satisfaction. Always imagine yourself in your customer's shoes and then try to understand the actual problem and its solution. And seek consultation from subject matter experts (SMEs). This will resolve most of your concerns, and that's how you can grow in your career.
Second, I believe you should always maintain your cool in the face of adversity. Understand the exact cause, and then try to resolve the issue by providing a long-term solution. This will always help reduce repetitive efforts, and you will grow in your career path.
The third is ethics. I always say that I am devoted to my family, dedicated to my profession, sincere to my organization, and truthful about the job and responsibilities that have been bestowed upon me.
You also need to understand the team members and their way of doing the job and make them comfortable while their services are offered. Support their growth and try to sustain skilled employees by offering a flexible schedule and informing them.
Finally, in the IT industry, many new technologies keep on coming, and you need to update yourself. This can only happen if you are eager to learn for yourself.
What are the challenges faced by technology leaders today while implementing digital technologies?
Change management culture is vital for any establishment's success. By our nature, humans like routines, as they always make us feel comfortable. It is called the comfort zone for a reason. Things can easily start to seem unattractive when our routines are altered and ambiguity enters our lives. You know that 70% of all digital transformation programmes fail due to employee resistance and lack of support from management, and only 16% of employees say that their company's digital transformation efforts improve their performance or are sustainable.
That means organisations must consider everything when taking on a digital transformation initiative—from how people will react to the change to how it will impact customer relations, the cost, how it will align with business goals, and so forth. Digital transformations empower organisations to take their business into the future and position companies to withstand competition and grow into new areas. But all of that is easier said than done.
So choosing the best technology, implementing it with user acceptance, and getting it fully utilised by end users is the most challenging task.
Some enterprise organisations in data-sensitive industries are concerned about privacy and cybersecurity. Most digital transformation efforts involve using cloud solutions instead of traditional on-premises solutions and integrating all of the company's data into one centralised system. This brings up the amplified hazard of cyberattacks stealing secret information.
Also, challenges that technology and management leaders face include:
Lack of Change Management Strategy
Lack of a Digital Transformation Strategy
Old legacy systems, complex software and technology, and
Culture Mind-set Adoption of New Tools and Processes
Lack of Proper IT Skills
Continuous Evolution of Customer Needs
Security Concerns
Budget Constraints
How can technology leaders overcome the challenges they face?
Designing enterprise digital architecture is the key, which, according to my experience, may appear complex from the backend but should be as simple as possible. And that's where the challenge lies.
The second challenge is decision-making. Again, my experiments say to integrate the business team, who are the real-time custodians of the technology when it comes to successful implementations, in decision-making.
Third is change management, which becomes easy when the business team is engaged from the beginning. The selection of technology tools in commensuration with digital architecture from the bouquet of offerings is of paramount importance. The deployment of appropriate policy-driven security apparatus may be able to supplement the digital core's defence against threat actors.
IT leaders with strategic planning can efficiently overcome these challenges while leading the way to a successful business transformation.
However, it's always best to seek expert digital transformation strategy consulting when things seem complex. Especially in manufacturing, when it comes to business transformation, what is better than partnering with the top digital transformation consulting firms? So stop contemplating why businesses should invest in digital transformation and start paving the way for your business to become digitally advanced.
Build a Hybrid Work Environment: With 63% of high-growth companies using hybrid work models, the most common challenge for tech leaders is to manage and streamline their workforce and accept their employees' new flexible working preferences. Therefore, it's a must for the tech leads to look into, evaluate, enhance flexibility, and enhance their existing infrastructure that might not be well equipped to cater to the post-pandemic requirements of the dispersed employees. The most effective way to tackle this significant challenge is by moving to cloud infrastructure, investing in cloud-based collaboration tools, and making clear communication a priority.
On the Cloud Migration of Applications A cloud migration survey noted that 56% of respondents named a lack of understanding of cloud security and compliance best practises as a significant challenge. And, given that we just advised business owners to adopt cloud infrastructures, it's time to learn how IT leaders can coordinate a successful cloud migration strategy. To align a successful cloud migration strategy, tech leaders should begin by hierarchizing workloads for migration and identifying which cloud infrastructure will suit their business needs, whether it be SAAS, IAAS, or PAAS.
IT Skill Gap and Retaining the Finest Talent
Especially post-pandemic, since the work has turned virtual and hybrid, this is the big challenge for CTOs and CIOs to find and retain high-performing candidates, as 87% of companies worldwide are aware that they either already have a skills gap or will have one within a few years.
We can easily observe that the employees are experiencing early burnouts in their long-held jobs, leading them to change career paths and choose the leisure of working at their convenience or switch to gig-based work, which certainly has made it difficult for IT businesses to bring in or retain the best professionals who work with total efficiency, meet deadlines, and outperform.
IT leaders should build an employer brand, promote internal mobility, and start prioritising a flexible working environment, task automation, strategic and continual training, leadership support, professional development, and purposeful work, along with offering competitive remuneration to professionals based on their experience and outcomes.
Cybersecurity Threats
IT leaders face constant cyber uncertainty. As for any enterprise entirely dependent on cloud infrastructures and operating virtually, the catastrophic damage that even a tiny cybersecurity breach can cause is unaffordable. Therefore, for IT leaders, the security focus should no longer be solely on security within their own four walls; instead, they should continue to expand their safeguarding criteria and secure the employees' workspaces and mobile devices, along with essential user data, and, in addition, become well equipped to detect and respond to cyberattacks by investing in the best tools and cyber intelligence.
Supply chain disruptions
Supply chain disruptions are the most concerning today's IT leaders, with supply chain issues delaying key technology components, which affect implementing transformation technology.
Be aligned with the digital transformation.
We are part of a business era that is driven by digital transformation. To assimilate these tech advancements, an enterprise's leaders can join hands with the top digital transformation consulting firms to ease the business transformation, in addition to strategically introducing a technology-driven work culture by retraining employees in automation and digitization and empowering them to uplift themselves and the organisation to compete and adopt the right technologies to innovate their businesses. The above fact signifies that digital transformation is ahead for every IT leader.
Any best practices, industry trends, or advice you'd give to fellow technology leaders to help them succeed professionally?
There are several best practises and industry trends that technology leaders can follow. Also, every individual has different ways of doing their job; as a leader, simply follow along in addition to your normal course of practice.
Choose what is best for your business environment, not what others are doing.
Do conduct an AS-IS and TO-BE study for any project and ensure that it is well communicated and documented with all relevant business owners, process owners, and partners.
It needs to be more accountable to the originator's business rather than market it, create a growth-oriented, innovative environment for the team, and continuously keep them engaged.
Needs Focus on continuous improvement by reviewing all of your work on a regular basis, setting priorities, communicating with your team on a regular basis, and establishing KPIs.
Fostering a culture of collaboration, our teams are our ears and eyes. Remain updated and build an excellent partner ecosystem. Rationalize your instincts.
Assist them in prioritising team tasks so that they can provide solutions on time, and offer regular check-ins with line managers.
Embrace agile methodologies; this actually emphasises flexibility and adaptability, which can be particularly useful for technology leaders as they can help organisations respond quickly to changes and challenges.
Provide learning opportunities and free tech courses to enhance the skills of team members.
Celebrate success, encourage accountability, and give ownership.
Any other points that you would like to highlight?
The best mantra for success is to stay healthy and fit, embrace change, and follow current industry trends. And seek out opportunities for professional development, such as industry conferences, training programs, and networking events, as these can help them stay current and learn from peers and experts in their field.
Also read: Digital technology adoption in India gave us the opportunity to start the work-from-home concept
Do Follow: CIO News LinkedIn Account | CIO News Facebook | CIO News Youtube | CIO News Twitter
About us:
CIO News, a proprietary of Mercadeo, produces award-winning content and resources for IT leaders across any industry through print articles and recorded video interviews on topics in the technology sector such as Digital Transformation, Artificial Intelligence (AI), Machine Learning (ML), Cloud, Robotics, Cyber-security, Data, Analytics, SOC, SASE, among other technology topics