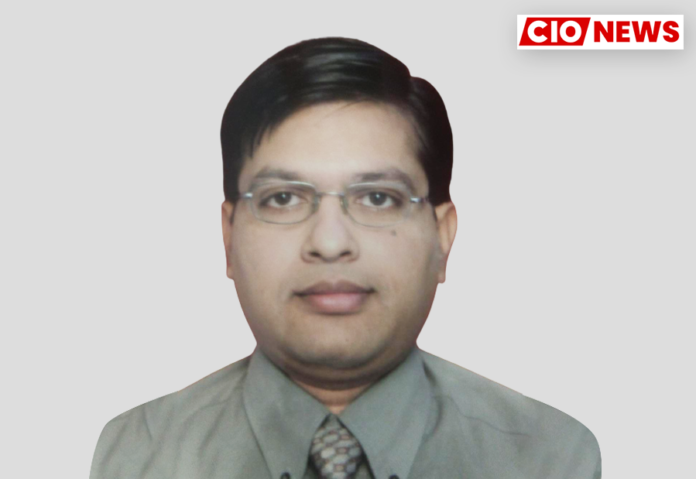 Organizations' ability to respond to change is determined by the mindset of their technology leaders, who must constantly unlearn and learn
This is an exclusive interview conducted by the Editor Team of CIO News with Laxmikant Kathare, Chief Information Officer (CIO) at Improsys
How did you plan your career path to be a successful technology leader?
As a child from the small town of Latur, whenever I made a purchase with pocket money, I always tried to save money by calculating the expenses incurred for the product and making the budget to buy in Paisa rather than Rupees. Saving a few paise means having more money to buy more products within the same budget. Since childhood, the habit of calculating the cost of products and then deciding whether or not to purchase them has sown the seeds of entrepreneurship. Even if the cost of the product is low, the inability to buy the products at a reduced price by bargaining the price down on account of the seller's market has indeed helped me to start thinking about identifying market opportunities for selling the products in a competitive scenario.
With aspirations of becoming an entrepreneur, my path to acquiring professional knowledge and skills led me to an engineering college, where plans for launching a technology business were taking shape. Way back in 1996, during my final year of an engineering project, I started working on the application of neural networks and AI in the field of manufacturing planning. The project provided an opportunity to identify manufacturing businesses' market needs and apply modern management techniques to their traditional business practices. The visits to different manufacturing businesses also gave us the opportunity to conduct a survey identifying the qualities required to become a successful first-generation techno-entrepreneur. The survey and college project findings confirmed that it is difficult for first-generation entrepreneurs to survive in a capital-intensive and highly competitive market environment without innovative products and smart working practices. In order to have an innovative product, there was a need to study the nitty-gritty and gain an in-depth understanding of market needs and problems faced by them using current technological solutions available in the market.
In order to drive the journey towards the final destination of a technical entrepreneur, a milestone of working in the industry as a management consultant was the best choice before finalising a technological solution to be sold in the market. After spending sufficient time in the industry, the final idea of a technology solution to meet market needs was shaped. The complete vision statement was ready, but it would have remained a dream if actions were not taken towards business goals. With attractive career growth opportunities in the field of management consulting, it was a major decision then to change tracks and opt for starting a technology start-up without having a sound financial background. Strong technical knowledge and leadership ability to manage challenging business scenarios using modern management techniques were the alternative to a financial background. With the initial technology solution of web-based WMS software, today, after 15 years of survival in the technology business environment, Improsys has successfully developed more than 15 technology product solutions meeting industry needs, coupled with the latest technology and a modern management philosophy built into each technology solution offered to customers. The techno-commercial leadership role at Improsys helped more than 150 customers across the globe reach their business milestones by using software solutions offered by Improsys. Major Improsys software solutions are WMS software, production planning software, quality management software, ERP software, CRM software, asset management software, project management software, task management software, audit management software, and customer complaint management software. The Improsys team has successfully implemented these solutions and is supporting customers in maintaining these applications.
What challenges you faced in your career path and how did you overcome them?
A significant challenge was the financial cost of raising funds versus fixed cost investment in the early stages of the business. The challenge of developing a quality software solution necessitates enough time to complete the SDLC, and because the software solution was not ready, there was only a remote possibility of selling the products and covering development costs. The challenge was met by adopting lean and agile software development methodologies and developing the product incrementally over time. This helped to sell the products at a much earlier stage of the project schedule, resulting in funding for cash flow needs directly from customers.
Other major challenges were identifying the talent and retaining it. In the Indian IT scenario, it is very difficult to maintain skilled IT resources over a longer tenure. In order to meet this challenge, Improsys started recruiting raw talent from rural areas instead of hiring from metro areas. Raw talent was rightly nurtured by giving them the right skill sets to become solution providers for technology problems faced by industry. Improsys designed a work environment that will meet career growth ambitions as well as upgrades in the latest technology skill building in order to retain them over time. This has aided Improsys in retaining talent over time and developing employee loyalty in a competitive job market.
What are the challenges faced by technology leaders today while implementing digital technologies?
The technology sector is changing at a very fast pace. The main challenge for leaders in these segments is learning about new developments and updates in technology on a daily basis and, as a result, preparing the team to continuously upgrade their skills.
Lack of execution of new technology in existing products and services is resulting in losing market share without giving proper time to manage other business challenges associated with maintaining the business' survival.
How can technology leaders overcome the challenges they face?
A technology leader must be prepared for change management. The organisational structure needs to be lean, which will be able to handle the challenge of upgrading or changing technology tracks. Organizations' ability to respond to change is determined by the mindset of their technology leaders, who must constantly unlearn and learn.
The work culture needs to be driven by business objectives aligned with employees' career goals. More emphasis should be given to engaging employees in cross-platform applications to make them multiskilled.
Any best practices, industry trends, or advice you'd give to fellow technology leaders to help them succeed professionally?
Cloud technology, 5G, and the Internet of Things (IoT) advancements can be quickly adopted to develop proof of concepts and deliver quality technology solutions on global technological platforms.
The use of remote management of technical teams can help organisations outsource skills while also lowering costs.
Any other points that you would like to highlight?
With the ever-changing needs of industry, Improsys has started offering solutions on Industry 4.0 platforms for helping manufacturing businesses achieve their goals of becoming SMART factories.
Also read: It is relevant for technology leaders to have a clear vision
Do Follow: CIO News LinkedIn Account | CIO News Facebook | CIO News Youtube | CIO News Twitter
About us:
CIO News, a proprietary of Mercadeo, produces award-winning content and resources for IT leaders across any industry through print articles and recorded video interviews on topics in the technology sector such as Digital Transformation, Artificial Intelligence (AI), Machine Learning (ML), Cloud, Robotics, Cyber-security, Data, Analytics, SOC, SASE, among other technology topics