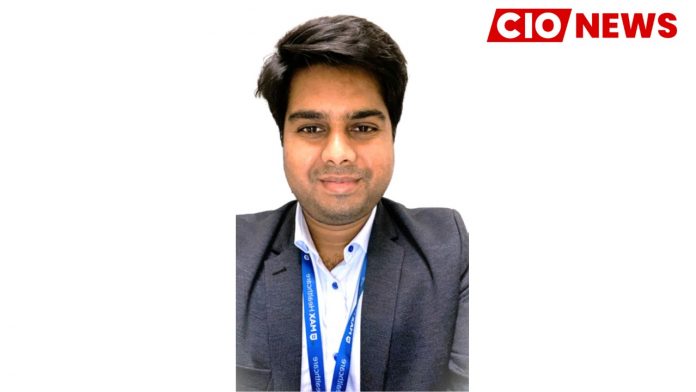 As a computer tech guy, every person has a choice to go for hardware or software. Mine was software-applications, mobile apps
When asked how he planned his career path to be a successful technology leader, Dipankar Ghosh, Regional IT Head at Max Healthcare, in an exclusive interview with CIO News, said that technology leaders and their players have emerged a lot in the past few years. We have seen the dedication and the power of technology to a huge extent. People from various areas are directly linked via IT (information technology). In the initial days, I was perplexed about choosing the right career. Once in my school days, I went to the computer room without shoes. People have accepted the things on a global scale. As a computer tech guy, every person has a choice to go for hardware or software. Mine was software-applications, mobile apps. A bit interested in the technical coding part. As an IT head now, things have changed a lot. The new evolution and boom in technology have led to the growth of the same. From being a healthcare guy in terms of technology, we can see many things are lined up, from hospital information systems to patient medical records. All are now interlinked. Patient digital data was initially used to be on a local server – now we use cloud computing and the heterogeneous, complex network structure has led to a quick connect on every point. The app tech guy can see the flow and the loopholes in the database and the linkage with the other app. This has led me from the app tech to infra and operations tech-handling a huge team of people and being a Regional Head for IT, it has changed a lot for me to have control of the processes and the secure database.
When asked about challenges he faced in his career path and how he overcame them, he said, "The healthcare industry, with IT technology, has a lot of challenges." In the initial days, data capture is a central key point. We used to have a single server and DB setup architecture in many hospitals. They are not bothered with IT for budgeting. Things have changed now. Post-COVID, a lot of hospitals used video consultation as a means of communicating with the patient. The clinician's understanding of the patient has changed a lot. Their dedication and presumption towards IT has drastically changed. Healthcare groups store huge amounts of medical scans and their data on servers and databases. The means of fetching the data should be a quick approach and should include simultaneous input operation as well. The requirements of a good and dedicated network are now the main focus areas for hospital management. Everything is moving to the cloud, and even IoT evolution has changed a lot. The major challenge is the adaption of this new technology to use cases or training oriented. The major section of the group lags in the training part as an adoption of these technologies. Clinicians and paramedics are medically trained individuals whose primary focus is on medicine and its processes. As for IT, it became a major part of their goal to have it achieved via IT. Paper work is now machine oriented. Automation has a major impact on our lives. The merging of different applications and platforms has changed this a lot. The guidance and the adaption to these things have led to further growth on their part.
When asked about challenges faced by technology leaders today while implementing digital technologies, he said, "In this technology era, everyone is using a computer or a laptop at their home or office." Things have changed a lot since they were used as a means of communication on IT devices. We find challenges in many things—it may be training, may be integration, may be in network security etc. During the project live, many things come across, and the core team plays a vital role in successfully implementing the same. The ideas of a new framework and architecture can have a huge impact on the implementation. They both respond to one another. Let's say some hospitals are planning to use the new video conferencing tool with smooth and dedicated network bandwidth for their medical management. And they may face a challenge in integrating it. Since there may be a variety of interfaces involved – say payment gateway-banking tool and API calls, there can be API interchange with hospital information systems, flow of the appointment process, etc. Sometimes we see a bigger road blockage in the network bandwidth. If we see COVID, many hospitals have tried to adapt this video conference method and the process. There may be budgeting issues; there may be disasters in network breakdown, etc. We can see such day-to-day life. When it comes to the implementation of IOT devices, network security can be jeopardized.
When asked how technology leaders can overcome the challenges faced, he said, "There may be many sections where we find the leader from IT having trouble upgrading the present IT infrastructure to the industry standard." E.g., If we talk about cloud hosting of an application, there can be many challenges in terms of business requirements, budget involvement, and training for the end user. Scalability and availability are the major concerns for all IT leaders to upgrade the present setup. Every step required an individual workaround, and those individuals led their teams. They can be network architects, database managers, system administrators, asset managers, application developers, or site engineers. The collaboration of the frontline workers will lead to this challenge being overcome by maintaining their checklist and compliance.
When asked about best practices, industry trends, or advice he would like to suggest to fellow technology leaders for their successful professional journeys, he said, in the technology-bound world, AI is the major concern, and people cease to have the AI (Artificial Intelligence) tool incorporated into their software architecture. This does not only build an efficient and robust system; it also has a self-learning mechanism. Let's say an IOT device is attached to a human for tracking heart beats. It receives the daily trend and input post-patient discharge and gives a figure and fact to raise an alert for future visits to the clinics on their treatment.
He highlighted that we have a common issue for every section of the workforce, i.e., IT Security. This is the most important part nowadays. As a home guard, we keep a security guard. We should have the security bound setup in our present architecture. When we talk about security features on a device and the setup of the data centre or any cloud-specific network, AV (Antivirus) patching with the latest update is very important. Windows gives us a cumulative update on the security-this is a very important part as well. When we host the website on the public network, SSL plays a vital role in safeguarding and securing our webpages and data. When it comes to security, we must keep our policies on data breach and data protection consistent.
Also read: Metaverse – A New World of Immersive Experiences
Do Follow: CIO News LinkedIn Account | CIO News Facebook | CIO News Youtube | CIO News Twitter
About us:
CIO News, a proprietary of Mercadeo, produces award-winning content and resources for IT leaders across any industry through print articles and recorded video interviews on topics in the technology sector such as Digital Transformation, Artificial Intelligence (AI), Machine Learning (ML), Cloud, Robotics, Cyber-security, Data, Analytics, SOC, SASE, among other technology topics