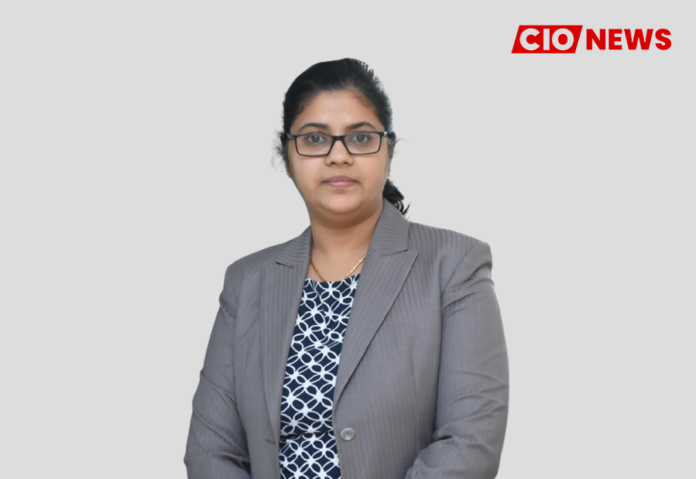 Technology leaders need to play down the hype and use technology to push towards the purpose of the organization
This is an exclusive interview conducted by the Editor Team of CIO News with Mathangi Sri Ramachandran, Chief Data Officer at Yubi
Mathangi Sri has a proven track record in building world-class data science solutions and products. She has overall been granted 20 patents in the area of intuitive customer experience and user profiles. She authored and published a book with Apress, Springer: "Practical Natural Language Processing with Python." She recently published her second book with BPB Publications, "Capitalizing Data Science." She is currently the Chief Data Officer at Yubi. In the past, she has built data science teams across large organisations like Citibank, HSBC, and GE and tech startups like 247.ai, PhonePe, and Gojek. She has brought about cultural change and a shift in mindsets for adopting data-driven decisions across different startups. She is an active contributor in the data science community, through lectures, talks, blogs, and advisory roles. She is a visiting faculty member at many prestigious academic institutions across the country, including IIIT Sri City, IIM Kashipur, and NIT Trichy. She was named one of the "50 most powerful influencers in AI 2022" by Engatica in 2019, one of the "top 50 influential AI leaders in India" by Analytics India Magazine in 2021, and one of the "top AI leaders in India 2021" by the 3AI Association.
How did you plan your career path to be a successful technology leader?
I fundamentally believe that whatever I do, I should do it in the best way possible. Other than that, there is no plan. My leadership journey is definitely not planned. One thing led to another overall. However, I knew long ago that I liked working with people, and I continued to polish that attribute to be a better leader every time. The other thing that has kept me going in this journey is truly caring for the organization. Thinking from first principles is very natural to me, and that, I think, has also helped me in my career.
What challenges did you face in your career path, and how did you overcome them?
My career started in analytics. When I started out, I knew neither the programming language nor statistics. I learned them on the job by making mistakes along the way. The same thing repeated itself when I shifted to data science: I had no skills; I learned on the job while handling larger responsibilities. My managerial track is also filled with multiple lessons. I found letting go of being hands-on very difficult; until then, my coding and analysis defined me. It took some time for me to adjust to suddenly stepping back from my skill set and being responsible for someone else's work.Once I was able to step back, I enjoyed working with people and found the experience of solving problems together with people very exhilarating. I learned a lot more from my team—both hard and soft skills.
In terms of challenges, the data and AI space is such that one has to constantly keep up and keep learning. Keeping up with different technologies when you are an individual contributor is very different from when you are in a leadership role. I think nothing other than raw passion and hard work helps with this.
One of the other significant hurdles that comes with data science is creating business impact. How do you influence your stakeholders and customers to move from manual or heuristic-based solutions to machine-learning algorithms? This is a common issue in many organizations; some solutions include identifying the right business problem and pain point to solve, establishing an experimentation framework, and increasing visibility for the work and team.
Any best practices, industry trends, or advice you'd give to fellow technology leaders to help them succeed professionally?
People are the most valuable assets in any organization. Leaders need to recognise that. The codes, the products, and the processes are not constant, and they will keep evolving. As a result, they are only temporary value additions from the leader. The team and the culture the leader builds are more important and lasting than anything else she delivers. I don't think there is any other way to build an organisation than by building its people first. The right people in the right environment can accelerate revenues and increase the value of the company by multiples. Without a focus on culture and people, an organization's accelerated journey will be short-lived. In short, my advice is to focus on building the right environment for the right people to thrive, and the rest will fall into place.
Any other points that you would like to highlight?
Technology is an enabler for the larger purpose. Hence, we need to play down the hype and use technology to push towards the purpose of the organization. Today's leaders must be operational and pragmatic in their technology choices. However, the space is constantly evolving, and if you are not constantly learning and keeping pace, you will be out of place very soon.
Also read: It is very important for everyone to be digitally literate
Do Follow: CIO News LinkedIn Account | CIO News Facebook | CIO News Youtube | CIO News Twitter
About us:
CIO News, a proprietary of Mercadeo, produces award-winning content and resources for IT leaders across any industry through print articles and recorded video interviews on topics in the technology sector such as Digital Transformation, Artificial Intelligence (AI), Machine Learning (ML), Cloud, Robotics, Cyber-security, Data, Analytics, SOC, SASE, among other technology topics